No cancer patient wants chemotherapy if it isn't needed. But when doctors aren't certain, they're most likely to treat the cancer aggressively.
Researchers at Case Western Reserve University are working to change that equation for the most common type of breast cancer.
Their work is one of the many ways that GPUs and AI are advancing diagnosis and treatment for breast cancer, the second leading cause of cancer death in women worldwide.
"Breast cancer is something every woman thinks about," said Andrew Beck, an associate professor of pathology at Harvard Medical School. "There's been a lot of progress in some areas, but we need to make even more."
Doing Away with a $4,000 Test
The Case Western team is targeting estrogen-receptor positive cancer (ER-positive), which accounts for 70 percent of all breast cancer cases, according to the National Cancer Institute. In ER-positive cancer, the cancer cells, like normal breast cells, receive signals from estrogen that promote their growth.
"Of all the women diagnosed with ER-positive breast cancer every year, the majority don't need chemotherapy," said Anant Madabhushi, the F. Alex Nason professor II of biomedical engineering at Case Western and senior author of a recent paper on the research in Nature Scientific Reports.
To determine the cancer's aggressiveness, doctors use the Oncotype DX test. It determines whether a patient needs chemotherapy – with the hair loss, nausea, fatigue and other side effects that come with it – or hormone therapy, which has milder side effects. The test can easily distinguish high-risk and low-risk patients, but others fall in a sort of intermediate-risk limbo, said Madabhushi. And at $4,000, the test is out of reach for many people, including most in the developing world.
To replace the costly test, he and his team are using GPU-accelerated deep learning to develop an automated test that could speed diagnosis and improve accuracy without destroying the tissue specimen. The estimated cost: $200.
"Anyone who can get biopsy can get our test," said Madabhushi. "This could have huge global impact."
Deep Learning for More Accurate Diagnosis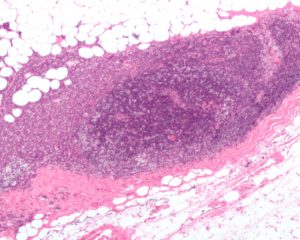 Madabhushi's work is just one example of how GPUs and AI are advancing breast cancer diagnosis and treatment.
Two research teams in Boston are using deep learning and GPUs to help pathologists better identify cancer in images of the lymph nodes, where breast cancer is most likely to spread first.
"We don't have enough well-trained pathologists in the world. We're trying to reduce the workload of pathologists while improving accuracy," said Quanzheng Li, an associate professor at Harvard Medical School and an associate physicist at Massachusetts General Hospital, working in its new Clinical Data Science Center. NVIDIA is a founding technology partner of the center.
Mass General teamed with Harvard Medical School to develop an algorithm that so far matches the 96 percent accuracy rate of pathologists examining lymph node tissue.
Hear Andrew Beck and Quanzheng Li speak about their research, and learn more about AI in healthcare, at GTC DC, Oct. 26-27 in Washington.
Man and Machine
"By combining AI with a pathologist, we can increase the accuracy rate even more and avoid misdiagnosis," said Li. He said this will be especially useful at small hospitals and in developing countries, where pathologists may be few and far between.
Li expects to see even more progress soon with more powerful computational hardware. In early September, the Mass General center became one of the first research institutions to receive our powerful DGX-1 deep learning system, the world's first AI supercomputer in a box.
A team from Harvard Medical School's Beth Israel Deaconess Medical Center working on the same problem cut the human error rate in diagnosis by 85 percent when combining their deep learning analysis with a pathologist's efforts.
"This can make pathologists more likely to accurately determine how advanced the cancer is and how much it has spread," said Harvard Medical School's Beck. "That will help oncologists get the right therapy to breast cancer patients."
Fighting Back Against an Aggressive Cancer
Researchers in Vijay Pande's lab at Stanford University are tackling HER2-positive cancer, an aggressive strain that strikes one in five breast cancer patients, according to the Mayo Clinic.
This kind of cancer contains a protein called human epidermal growth factor receptor 2 (HER2), which promotes the growth of cancer cells. Although most current treatments target this protein, little is known about it, said Pande, a professor of chemistry and director of Stanford's Folding@home distributed computing project.
His team is using machine learning and GPU time on the Folding@home platform to run the largest simulation of the HER2 protein to date. The goal is to find out what happens when the protein mutates in a way that makes current treatments ineffective, said Pande, who received a Compute the Cure grant for breast cancer research in 2014.
The team next plans to use deep learning to find better treatments.
October is Breast Cancer Awareness month. Learn more about how NVIDIA is working to Compute the Cure to cancer.