If you're eager to pursue Udacity's self-driving car engineer nanodegree, it's time to step on the gas.
The online educator expected a couple thousand students to apply for its nine-month program, which begins on Oct. 13. It got more than 12,000 applicants.
So, it began offering new installments monthly. But November and December are filling up faster than a sports car at full throttle, and applications are pouring in for early 2017.
The throng of students applying for the self-driving car course underscores accelerating interest in the rapidly transforming autonomous car industry as companies race to put self-driving vehicles on the road.
Jobs Available
"The timing is perfect. Nearly every auto company is developing self-driving cars and they are looking to hire talent now," said Oliver Cameron, vice president of engineering and products at Udacity.
In addition to automakers, a wide range of technology companies – like Google and Baidu – are developing and testing autonomous or semi-autonomous vehicles that rely on deep learning and the massive amounts of computing power supplied by GPUs.
Most industry observers expect truly self-driving cars to become available before the end of the decade. Boston Consulting Group predicts the self-driving car market to reach $42 billion and create 100 million jobs by 2025.
"Practically every one of these companies is hiring, and not every one of them is in Silicon Valley, which is appealing to our students," Cameron said. Udacity students are located around the world.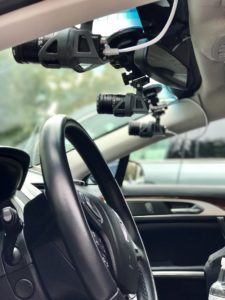 Self-driving Car Course
Udacity, NVIDIA and partners Mercedes-Benz and self-driving truck company Otto (recently acquired by Uber) are rolling out a curriculum that will cover self-driving car topics ranging from deep learning and computer vision to sensor fusion and localization.
During the nine-month course, students develop code for a self-driving car, testing it first in simulation and then on a real car. Udacity will run students' code on a self-driving car equipped with our NVIDIA DRIVE PX 2 AI supercomputer.  The tests will be live-streamed, and students will receive a recording of their car on the track they can use as part of a portfolio, Cameron said.
"Students will be building something real, and testing it in the real world," Cameron said. "That means something to employers."
As another boost to graduates' careers, Udacity is working with hiring partners that include NVIDIA, Mercedes-Benz, Otto and Didi Chuxing, the Chinese ride-hailing service.
What It Takes to Get In
Despite the full classes, getting into the self-driving car course isn't necessarily easy. Selection is based on several factors, including experience with Python programming, machine learning, statistics and probability. Previous experience with online learning is a plus.
For those who may need financial aid, our Deep Learning Institute is funding scholarships for the nanodegree program.
The rewards could be significant for those who get to the course's finish line. Base salaries for self-driving car engineers range from $66,800 to $210,000, according to Udacity.
Apply for the self-driving car course on the Udacity site.