VR content creators, enterprise customers and others joined NVIDIA last week for the first in our series of enterprise-focused VR summits at The Gettys Group in downtown Chicago. Twenty attendees from the architectural design community explored what's next in VR for building design and discussed new technologies and VR workflow integrations being implemented in their industry today.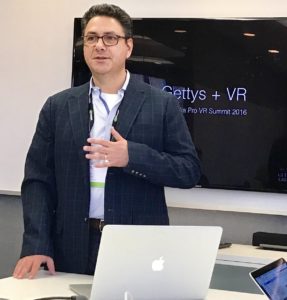 The event kicked off with a presentation from Ron Swidler, principal at the The Gettys Group, who explained how VR is a differentiator for designing and renovating hotels, and how it's having an impact that can translate into multimillion dollar savings for clients.
Experts from Autodesk, architecture design firm Foster + Partners and software developer The Foundry shared insights into enterprise VR applications used for collaboration and visualization of models during the design process.
Dave Weinstein, director of Pro VR at NVIDIA, shared his perspective on how VR for professionals goes above and beyond immersion. "Viewing designs in true scale is important, so architects can better assess interior spaces or room layouts, and car designers can get a better sense of human factors or ergonomics issues," he said.
The Pro VR Summit underscored that the growth opportunities for VR go well beyond gaming. And NVIDIA technology is at the center of it all. During the event, we demonstrated how NVIDIA Iray VR, our physically based rendering solution, is creating physically accurate immersive environments for the AEC industry and was used by architectural firm Gensler to design our new headquarters building in Silicon Valley.
Jeffrey Beran, project engineer at EPSTEIN, commented, "I learned quite a bit and the experience will certainly be very beneficial as I lead the effort to implement VR at my AEC firm."
For our next Pro VR Summit, we're heading to Hollywood to explore the latest VR technologies with studios and filmmakers. The event takes the last week of November at the Gnomon School of Visual Effects, Games & Animation. Stay tuned for more details.