The U.S. needs to invest more in AI research, leading policymakers told a sellout crowd of about 1,000 attendees at GTC DC, NVIDIA's inaugural GPU Technology Conference in Washington.
Speaking during the opening keynotes, Jason Furman, chairman of the White House Counsel of Economic Advisers, and France Córdova, director of the National Science Foundation, said that AI will create new jobs and consumer demand, and increase U.S. competitiveness.
"People should be more concerned about enabling AI, and less concerned about it taking our jobs away," Furman said. He said fears of job-killing robots aren't new — they date back to the 1930s, when headlines like "Mr. Robot Often Outshines His Master" appeared in The New York Times.
Furman said the U.S. government currently invests "only $200 million in basic AI research annually. Studies have found that the optimal level of public funding needs to be about 2-4 times what we're spending now."
He cited the DARPA Grand Challenge in self-driving cars as an example of past programs that enabled breakthrough innovation and product development. Such investment leads to American products that global consumers want, creating wealth and job opportunities in the U.S.
Córdova said AI has "the same explosive potential as the internet — it has the potential to revolutionize everything we do."
Córdova, who directs the NSF's $7.5 billion in annual research funding, said "advances in GPU computing have opened the door to the AI revolution" but that the U.S. needs to increase funding in basic AI research. Doing so will benefit the economy, healthcare and other industries, and address some of society's greatest challenges, she argued.
NVIDIA Chief Scientist Bill Dally said that the computer industry has entered the AI era, and that deep learning will soon appear everywhere: Internet and cloud computing, medicine and biology, media and entertainment, security and autonomous machines, to name a few.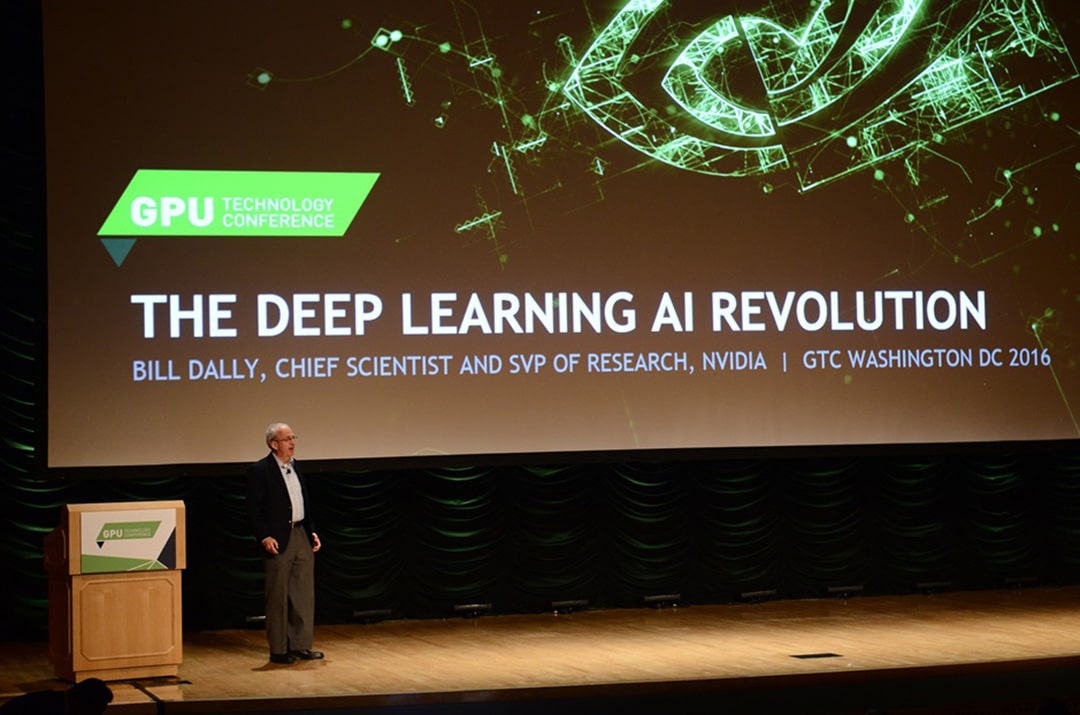 Observing that Google executives (including CEO Sundar Pichai) have said that they plan to integrate AI everywhere, Dally said he believes AI will revolutionize transportation, healthcare and society.
To learn more about where AI is going next, see NVIDIA CEO Jen-Hsun Huang's report on The Intelligent Industrial Revolution.
He said that computing has fundamentally changed the field of science the last few years, as scientists have embraced simulation. "Supercomputers are the scientific instruments of the 21st century," he said, noting that climate change, cosmology, biology and healthcare science are all being advanced with simulation.
Following the morning keynotes, policymakers from the NSF, U.S. Department of Commerce and the White House took part in a panel discussion about AI for America's Future. Alan Davidson, senior advisor to the U.S. Commerce Secretary, said that "AI is essential to ensure U.S. economic prosperity and improve people's lives," but that government had an important role in supporting innovation and not hindering it.
GTC DC, which spans two days, includes more than 50 sessions on deep learning for government, healthcare, high performance computing, Internet of Things and self-driving cars.
To learn more about GTC, visit GPU Technology Conference