Don't get between NVIDIA founder Chris Malachowsky and his morning coffee.
When he arrived at Oak Grove High School in San Jose, Calif. — where more than 700 volunteers had gathered Friday to spruce up the campus — he found himself parked just on the other side of a long fence from where steaming coffee was being served on the chilly December morning.
"It was almost cruel," Malachowsky admitted to the crowd.
It's the little things like hot coffee — and the chance to connect with friends and colleagues — that have helped turn NVIDIA's annual effort to give back into an effort that now draws more than 1,650 volunteers over two days from NVIDIA, our partners, and the community to pick up paint brushes and pickaxes and get to work.
Now in its tenth year, Project Inspire has directed more than $6.6 million to the community. NVIDIA employees, friends, families, and community members have volunteered more than 62,500 hours of work. And we've reached more than 7,500 students in the San Francisco Bay Area.
Those big numbers add up to a transformation that took place in just 48 hours this weekend at Oak Grove High School as teams painted colorful murals, created striking outdoor sculptures and built picnic tables, benches, and even enormous wooden games for students to play during breaks, such as Jenga and Connect Four.
Fresh Wax, Paint, Paella
Inside the school gym, you could hear the squeak of sneakers on the freshly waxed floors, where a dozen NVIDIANs perched on ladders or stood on bleachers with paint rollers in hand. Their top-priority job: brightening up the school colors (blue and yellow).
"This smells exactly like my own high school gym," said Amanda Eisenberg, getting nostalgic about her alma mater on San Jose's East Side as she steadied a ladder for her Finance colleague, T.J. Joshi. "It looks like my high school gym, too, except my colors were red and black."
The sour smell of fresh paint wasn't the only scent in the air. So was the salty, smoky aroma of paella.
By the school's football field, a team of chefs stirred huge mounds of garlicky rice heaped on eight pans the size of a tractor trailer wheels. The recipe, explained David Brissenden, of Parsley, Sage Rosemary & Thyme Catering,  includes house-made sausage and chicken prepared in a huge smoker parked on-site.
. . . And Pine
The paella was the centerpiece of lunch served to volunteers who were working up quite an appetite — particularly those building benches for the school grounds not far away, where you could find Marcos Peixoto, Sudeep Sabnis and Markus Weber crouched over a stack of wooden planks, the air thick with the sharp tang of pine.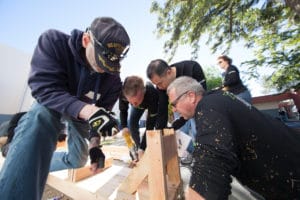 Sabnis, a GPU software engineer, drilled precise holes for the long screws while Peixoto and Weber braced the stacks to keep them even.
They were first-time bench-builders, but it didn't matter.
"It's like an industrial-level Ikea project," said Peixoto, an account manager for cloud services. "There are plenty of instructions."
"It's just great to do some physical labor," said Weber, an account manager for our DGX-1 AI Supercomputer.