NVIDIA shared its vision for reinventing gaming, TV and transportation at the CES opening keynote Wednesday, underscoring our leadership in AI, deep learning, gaming and automotive.
As well as unveiling our vision for the AI car — with support from a slew of major automotive industry players — NVIDIA CEO Jen-Hsun Huang announced that our GeForce NOW service will expand to millions more PCs and Macs, and launched a new version of SHIELD, the world's most advanced streamer.
The company's role as leader in AI was front and center throughout the hour-plus keynote.
"Because of artificial intelligence we're now able to realize the dreams that we've been dreaming about for so many years," Jen-Hsun said. "What used to be science fiction is going to be reality in a few years."
Razzle Dazzle
One of the most dazzling aspects of the presentation was the tech powering the presentation itself. As Jen-Hsun — clad in his trademark black leather jacket — spoke, a curved display the length of a football field lit up with images, videos and animations. And it seemed to reach out to embrace the audience of 3,000 press, analysts and technology enthusiasts.
The result felt like an enormous virtual reality experience. Powered by CANVAS software from Montreal-based Immersive Design Studios and the Epic Games Unreal Engine 4 game engine, the display was nearly 30,000 pixels wide and 1,080 pixels tall. It relied on a bank of 10 NVIDIA Quadro GPUs to crank out nearly 2 billion pixels a second.
Accelerating the Auto Industry
While the display helped Jen-Hsun transport the audience to faraway digital worlds, some of the biggest news was how NVIDIA technologies will change the way we move around on this realm.
Scott Keogh, president of Audi of America, joined Jen-Hsun to announce that our companies are working together to put advanced AI cars on the road by 2020.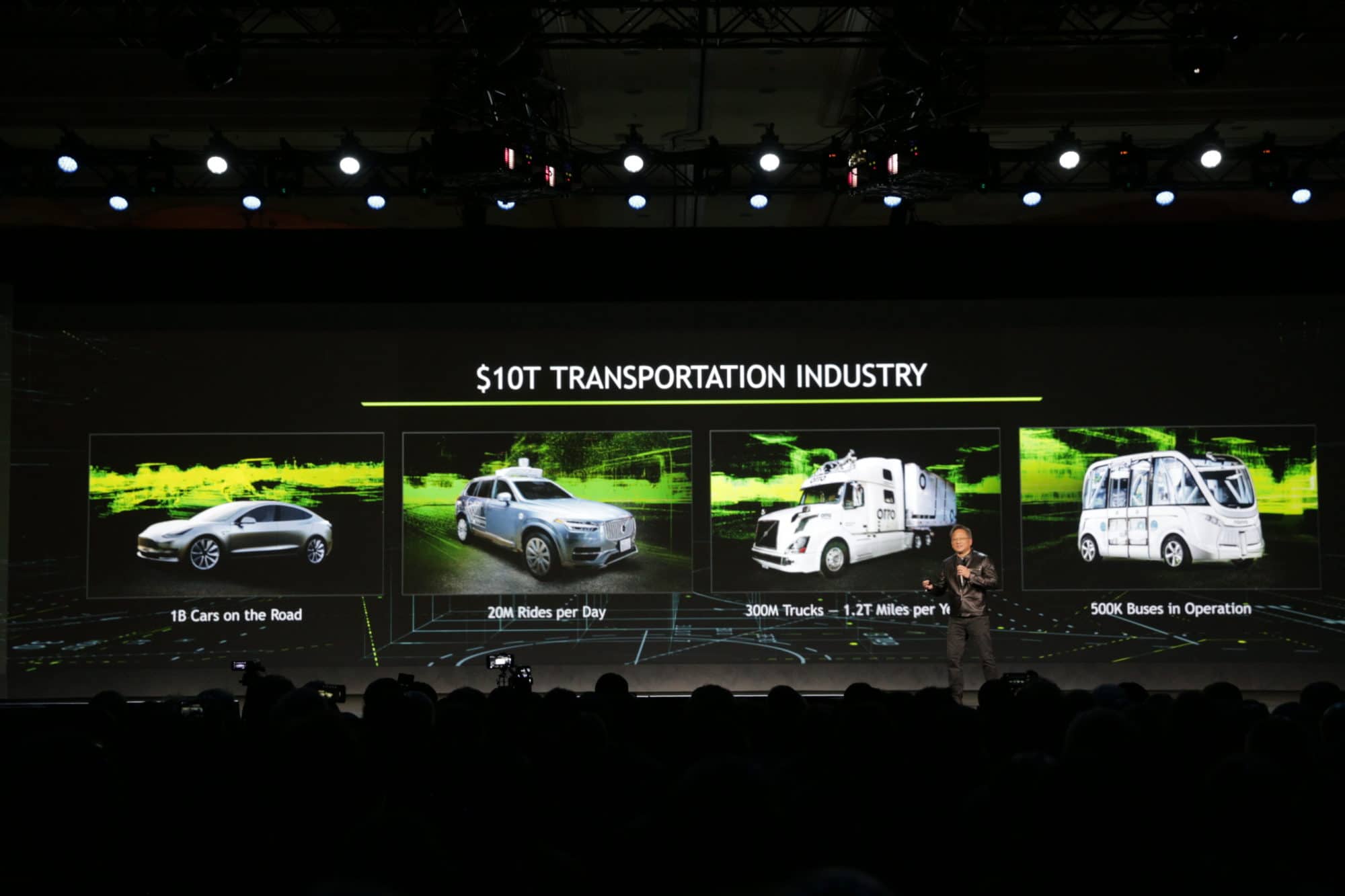 Scott noted that since announcing a partnership with NVIDIA ten years ago, Audi's sales have jumped from 60,000 cars a year to 210,000 cars in 2016.
"The reason we did that is honestly the crazy technology our engineers and your engineers have put together," Scott said.
Jen-Hsun also provided details on partnerships with mapping companies HERE and ZENRIN; and two of the world's largest automotive suppliers, ZF and Bosch.
It's all part of our effort to reinvent the $10 trillion transportation industry with the AI car — vehicles that use deep learning-based AI to make driving safer, more personalized and more enjoyable.
It's the only way to manage the complexity of navigating city streets, Keogh said.  "There's no amount of programming in the world that will manage the street environment daily, the only way to get there is with artificial intelligence," Keogh said.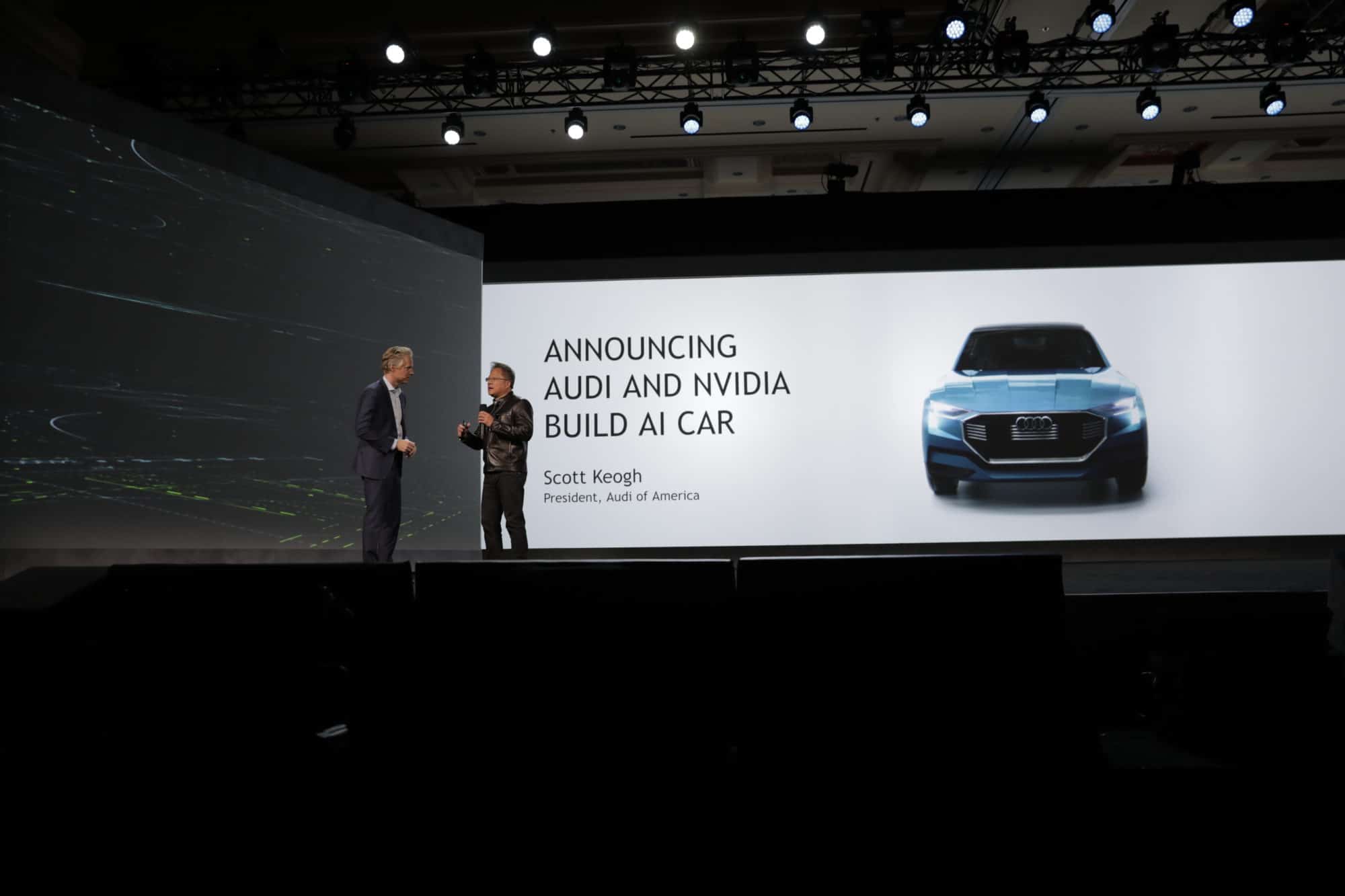 Central to delivering this capability is our DRIVE PX platform and our DriveWorks software, which integrate a range of sensors and blend multiple neural networks that learn based on past experience.
It's technology that you can see for yourself at CES. "There's an Audi with an NVIDIA car computer in the Gold Lot driving by itself right now, not the end of next year, not the end of this year, right now," Jen-Hsun said, calling attention to a demonstration we've set up for CES.
And providing new muscle for this vision will be our forthcoming Xavier AI supercomputer on a chip – a thumb nail-sized chip using our next GPU architecture, Volta – that delivers 30 TOPS (trillion operations per second) of performance while consuming just 30 watts of power.
AI Is My Co-Pilot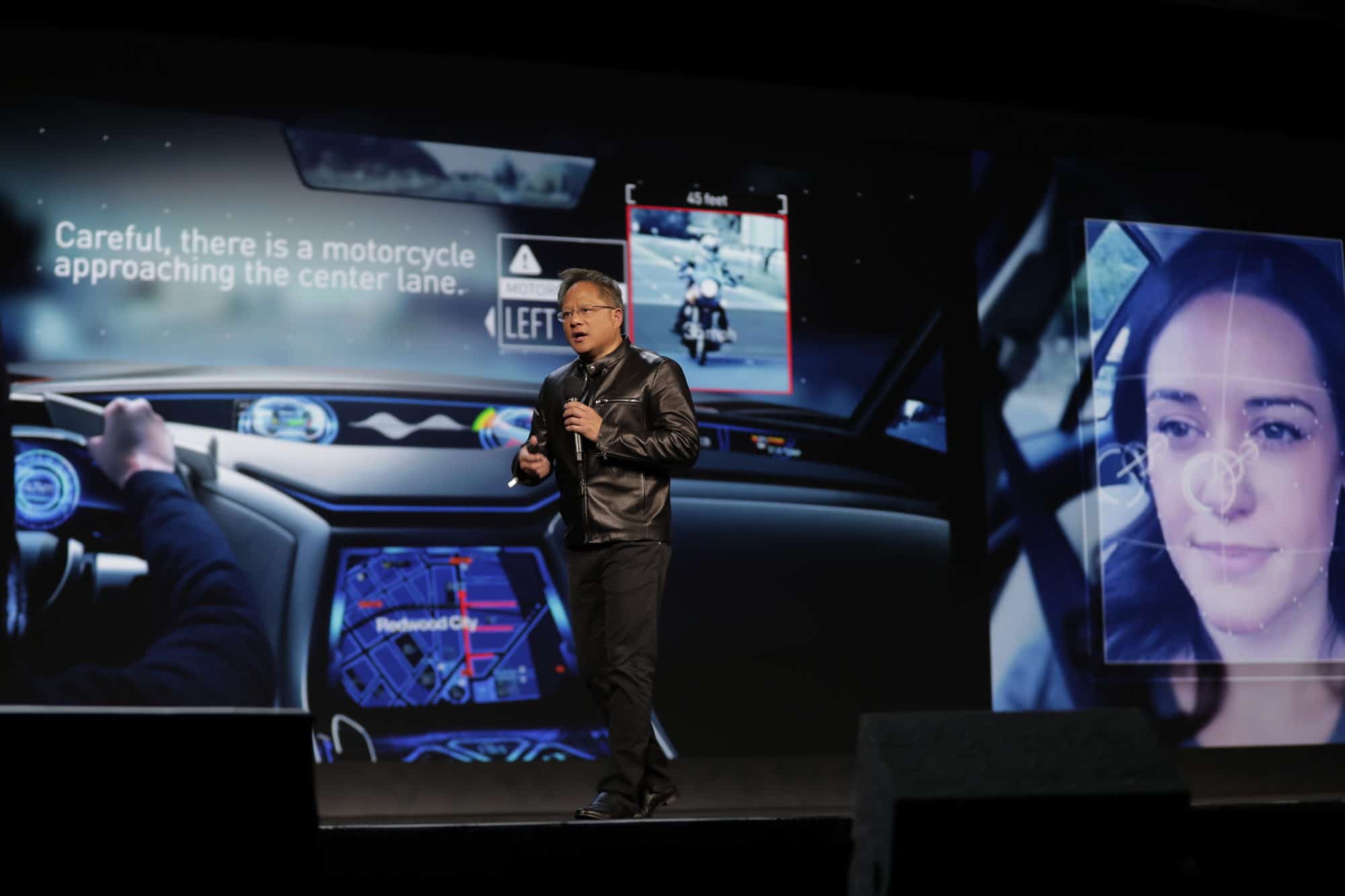 We're putting that power to work with AI Co-Pilot, which promises to help your car understand you as well as it does the world around it.
There's an AI for natural speech recognition, to pick up your spoken commands. An AI for face recognition, so the car knows who you are, setting personal preferences and eliminating the need for a key. An AI for gaze detection, so your car knows if you're paying attention. And an AI that can read your lips when you say the name of the next song you want to play, even if you've already got your radio cranking.
In addition to the AIs within the car, AI Co-Pilot integrates external sensors so that it can tell you when there's a bicycle pulling out into traffic as you're about to make a turn, or if a pedestrian has stepped into the road.
Besides helping you drive better, our new AI Auto-Pilot enables the car to drive itself, combining input from an array of sensors, HD maps and — thanks to the ability to share data — a far deeper well of experience than even the most seasoned driver.
"We would like to turn your car into an AI, and that by applying this technology we can revolutionize the automobile and bring joy and delight and safety to millions of people"
GeForce Gaming for All
The cloud is good for much more than cars. Moving from transportation to gaming, Jen-Hsun announced GeForce NOW for Mac and PCs, delivering on-demand, high-performance NVIDIA Pascal gaming PCs from the cloud to millions of PC and Mac computers.
It's a simple way for new players who may not have access to a high-performance GeForce GTX gaming rig to experience great PC gaming. It connects gamers to GeForce GTX 1080 PCs in the cloud, renders games with the latest NVIDIA GameWorks visual technology and streams them in high definition to PCs and Macs.
Bringing AI Home
Jen-Hsun also now introduced an updated version of SHIELD, which now supports 4K HDR and offers 3x the performance of any other streamer on the market.
With the addition of Amazon Video in 4K HDR, SHIELD offers the largest, most open catalog of media in stunning 4K – also supporting Netflix, YouTube, Google Play Movies and VUDU.
SHIELD also provides access to GeForce NOW with Pascal-generation GeForce GTX GPUs in the cloud, improved GameStream and new native Android games.
Finally, a slew of upcoming features will transform SHIELD into an AI-powered hub for smart homes. SHIELD will support the Google Assistant hands-free. And with an upcoming update it will also support SmartThings – turning it into a smart home hub that can connect to hundreds of smart home devices.
"We want to be able to turn your home into an AI," Jen-Hsun said. We believe your home will engage you and you will engage your home in natural simple ways."
And to extend SHIELD's reach throughout your home, Jen-Hsun introduced SPOT, a SHIELD accessory and AI mic that extends intelligent control throughout the house.
Learn More
To learn more about all these announcements, visit our booth in the North Hall of the Las Vegas Convention Center, where you'll see the newest Tesla Model S on display, featuring the first series production of DRIVE PX 2, an enhanced AutoPilot system that will be capable of full autonomy via future software updates.
Then step outside to the Las Vegas Convention Center's Gold Lot, where you'll find an Audi Q7 piloted driving concept vehicle as well as our BB8 test vehicle. Both will will navigate through a challenging, dynamic course, relying on DRIVE PX 2.