7:55 pm – That's it, thank you for tuning in.
7:52 pm – Never before has technology moved so far so far, Jen-Hsun says. He asks Scott how Audi keeps up.
We're now at the forefront of technology and at improving society, Scott says. The fact we can bring this kind of safety onto the road is amazing. Self-driving, he said, gets him out of the bed in the morning, letting the elderly enjoy cars and helping kids get transportation.
Says Jen-Hsun: "This is the largest consumer show in the world. It's so fun to be in the middle of technology industry right now. The technology that will reshape how we use tech in the coming years. We can realize now the dreams we've had for years."
We want to bring video games to everyone. We want to turn your home into an AI, we believe your home will engage in natural simple ways. We want to turn your car into an AI and revolutionize the automobile and bring joy and safety to millions of people.
7:48 pm – Without a great car company to partner with, so today we're announcing that we're partnering with Audi to build the next generation AI cars.
There's a beautiful rendering of an Audi, that will be powered by NVIDIA AI car computer and will have cars on the road by 2020. That's in just three years.
To celebrate this, JHH brings Audi of America Head Scott Keough. The two companies have been working together for a decade and Audi was the first car company to come to CES seven years ago, when it introduced that it was using NVIDIA technology.
Scott says 10 years ago when we worked together we were selling just 60K cars. We're now selling 210K cars a year. And it's because of incredible technology that NVIDIA helps us prepare.
When you test drive our Q7 in the Gold Lot, it's driving by itself. Scott says it learned in just three days through AI. This will be Level 4 automation in just three years. "This is really huge."
7:45 pm – There's just one more thing, JHH says. There's a vague hint there of Steve Jobs. Suggests something big is coming.
7:44 pm – Addressing this computing problem is a huge challenge. The endeavor is so important, there are so many that could help us enjoy this dream.
So, we're now partnering with ZF, the leading trucking and commercial vehicle suppliers in Europe. They are first to announce a production DRIVE AI computer. It's available now for sampling and will ship later this year.
Another partner we're announcing is Bosch, the number-one automotive tech supplier in the world, which supplies every car company in world. will adopt DRIVE computer. This gives us the number one and number five autoparts makers as initial customers for DRIVE. In March, we'll provide more details.
7:35 pm – JHH is focused on mapping.
A few months ago, we announced that we're working with China's Baidu, as well as Europe's TomTom.
Today, we've announced partnerships with Japan's Zenrin, which maps roads in Japan, and HERE, to integrate NVIDIA technology into their datacenters for mapping., and HERE, to integrate NVIDIA technology into their datacenters for mapping.
7:39 pm – JHH shows the NVIDIA AI car platform.
It all sits on the NVIDIA DRIVE PX computer, probably the most complex computer we've ever built. Because it needs to act instantly to be safe.
On top of it is DriveWorks, our OS for driving, which underpins a series of different neural nets for auto pilot, for co-piloting, for natural language usage.
On top of this architecture is an API called MapWorks, which interacts with all the map companies in the world and does four things: First, it does surveying, it does mapping, it handles exchange of data so our car can alway see an HD map of surroundings of car, and so as we map world, we can update the live map in the cloud. These four functionalities are vital for self-driving cars to work
7:35 pm – We'd also like to have capability for inside the car AI. So it's paying attention to you, too. Not just peering ahead, and sideways. It will note if you're sluggish or sleep, or maybe suffering from road rage.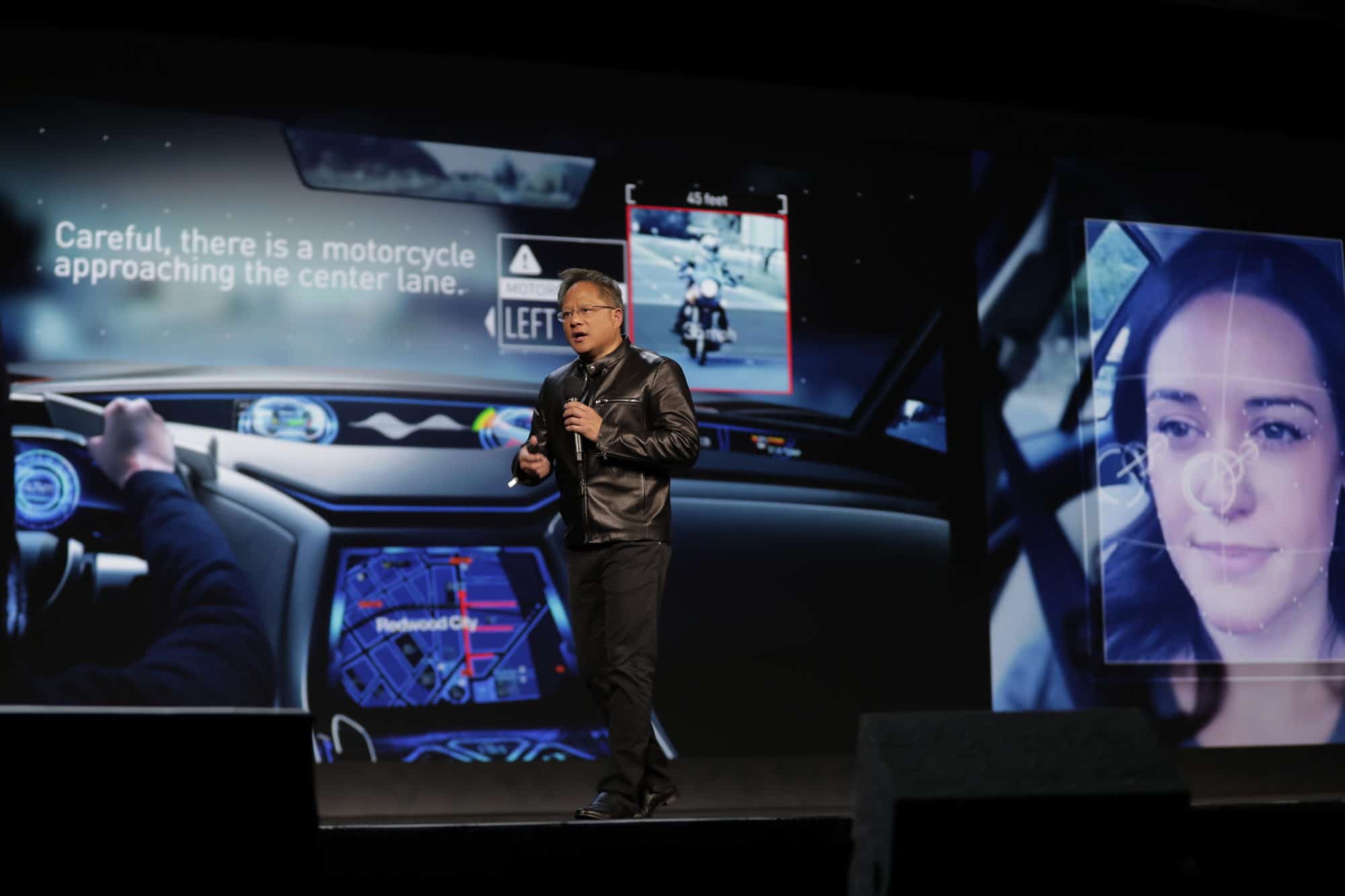 Video shows Janine, an NVIDIA employee (who happens to be responsible for looking after our booth at CES), it recognizes her face. It tracks her head to see where she's looking. It tracks where her eyes are looking – maybe she's looking at her phone. Sorry, Janine, you really shouldn't be doing that. The car has an AI that will read your lips, so if there's a train blowing by or your radio's cranking, it will perceive what you're saying with 95 percent accuracy.
7:32 pm – People definitely like the video. Lots of applause. You can see the BB8 AI car driving around our office in Santa Clara or in New Jersey, where it's mapping roads.
BB8 will tell you where it can drive, and where it's less confident and you'd best assume control yourself.
We're now announcing a new capability on the NVDIIA AI car computer called AI Co-Pilot. It's aware of driver, aware of state of passenger. Just as SPOT gives you an array of speakers and mics, this car gives you the same array. With this, the car is either driving you or looking out for you. If it's not confident to drive, or ther are too many pedestrians, it should still be completely aware.
He switches to a video that shows a rendering of someone driving. The AI warns her that there's a bike on the right, 15 yards ahead. It does so just by speaking to the driver. Another example, is the car warns the driver that there's a motorcycle coming.
7:27 pm – To show off NVIDIA's self-driving car, affectionately known as BB8, Jensen next shifts into video.
Very bouncy soundtrack, Outasight's "Do Something Crazy" starts pumping out. It shows a tricked out black Lincoln Continental, with NVIDIA green highlights, loaded with NVIDIA's DRIVE PX AI car supercomputer. The driver, really an NVIDIA engineer who's drumming along with the soundtrack, takes the car through its paces.
He heads out for a cup of Starbucks without really touching the wheel, and just talks to his car naturally.
7:26 pm – To achieve all this, we've built an AI car supercomputer. It's called Xavier. This is a little thing the size of a square dessert plate. It can process 30 trillion operation a second in just 30 watts; uses 512 core Volta GPU. It's reliability is auto grade. "This is the future of our self-driving car strategy."
To show this off, we created our own self-driving car using Xavier. It's called BB8.
7:23 pm – Self-driving requires cars to engage in perception, reasoning, driving, and mapping.
We can now perceive our environment surrounding the car. We can reason where the car is, and where everything will be – all using AI.
We can decide whether path we're on will be safe. We also have ability with robots, motor skills and walking skills to teach a car to drive just by watching us, supported by HD Maps in the cloud, we can compare what we perceive to what we know to be true, and determine what to do.
7:22 pm – If we could introduce self-driving cars, we've decided a decade ago to start working on autonomous cars. So your car would be your most personal robot.
Cars would keep you safe, and do so intelligently. The thing is, this is a pretty hard thing to do. But  GPU deep learning will develop the vision of self-driving
7:20 pm – Okay, we now shift to AI for transportation.
NVIDIA, JHH said, is ready to revolutionize the $10 trillion transportation industry. There are a billion cars on the road, 20 million rides a day, 300 million trucks traveling 1.2 trillion miles a year and 500,000 buses in operation. So, it's pretty meaty.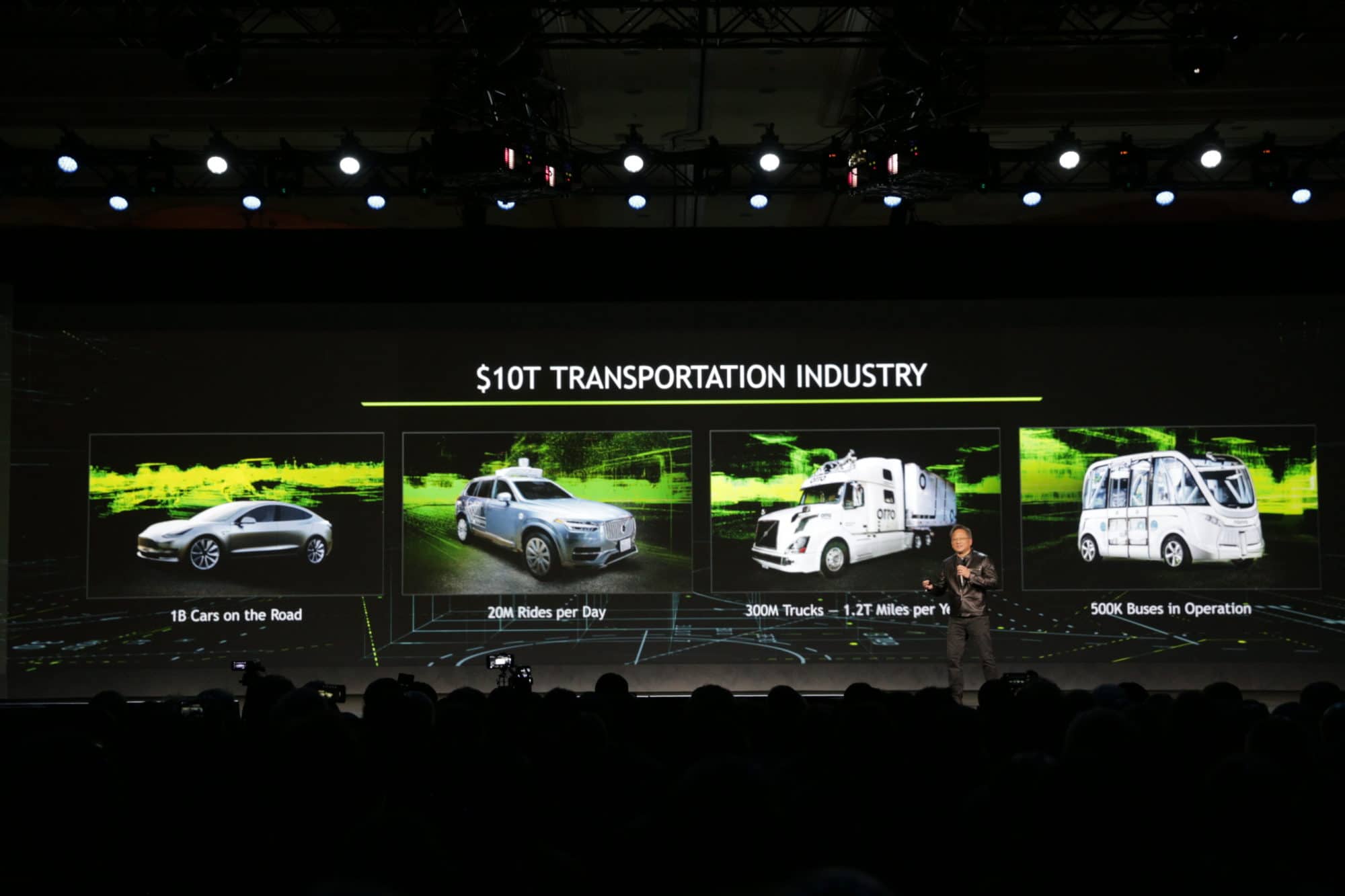 It's also the industry with the most waste. The fact is, they shouldn't be operated by humans. The losses of life, property and productivity, and human suffering is huge.
Cars also waste space – everywhere you look, there are parked cars. What if we reduced all that waste, and changed the face of our community.
7:18 pm – Today, with the new SHIELD, with NVIDIA SPOT, the Google Assistant and integration of SmarThings hub, you can integrate all your consumer devices into the SHIELD experience. You can pretty much control your house, entertainment… everything but your kids, using SHIELD. It will sell for $199.
7:17 pm – JHH now plays a short video showing how you'd use the Google Assistant to start your day.
Young dude in San Francisco wakes up and uses the Google Assistant to get the basic facts about his day, turn on the house and turn on his coffee maker, open the blinds, and open the garage so he can drive away in his swanky Audi. Later, he's at home with his wife and they talk their way through a great video entertainment experience.
"This will change the way we interact with our house."
7: 15 pm – We didn't stop there. We thought "why have two devices when you can have one?" We've worked with Google to create world's first Android TV with the Google Assistant. Now your TV, the largest screen on your house, can be controlled by natural language. You can search, play, fast forward content. You can even control your home.
If you had the Google Assistant, you'd want to have it all over your home. Wouldn't it be nice if your AI was completely ambient and you could talk just naturally. There;d be many spots around the house where you can ask an AI agent to do things – call an Uber, ask about weather, ask for coffee. This AI mic is called NVIDIA SPOT. It plugs into the wall. It's about the size of an eight ball. But you can put them all over your house. The mic has far-field processing and echo cancellation. If you have multiple devices in a large room, you can do triangulation and it will determine where you are in the room.
7:11 pm – JHH shifts to television. As he does, the black and green abstract rendering of outer space shifts. Feels a bit like rushing through hyper space. Even as it settles, there's movement like traveling through space.
JHH now launches the new SHIELD, which he calls the world's best streaming device. First, it's the world's first home entertainment platform that's full 4K HDR. SHIELD will be first entertainment platform to enjoy Netflix and Amazon video in full 4K. You can connect your Steam TV using Android play so you can enjoy games on your TV. There are now a thousand games on SHIELD.
7:08 pm – GeForce Now will be available in March for early users, and for $25 for 20 hours of plays.. It's basically a GeForce gaming PC on demand.
7:07 pm – JHH notes that there are now 1 billion PC users with systems that aren't game ready. These are Macs or thin and lights that have integrated graphics without the ability to install discrete GPUs to make visuals come alive.
We thought, what if we could put in the cloud, like AWS does for enterprise, but for consumers. These supercomputers in the cloud could be tried by gamers and launched whenever, wherever they want. After years of endeavor – it took five years – we were able to refine and engineer away the latency.
So, we're now announced GeForce Now for PCs. It turns any of your PCs with the download of a client into your most powerful gaming PC. It's just one click away.
He invites folks to take a look. He shows on the big screen a laptop PC screen and a big Mac screen. He says that, with GeForce Now, you can launch Steam, the most popular PC game store in the world. In about 15 seconds, Steam comes up, with all the games you have. It launches Steam on both the older laptop and on the Mac, which draws applause.
Now that Steam is installed, the game is called up. Doesn't take an hour to load, rather it comes up in about 20 seconds. Here they're playing Rise of the Tomb Raider.
7:01 pm – But all of a sudden they're approaching a planet. The player assumes a persona, girds itself properly, and then goes to war with creatures spitting fire, shooting rays. The detail is incredible. It's playing on a GTX 1080. So game play is smooth and seamless. People are pretty pumped up. But it won't launch until March 21. Aaryn says that's equivalent to 3-2-1, and they'll then be ready for takeoff.
Aaryn then describes the game, and how you learn about the background of the characters, as well as the vividness of the rendering.
6:58 pm – JHH is building suspense for what he's about to show. He's teasing aliens, weapons, battle tech. He warns that gamers will dissect what they're going to see – mercilessly.
JHH shows never before seen footage.
It begins with a resolute space ship going through the debris of deep space. It's cruising in earnest, jet burners on, a faint orange glow. Looks like an air force recruitment video
6:56 pm – Mass Effect: Andromeda is the most eagerly awaited game of the year's first half. It's made by BioWare, a Canadian company owned by Electronic Arts.
The game is an action role-playing game, the fourth in a decade-old franchise. This takes places 600 years after the events of the previous Mass Effect games in the Andromeda Galaxy.
6:55 pm – To show how it can be shared, we're going to show footage of Mass Effect Andromeda. This is the most anticipated game of the first half of this year.
Jensen introduces Aaryn Flynn, GM of BioWare, the gaming company that developed Mass Effect.
6:54 pm – Gaming now is social, it's not just a game. There are 600 million video game viewers. Two trillion minutes of games have been watched so far just on Twitch TV.
Today, our first announcement is to connect GeForce, the number one gaming platform in world, to the number one social platform in the world, Facebook.
GeForce Experience now is a platform that you game on that lets you update your drivers, opritmimze your setting, and now with two clicks it connects to Fascebook live.
6:53 pm – These achievements, once impossible, can now be done through AI, solving problems that we could never have even conceived of in the past. GPU computing is the enabling technology of this.
The GPU had the benefit of being fueled by the largest entertainment industry in the world, video games. To some people it's just fun. To us, it's incredibly fun, but it's also thriving to $31 billion a year. And our platform, GeForce, has doubled in five years. There are 200 million GeForce gamers. Before anyone ever gets a game console, everyone has a PC. Almost every human is a gamer, or potentially one.
The market is fueled by the production values of games. Gaming tech performance has improved 10x in five years. Gaming isn't just about games. It's world's largest sporting event. It's likely that eSports will some day be bigger than any other sport. There are now 100 million MOBA players, and 325 million eSports spectators.
6:49 pm – GPU-powered deep learning is driving the ability for computers to perceive the world.
The only handicap: it's hard because the amount of data processing is enormous. But one day, AI researchers met the GPU and the big bang of AI ocurred. It's triggered the AlphaGo achievement, in which a computer was taught to play GO – a game with more variability than all the atoms in the universe – and beat the greatest champion. AI enables a network to play Doom, to paint in the style of Monet and Van Gogh and apply it to photo, to synthesize a voice the way we'd speak. A network has been taught write captions, write learn motor skills with a robot and walk by itself. And of course we've taught a car how to drive.
6:46 pm – JHH describes the big bang of AI, letting software write software. So computers can recognize complex patterns that are hard for you and I. They do so by building up hierarchies from simpler patterns. This is machine learning, of course, using deep neural networks, which teach themselves.
6:45 pm – JHH describes NVIDIA's history, beginning with video games, which is about achieving virtual reality. Now all tech is coming together to create true VR, AR, mixed reality. Computer graphics tech, AI will come together to realize this new platform. Our tech is used in the cloud, with AI supercomputers. When you make queries, when you ask questions, you get accurate answers. The most impactful work we're doing is self-driving cars.
6:43 pm – The crowd cheers the video and Jen-Hsun is back on stage. He's wearing his trademark black, of course, including a really nice black leather jacket. Beaming broadly.
What's more amazing is what's happening on that wide football-field sized screen.
Imagine an enormous VR experience with images flickering across a moving, neon green on black landscape, 300 feet across.
It's powered by CANVAS software from Montreal-based Immersive Design Studios and the Epic Games Unreal Engine 4 game engine. The massive display — 28,800 pixels wide and 1080 pixels tall — relies on a bank 10 NVIDIA Quadro GPUs. At a refresh rate of 60 frames a second, that's nearly two billion pixels. Enough, almost, for sunburn.
6:41 pm – It does start with a video, the way all NVIDIA's big presentations do.
Some spine-tingling music. The rich, casual tones of Peter Coyote rise up, talking about the power of imagination. Beyond possessing a voice that lets you hear the wind blowing across the red barns and well-scrubbed towns of the Midwest, he's been in a list of movies as tall as a silo. Best factoid: He changed his last name from Cohon after he ingested peyote and saw his footprints as coyote paw prints.
The video focuses on  how imagination lets us shape the future. And how it's given rise to artificial intelligence, which is bringing a world of robotic factories, ultra-safe self-driving cars, and cures for dreaded diseases. Accompanying it initially are gorgeous scenes anticipating the future from Titanfall 2, The Void. And as it shifts to AI's impact, the visuals shift to Sony's Asimo robot, robotic machines from Japan's FANUC and a pretty amazing bionic arm.
"NVIDIA brings them to life with AI computing that turns the ideas of visionaries into life-changing technologies. And sparks our sense of wonder about what comes next." Great final quote
6:40 pm – Jen-Hsun thanks Gary and introduces a video.
6:39 pm – Gary Shapiro is introduced. He comes on stage. Beaming and welcoming the world to CES.
He calls Jen-Hsun Huang, our CEO, one of the true visionaries of the tech industry. Describes how NVIDIA has moved from gaming to pro graphics to supercomputing and solving great computational problems. He notes that the company has pivoted hard to AI.
Notes that Jensen was ranked one of world's top CEOs by Harvard Business Review. And says that company was top performer in S&P 500 last year.
6:37 pm – Okay, the official CES video, which will be played at the beginning of all the keynotes, begins to wind down. "CES is a game-changer," they say.
And it's true, four or five years ago, people were talking about the demise of CES, but it's only gotten stronger. With new products, like auto, becoming the focus.
6:35 pm – Lights go dark. People put down their cell phones for now. Crane their necks a bit.
The CES opening vid plays. Gary Shapiro, its head, talks about growth over past 50 years from radios and black and white TVs. CES folks says they use a staff of over a thousand to run this thing. Have heard that they book space in the hotels and conference centers something like a decade out ahead of time.
6:32 pm – "We're about to begin," we hear.
The music is shifting. A little lighter. CES messaging notes that this is the 50th anniversary of the big show.
6:28 pm – VoG comes up again with a five minute warning. Stay tuned.
6:27 pm – There are some stats from CTA, owner of CES, flashing up on the screen. Says the average tech industry job pays $92K in the U.S. Hope my kids are following this.
6:25 pm – Interesting crowd here. You can tell the reporters, they're deep in their thin and lights. You can tell the better fed, beefier business types; they're near the front exchanging new year's hugs. Toward the back are the enthusiasts. They're younger, look like they're having a better time.
6:21 pm – Okay, the VOG as it's called, aka Voice of God, comes up and gives  10 minute warning. The place is already packed to the gills, back row filled, the sniffer dogs having retreated.
6:15 pm – It's not like there aren't other CES keynotes this year. Five other companies have solo slots – Huawei, Nissan, Carnival Cruise Line, Qualcomm and Under Armor.
But the opening keynote's the one folks keep their eyes on. For more than a decade Microsoft, with Bill Gates and, later, Steve Ballmer, kicked things off. More recently, it's been passed between Intel, Qualcomm and Samsung.
But you can see NVIDIA's ambitions here. Consider the screen. It's an undulating stretch, 180-degree across, as long as a football field, 14-feet high at its peak.
6:13 pm – Looks like the new year may have started.
Here at CES in Vegas, there are 175,000 attendees, and something like 9,000 reporters.
To be specific, we're in a yawning ballroom at the faux-Italianate Venetian Hotel – perched above its fake canals, with fake gondoliers sporting real horizontal striped shirts.
About 3,000 CES attendees are here for the opening keynote.
NVIDIA CEO Jen-Hsun Huang will get things rolling at CES 2017, in Las Vegas, tonight at 6:30 pm Pacific.
We won't spoil any of the CES surprises. But stay tuned. We'll be live blogging throughout the event. Hit refresh on your browser for updates.