I can't handle the truth.
I've long clung fast to the fantasy that age has made only the faintest etchings on my youthful looks.
Then I tried Olay's new artificial intelligence skin care tool, which uses deep learning to evaluate facial skin age and condition and compare it with actual age.
The Olay Skin Advisor took a long, hard look at my selfie, shot without makeup in the cold light of a rainy January morning. Its verdict? Let's just say the skin advisor and I disagree.
But the news isn't all bad. After the AI skin advisor delivers a cold dose of reality, it offers instructions for how to improve the skin's trouble areas, using a daily regime of Olay products, naturally.
Girl Power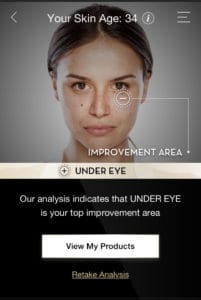 "It's become a real challenge to shop for skin care," said Frauke Neuser, principal scientist at Olay. "You go into a store, and there are 50 yards of facial care products." Olay, the skin care brand of household products giant Procter & Gamble, said a third of women report being unable to find what they seek in the facial care aisle.
The Olay Skin Advisor is designed to "put the power back into women's hands" and simplify the process of choosing skin care, Neuser said.
The GPU-accelerated advisor works on any mobile device. After you snap a selfie, it asks about your age, biggest skin worries (wrinkles, skin tone, acne, etc.), skin type and product preferences. The questions are intended to help it determine what types of products you need and would use daily.
For 65 percent of users, the skin advisor also delivers cheery news, telling them their skin looks the same age as or even younger than their chronological ages.
Scientific Selfie
Olay has spent decades studying the skin and skin aging. In 2014, it began deep learning research to predict skin age based on a selfie, said Jun Xu, a bioinformatics expert and deep learning scientist at P&G.
Initially the team had only 800 professionally shot images to train its algorithms to understand the characteristics of aging skin. Later, it built a dataset of 50,000 selfies, gathered from P&G employees and others, and used that to develop software that could accurately estimate skin age.
To accelerate training, Olay researchers used the CUDA parallel computing platform, NVIDIA TITAN X GPUs and cuDNN with the Torch deep learning framework.
AI for Better Skin Care?
The trained software evaluates a user's skin for signs of aging such as fine lines, wrinkles, dark spots and compares it to others' skin to arrive at a skin age estimate, Neuser said. "Deep learning technologies are the future, and it's helping us get the right products to the right women to ensure they get more from their skin care."
Can AI help you get better skin? It's yet to be seen, Neuser said.
After four weeks, the vast majority of women who tried the Olay Skin Advisor continued to use products it recommended. But Neuser says the proof will come after people have used the products for 3-6 months. So far, nearly half a million people have tried the tool.
"We know that using the wrong products for your skin is a major cause of dissatisfaction," Frauke said. "We truly believe this tool is not only fun to use, but will help women get better results."