The annual Consumer Electronics Show, in Las Vegas has become the best place to learn about what's coming to cars. This year, however, the wild new capabilities rolling through CES, and into the auto industry, went from an open secret to headline grabbing news.
As a result, it was an incredible week for us. Since we unveiled our AI computing platform for autonomous vehicles at CES last year, DRIVE PX 2 has become the core of the AI revolution sweeping the auto industry.
That became clear with the show's opening keynote Wednesday from NVIDIA Co-Founder and CEO Jen-Hsun Huang, who announced our new AI Co-Pilot for the car built on DRIVE PX 2, as well as our ever expanding AI Car ecosystem of partners.
Automakers Jumping into AI
The next big news came just moments later, when Jen-Hsun invited Audi president Scott Keogh on stage to announce that our two companies will develop AI systems to enable fully automated driving coming to market starting in 2020.
On Friday, Mercedes-Benz invited Jen-Hsun to their booth on the show floor to formally announce our partnership and that we've been working with the luxury automaker for the last three years. Our co-located teams – in German and Silicon Valley – are developing a product that will come to market in just 12 months now.
Just steps away, in our booth in the North Hall of the Las Vegas convention center, we featured the newest Tesla Model S. It's the first series production vehicle with DRIVE PX 2, powering an enhanced AutoPilot system that will be capable of full autonomy via future software updates.
Top Tier
Key suppliers are joining automakers in their support of our automotive AI technology.
The world's largest automotive supplier, Bosch, announced that they will be using NVIDIA AI technology to bring self-driving systems to production vehicles all around the world.
More details will be revealed when Jen-Hsun takes center stage this March at the Bosch ConnectedWorld conference in Berlin.
And, ZF, the number one supplier of safety systems, announced Wednesday that they're taking our DRIVE PX 2 platform into production and launched a product called ZF ProAI. Based on our AutoCruise DRIVE PX 2 configuration, the ZF system will bring self-driving capabilities to cars, trucks and even factories.
Just imagine a factory where trucks, forklifts and robots are all managed by AI, enabling smoother and more efficient material handling and logistics. ZF is using NVIDIA technology to make this a reality at their flagship German factory in 2018.
Mapping the Road Ahead
Of course the best example of how our we're helping to map the future of automotive AI might be the most literal one: we're now working with all of the world's major mapping companies so more of the world's roads will be mapped sooner.
These high-definition maps — accurate down to centimeters — are vital to enabling vehicles that can autonomously zip through the world safely and efficiently.
Zenrin, Japan's biggest mapmaker, announced Wednesday it's working with us to streamline its map creation process using AI.
We're also collaborating with global mapping company HERE in an effort that reaches from the car to the cloud.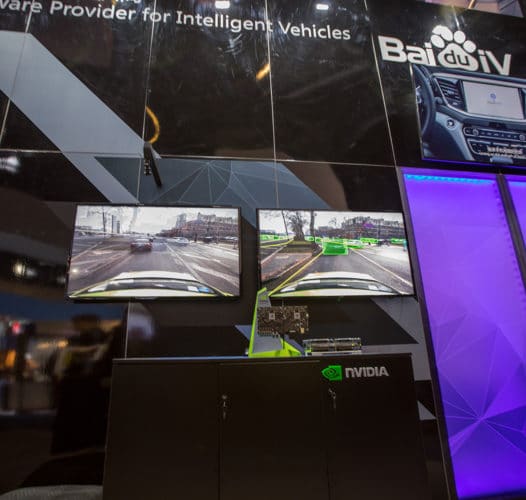 These complement efforts we announced just months ago with mapping giant TomTom and Baidu. Using our MapWorks software in the cloud, and DriveWorks software in the car, our DRIVE PX 2 customers can develop vehicles that can operate all over the globe.
AI Everywhere at CES
Of course, no one needed a map to find examples of auto companies showcasing our automotive technology. You could hardly move 10 yards through the show's North Hall – which was dedicated to automotive technology — without stumbling on another example of how our technology is being woven into the auto industry.
AImotive is startup working to deliver AI-powered self-driving vehicle technology. The company's suite of products, include aiDrive, aiKit and aiWare, and showcased demonstrations of DRIVE PX 2.
AutonomouStuff, focused on autonomy and increasing safety, has developed automated driving platforms that integrate DRIVE PX 2.
Baidu featured their L3 Autonomous Driving solution for environmental sensing, based on a Baidu created High Definition Map. Raw HD map data are processed via DRIVE PX 2 to detect and classify the surroundings, such as lane marking, and traffic signals, signs and other landmarks.
Elektrobit, a DRIVE PX 2 development partner, showcased their 1/8 scale self-driving model cars.

Our technology was also shown prominently at HERE's booth.

HERE is using NVIDIA AI technology, and demonstrated our DRIVE PX 2 platform for real-time localization using HD maps.

IAV Automotive Engineering is developing self-driving cars powered by DRIVE PX 2.
Infineon is one of our partners whose safety technology is integrated into our DRIVE PX 2 solution.
LG featured a multi-screen vehicle cockpit demonstration powered by NVIDIA DRIVE.
ON Semiconductor is a DRIVE PX 2 camera partner
NAVYA the autonomous shuttle company is a DRIVE PX 2 research partner
Robot Tuner showcased an autonomous vehicle simulator showcase with DRIVE PX 2
TomTom, one of our key HD mapping partner for self-driving cars has integrated their mapping technology into our DriveWorks software and has their RoadDNA powered by DRIVE PX 2.
ZF showcased the new ZF ProAI solution, the first DRIVE PX 2 production system from an automotive supplier.
Whew.
Finally, at our outside exhibit in the Gold Lot, CES showgoers found an Audi Q7 piloted driving concept and our BB8 test vehicle that both use DRIVE PX 2 as their brain.
These AI car demonstrations use end-to-end deep learning to navigate through a dynamic course. They're trained to understand various road conditions and obstacles, as opposed to being specifically programmed.
In other words, they're learning on their own. And that's perhaps the surest sign that AI cars are here to stay.
For more on the intersection of AI and all things automotive, listen to our interview with NVIDIA's own Danny Shapiro, and subscribe to NVIDIA's AI Podcast on iTunes or Google Play Music.