If a tree falls in Peru's rainforest, Greg Asner can tell you what kind it was.
Asner, an ecologist at the Carnegie Institution for Science and Stanford University, uses artificial intelligence and a powerful spectral imaging method to map the rainforest in unprecedented detail. By identifying each tree species by its chemical composition, he has shown the rainforest is more diverse than anyone thought.
Asner's map takes the guesswork out of protecting one of the most biodiverse places on Earth and pinpointing new areas for conservation.
"It's really advancing our ability to save forests and curb climate change," he said.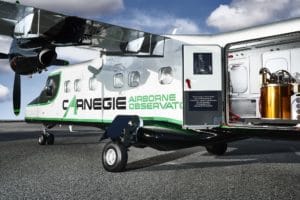 Threats to Peru's Forests
Peru's forests cover 300,000 square miles, stretching from the hot Amazon lowlands to the snow-capped Andes mountains. Oil exploration, logging, ranching, illegal gold mining and, increasingly, palm oil plantations threaten this environment. In one area of the Amazon, deforestation has increased 500 percent since 2010.
To understand and protect an area this vast, Asner and his team gather data from several miles above the forest in a twin-propeller plane, the Carnegie Airborne Observatory, rigged up with more than 2,200 pounds (1,000 kilograms) of high-tech sensors and a bank of computers.
By measuring the concentration of chemicals such as carbon and nitrogen in tree foliage, the researchers identified 23 forest traits that show what strategies trees use to survive. Some species grow to survive, while others protect themselves with defensive chemicals.
10X More Rainforest Biodiversity
The team narrowed the 23 traits into seven that are key to identifying different communities of tree species. With that data and GPU-accelerated deep learning, they generated maps that group species with similar survival strategies — mapping 36 forest types. The Peruvian government and most researchers previously believed there were only three.
Researchers trained their algorithms using the CUDA parallel computing platform, NVIDIA Tesla K80 GPU accelerators and cuDNN. They describe their findings in a recent paper in Science.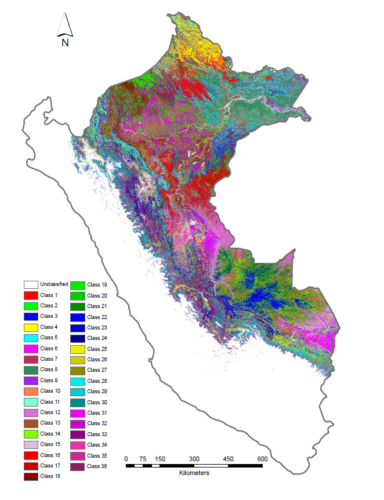 Maps Go Psychedelic
The team's 3D map of these communities looks tie-dyed, with psychedelic colors of hot pink, fluorescent green and 34 other hues. To determine areas most in need of protection, researchers overlaid their map with the Peruvian government's maps of deforestation and protected areas.
"Conservation decisions today are based on available knowledge of where different types of species are," Asner said.
Officials place national parks in regions where they think the park can do the most to prevent land from being developed. With more knowledge, Peru and local governments could position parks where they will protect the most species per acre.
"Governments are trying to deal with huge biodiversity crises using satellite data," Asner said. "If you look at Google Earth or other satellite pictures, the forest just looks green. It doesn't tell you much about what's in the forest."
Going Global
Asner and his team have mapped forests in California, Hawaii, Borneo and Ecuador. But they just have one plane. He's wants to put his technology into orbit and produce a fresh map of global biodiversity every month.
Development will continue, he said, but at least his maps can help governments avoid the biggest environmental losses.
"The world is changing so fast, people know we've got to put in some protections of the forest or it will be wiped out," he said.
All images in this story are courtesy of Greg Asner, Carnegie Institution for Science.
To learn more about how AI computing is changing industries, subscribe to NVIDIA's AI Podcast on iTunes https://nvda.ws/2hQ4Leb or Google Play Music https://nvda.ws/2hQaIrh.