Fujitsu announced today that it is using 24 NVIDIA DGX-1 AI systems to help build a supercomputer for RIKEN, Japan's largest comprehensive research institution, for deep learning research.
The largest customer installation of DGX-1 servers to date, the supercomputer will accelerate the application of AI to solve complex challenges in healthcare, manufacturing and public safety.
"DGX-1 is like a time-machine for AI researchers," said Jen-Hsun Huang, founder and CEO of NVIDIA. "Enterprises, research centers and universities worldwide are adopting DGX-1 to ride the wave of deep learning — the technology breakthrough at the center of the AI revolution."
The RIKEN Center for Advanced Intelligence Project will use the new supercomputer, scheduled to go online next month, to accelerate AI research in several areas, including medicine, manufacturing, healthcare and disaster preparedness.
"We believe that the NVIDIA DGX-1-based system will accelerate real-world implementation of the latest AI technologies as well as research into next-generation AI algorithms," said Arimichi Kunisawa, head of the Technical Computing Solution Unit at Fujitsu Limited. "Fujitsu is leveraging its extensive experience in high-performance computing development and AI research to support R&D that utilizes this system, contributing to the creation of a future in which AI is used to find solutions to a variety of social issues."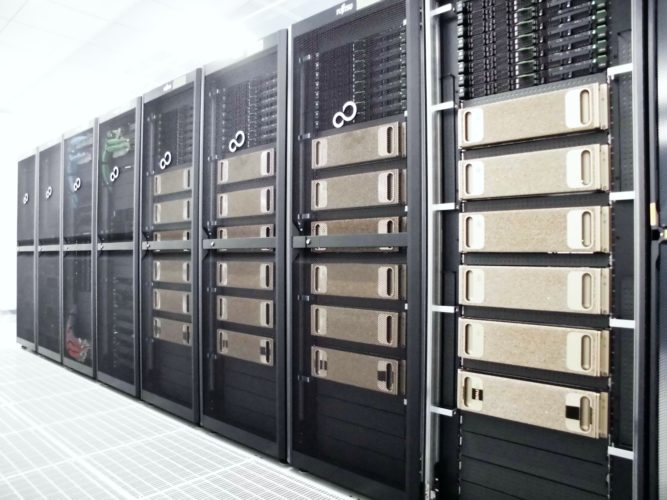 Conventional HPC architectures are proving too costly and inefficient for meeting the needs of AI researchers. So companies like Fujitsu and customers like RIKEN are looking for GPU-based solutions that reduce cost and power consumption while increasing performance. Each DGX-1 combines the power of eight NVIDIA Tesla P100 GPUs with an integrated software stack optimized for deep learning frameworks, delivering the performance of 250 conventional x86 servers.
The system features a number of technological innovations unique to the DGX-1, including:
Containerized deep learning frameworks, optimized by NVIDIA for maximum GPU-accelerated deep learning training
Greater performance and multi-GPU scaling with NVIDIA NVLink, accelerating time to discovery
An integrated software and hardware architecture optimized for deep learning
The supercomputer will also use 32 Fujitsu PRIMERGY servers, which, combined with the DGX-1 systems, will boost its total theoretical processing performance to 4 petaflops when running half-precision floating-point calculations.