Furniture shopping has traditionally had two major limitations: inventory and imagination.
The typical retail customer's crap shoot: walk into a showroom, examine the limited number of offerings on the floor and pick out something, even if it's not exactly what they're looking for. The more ambitious might up the game by looking in a catalog or comparing color swatches, and then try to imagine what the new loveseat might look like in their living room.
Thanks to advances in artificial intelligence and machine learning, that's changing. A handful of companies and university researchers are testing GPU-powered deep learning techniques in online and offline retail settings that will make shopping easier and more precise than ever.
Two examples: The startup GrokStyle is developing an app that lets consumers snap photos of furniture they like, whether from a catalog or in person, and then find matches and determine availability at a variety of online retailers. And home furnishings giant Ashley Furniture HomeStores is taking the guesswork out of shopping by letting people view products in virtual representations of their own living spaces.
"Our goal is to bridge the gap between inspiration and purchase, and make it easier to find and buy interesting things that you find online or in the world," said Sean Bell, CEO and co-founder of GrokStyle.
Bringing Computer Vision to Retail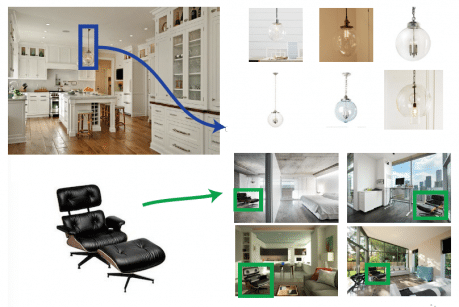 The idea for GrokStyle grew from Bell's doctoral work at Cornell University with one of his professors, Kavita Bala, who co-founded the young company and serves as chief scientist. The pair noticed a substantial divide between the research breakthroughs in the field of computer vision and what was being made available to consumers and retailers.
Even though there were millions of photos of products available online, there was no easy way to browse or access them, much less match a photo to one of them.
The pair created an algorithm to match photos, training tens of thousands of models on millions of images using NVIDIA GPUs, the CUDA parallel computing platform and the CUDA deep neural network library. AWS machines (EC2 G2 and P2 series), powered by NVIDIA GPUs, process and match uploaded images against a massive database of home furnishings.
"GPUs have been critical in allowing us to efficiently train, test and deploy neural network models," said Bell. "This technology could not have existed without GPUs. It allowed us to more quickly explore and compare algorithms."
Bell said GrokStyle's technology could be applied to many consumer products, but furniture proved a good strategic starting point.
"We chose to initially focus on furniture since there is a strong aesthetic and visual component, and because we were able to demonstrate even higher accuracy due to the rigid nature of furniture objects," he said.
Bell foresees GrokStyle's technology eventually helping retailers in industries such as fashion, real estate, art, design and robotics, to name a few. If it sounds like he envisions the company's technology being everywhere, that's because he does.
"We would like to become the platform for visual search and aesthetic-related AI," he said. "We have looked at every part of the visual search pipeline and improved it, which in combination gives us the most accurate visual search algorithm for retail."
VR for an Emotional Connection
While GrokStyle is focused on online shopping, virtual reality firm Marxent has been working with Ashley Furniture HomeStores, the country's largest brick-and-mortar furniture retailer, on an in-store VR tech bar and VR app that are expected to be introduced later this year.
Ashley is using Marxent's VisualCommerce platform to create and scale their product catalog, and publish new 3D product experiences for AR and VR. These experiences will not only let customers shop virtually, but also place them within their own homes to see how they'd look.
To do that, Marxent has been relying on NVIDIA GeForce GTX 1080 GPUs to provide the necessary processing power to render VR images effectively. Vince Kilian, product manager at Marxent, said that VR demos have to run at a minimum refresh rate of 90 Hz, enabling them to support a speed of 90 frames per second, or they risk making people sick.
"GPUs do all the heavy lifting for us," said Kilian.
The goal, said Kilian, is to give consumers a more emotional connection with the shopping experience. Not every prospective Ashley customer lives near one of the company's stores, so Kilian would eventually like to host VR apps in the cloud so people can have a life-like shopping experience in their homes.
"We're in that early stage where not everybody has a Vive or an Oculus or a PC capable of running these high-end graphics," he said. "I imagine a world where these types of experiences are in high demand and take off."