Jules Verne. Elon Musk. Silicon Valley high schoolers.
Inventive minds of yesterday, today and tomorrow converged at the Silicon Valley regionals of the FIRST Robotics competition last weekend.
Local high schoolers battle-tested their homemade robots and manned Verne-inspired airships with the goal of reaching the FIRST championships, to be held later this month in Houston and St. Louis.
The FIRST competition is designed to drive student interest in science, technology, engineering and mathematics. More than 3,300 teams – comprising 83,000 high school students from 25 countries – are building bots around this year's "steamworks" theme, involving steam power, airships and a long-distance race.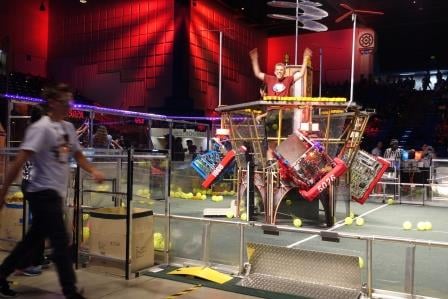 NVIDIA is backing more than 50 FIRST teams across the U.S., as well as one based in Chile. Twenty-eight of our sponsored teams have secured spots in the finals so far. At stake is $50 million in college scholarships.
For added inspiration, the event paused so students could watch as Musk's SpaceX successfully launch a previously used rocket that then fell back to Earth and was collected by a drone ship sailing the Atlantic Ocean.
Witnessing the historic space flight showed A.J. Nadel, 16, of the Bot-Provoking team "a direct link from what we're doing at FIRST in building robots, to building the rockets of the future."
Space Cookies Bags Chairman's Award
Among teams we've backed, and now heading to the finals in Houston, is Space Cookies, an all-female robotics team also sponsored by the Girl Scouts of Northern California and NASA. They won the prestigious Chairman's Award at the Central Valley regionals.
Founded more than a decade ago, the team numbers 85 girls, aged 14 to 18. It's structured so team members gain a breadth of skills, from designing and programming, to writing grant applications and planning business operations.
Wearing protective goggles and wielding wrenches, the team made adjustments to its 120-pound robot, powered by an NVIDIA Jetson TX1, during pit stops between heats. Close monitoring of the robot's performance meant programmers could tweak its code to improve its competitiveness in future rounds.
Spartan Robotics Racks High Score with Jetson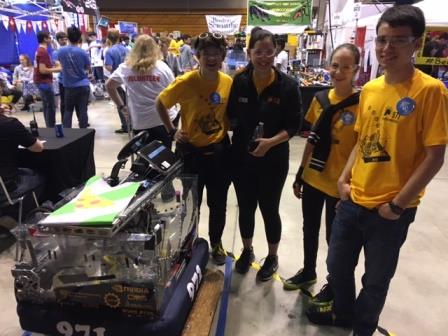 Spartan Robotics, another of our sponsored teams using a Jetson TK1, is also headed to Houston after racking up the highest score during the Silicon Valley regionals and landing a Chairman's Award. The team focused on CAD design and in-house manufacturing to ensure its robot would be nimble and responsive during numerous heats.
The engineering training the team offers is so robust that new members don't need experience when they apply to join, said Ginger Schmidt, 18, a team captain, who also features in our video.
Our support for Ginger and the hundreds of other young students getting hands on at FIRST is meant to develop the next wave of groundbreaking innovators.