In case you missed it, the NVIDIA DGX-1 AI supercomputer is celebrating its one-year anniversary this month. In just one year, we've seen the momentum building around the disruptive performance and value this platform is bringing to deep learning and data science.
A great example of that impact is the demand we've seen from cloud service providers embracing the "AI-Cloud Era" and deploying DGX-1 in their offerings to the enterprise.
This is an important inflection point in the evolution of the AI-accelerated enterprise, enabled by DGX-1. Similar with other mission-critical workloads, every organization is finding its own balance in how to consume AI-compute capacity on premises or from the cloud.
Increasingly, many organizations are going cloud-first for those use cases where it makes most sense, especially for those that:
need the competitive advantage of faster, accelerated delivery of GPU-powered deep learning, without a lengthy proof-of-concept phase prior to reaping production-level scale and success,
depend on elasticity of scale, and need the ability to address temporal use cases or seasonality in how they run their deep learning practice,
want the simplicity of not having to own or operate infrastructure, but simply want GPU-accelerated AI at the ready.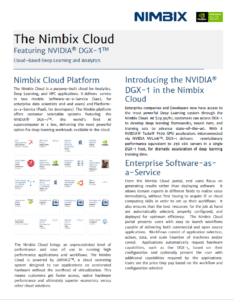 Nimbix Cloud with NVIDIA DGX-1
Nimbix is among the first cloud service provider partners to engage this opportunity. With Nimbix Cloud built on DGX-1, customers get a great approach for quickly and cost-effectively supercharging a deep learning practice, or executing a cloud-hosted PoC before deploying on-premises.
The benefits include:
Accelerated access to their own DGX-1 in the cloud – with dedicated access to a full node including eight Tesla P100 GPUs, paired with NVIDIA's container-based, deep learning software stack.
The economics and elasticity of cloud – at $29.50/hour, customers can untether themselves from infrastructure operations, with the freedom to scale up or down as their business dictates.
The simplicity of DGX-1 "built-in" – enabling customers to reap the benefits of DGX-1 system's GPU-optimized stack, including containers, popular deep learning frameworks, drivers and libraries — all performance-engineered by NVIDIA.
Learn more about the Nimbix Cloud built on DGX-1 in this solution brief.