From "The Jungle Book's" Oscar-winning visual effects to broadcasting major sports events like the Olympics, NVIDIA GPUs power the entertainment industry's most advanced workflows.
By speeding and streamlining workflows, GPUs free artists and designers to focus on what they do best: create and collaborate.
Nowhere is this more evident than at NAB, the world's largest media and entertainment tradeshow, taking place April 22-27, in Las Vegas. NVIDIA GPUs will be powering demos for over 85 partners.
Among those on the not-to-miss list:
Amped Up Adobe Creative Cloud
Adobe is showing off new GPU-accelerated updates to its industry-leading Creative Cloud video apps:
After Effects CC uses NVIDIA GPUs for instant feedback on popular effects like Blurs, Sharpen, Lumetri Color and more.
Premiere Pro CC is faster than ever with GPU acceleration, which delivers up to 30x faster performance than CPUs alone.
Character Animator CC is a powerful, innovative 2D character animation app that captures your voice, movements and facial expressions to bring puppets to life in real time using your webcam. Its automatic lip-syncing capability leverages a deep learning audio training process driven by NVIDIA GPUs.
Immersive, Seamless VR at GoPro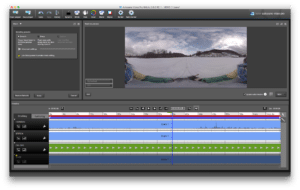 GoPro is demonstrating the power NVIDIA GPUs bring to its Kolor Autopano Video Pro and Kolor LiveVR real-time stitching software. For the first time, you'll see how Kolor live video stitching gives VR creators the power to engage audiences with live immersive experiences.
Faster Frame Rates with ARRIRAW
ARRI is showing how it's achieved breakthrough performance by optimizing its industry-standard ARRIRAW SDK for NVIDIA GPUs with CUDA. The dual Quadro P6000-based technology demo processes high-quality ALEXA 65 ARRIRAW footage at over 200 fps on Windows OS. Mac users can also accelerate CUDA-enhanced ARRIRAW SDK apps by accessing external NVIDIA GPUs over Thunderbolt-3.
Really Big Data Not a Big Problem for Cinegy
The majority of GPUs in broadcast and production applications are NVIDIA GPUs. Cinegy is demonstrating why. The software maker can process gargantuan amounts of data — seamlessly and in real time — and recently improved its Air PRO Bundle, Multiviewer and Cinegy Type products with NVIDIA GPUs.
For more NVIDIA-powered workflows, demos and sessions at NAB, check out our partner lineup at the show, and our partner news.