It doesn't take a VR headset to see the future, but it helps.
Our second VR Content Showcase, held this week at the GPU Technology Conference, featured a record 120 entrants, pitches by 10 finalists and $30,000 in cash and prizes.
Capturing top honors was Nurulize, a three-year-old Los Angeles-based software developer that aims to speed and simplify the creation of VR experiences.
The company's GPU-accelerated Atom View software displays a higher level of detail and visual fidelity than is possible using conventional game engines, says Scott Metzger, Nurulize co-founder and chief creative officer.
The Pitch
A panel of judges chose the winner after two hours of speed-of-light pitches. Each company had five minutes to impress the judges, followed by a grilling from Jeff Herbst, vice president of business development at NVIDIA, and Mark Rein, vice president and co-founder of Epic Games.
"It's great to be selected and recognized for the work we've been doing," said Phillip Lunn, CEO and co-founder at Nurulize. "It's a significant validation of the path we're on and the technology we're developing."
To pick a winner, the judges – who also included Tipatat Chennavasin, of The Venture Reality Fund; and Greg Castle, of Anorak Ventures – looked for startups with unique technology, a ready market and experienced founders.
The Prize
Nurulize takes home $15,000 in cash and three NVIDIA Quadro P6000 GPUs. Lunn and Metzger, both veterans of the software development and virtual special effects industries, said they plan to distribute the cash to employees.
The company beat out nine other VR startups to win the top prize. Other competitors were Cavrnus Inc., Doghead Simulations, FundamentalVR, Funique VR, Kalloc Studios, Opaque Media Group / Opaque Space, Sheencity, Theia Interactive and von waldkirch.
To participate, contestants could have raised no more than $5 million and come from industries other than gaming. Last year, realities.io took home first prize.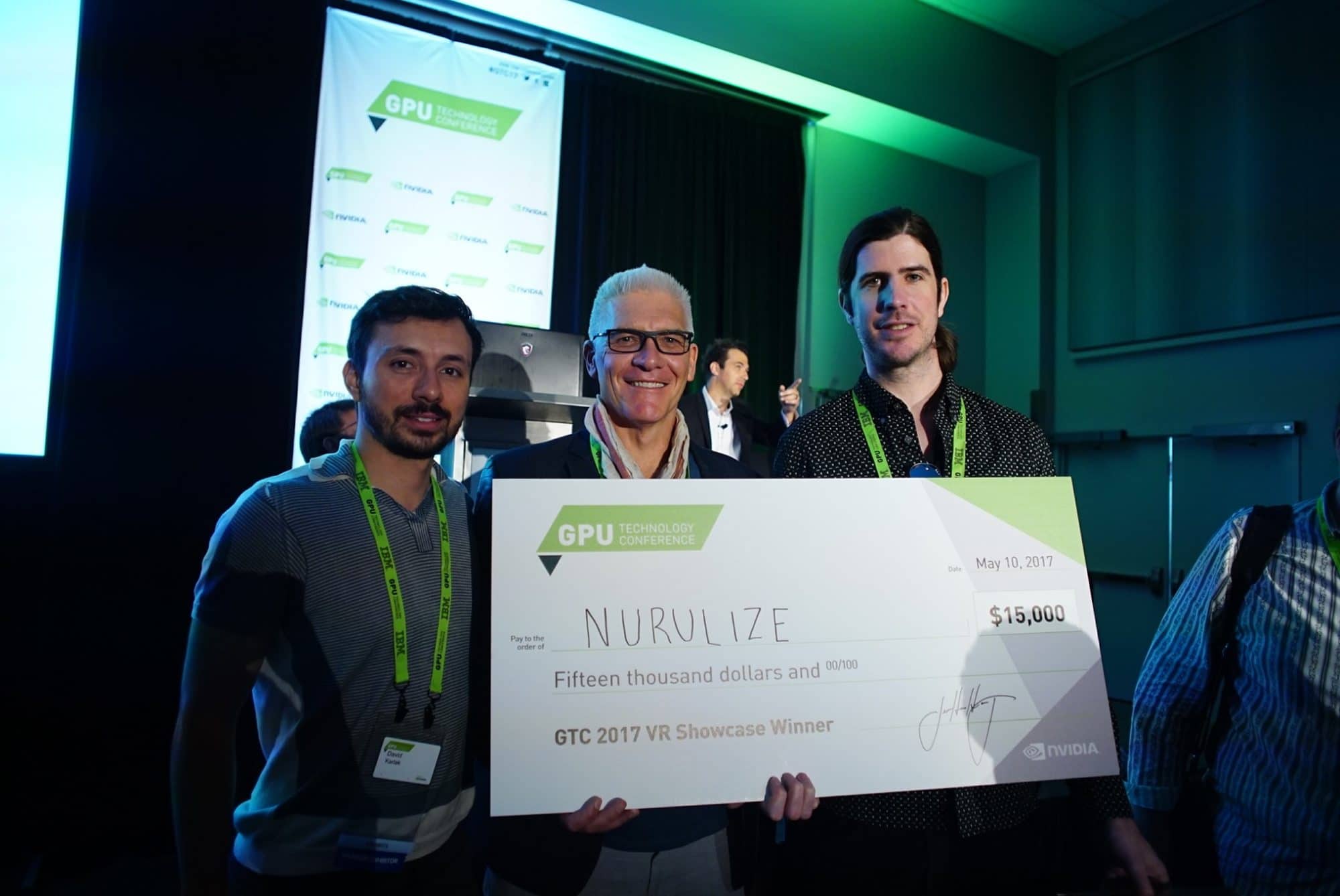 Nurulize founders accept their VR Content Showcase award.