Rain, even several days of torrential downpours, wasn't about to end the parade of driverless vehicle events at this year's Formula Student Germany competition.
Teams of university students have been working tirelessly for months to get to ready for the competition, which wrapped up Sunday in Hockenheim, Germany, about an hour's drive south of Frankfurt.
They designed, built and trained small, formula-style cars, hoping for glory. Arriving to sunny skies, they unloaded their cars from trailers and readied themselves for the competitions to follow. And then came the rain.
But it didn't stop them, or their cars. Nor did it diminish the crowds, who huddled underneath sponsor tents or donned raingear while screaming encouragement from the stands. The show had to go on, and the driverless technology was up to the challenge.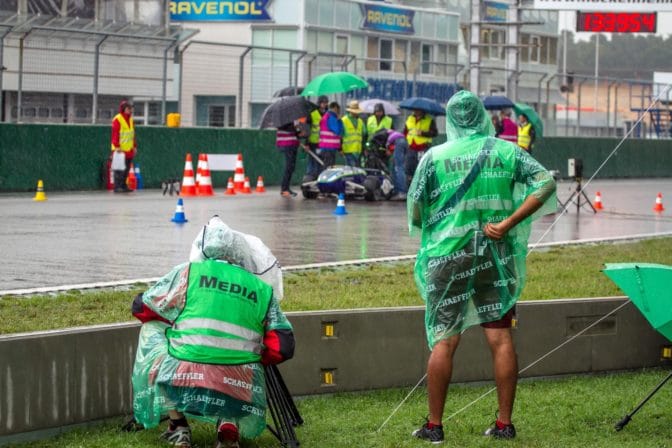 Students from around the world participate in the Formula Student Germany competition. This year, driverless cars joined the two standby vehicle categories — electric and combustion. Many teams build cars in more than one of the three categories. The goal is to create a complete racecar package for a non-professional weekend racer. The student teams not only design and build the car, they also create business plans and give sales presentations at the event.
Judges from the motorsport, automotive and supplier industries evaluate each vehicle. They consider design, construction quality and the team's business plans. Then everyone hits the track for performance tests.
After a full week of competition, the judges determine overall winners in each of the three categories.
DRIVE PX at the Races
A number of teams competing in the driverless vehicle category use NVIDIA DRIVE PX as the brain of their autonomous racecars. "We chose DRIVE PX for its performance," said Roman Dörflinger, from KA RaceIng, a team from the Karlsruhe Institute of Technology in Germany. "It is also very easy to connect it with our system. Most of the software drivers are already installed, and the camera calibration works very well."
KA RaceIng's car, named KIT17d, won second place overall in the driverless vehicle category. It took first place in the acceleration challenge. in which the cars accelerate as quickly as possible over 75 meters.
The inaugural driverless vehicle competition was a learning experience for each of the teams that participated, and they now return to their universities to adjust and prepare for next year's competition. Working alongside industry partners, like NVIDIA and others, is a big part of what draws the students to this event.
"For the team members, it's a great chance to get to know NVIDIA's technology," said Dörflinger. "Some of the team members want to work in autonomous software development after school, so this knowledge will make it easier for them to transition into the profession."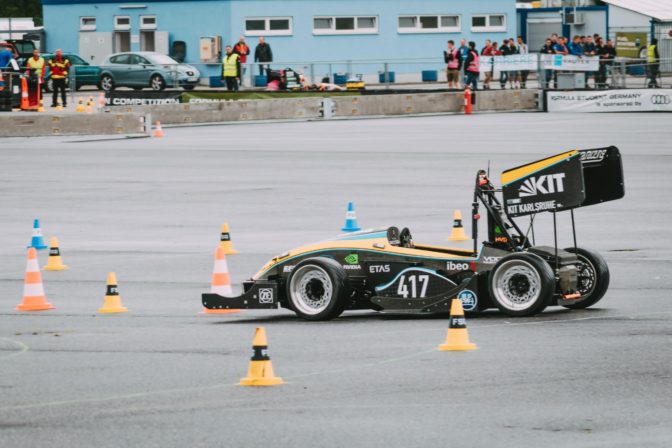 For us, it's exciting to see the enthusiasm and talent coming out of universities, both in Germany and around the world.
"The student teams have done a fantastic job integrating DRIVE PX into their driverless racing cars in only a few months," said Serkan Arslan, director of Automotive Business and Ecosystem Development at NVIDIA. "We've built up a great ecosystem, including leading universities and research labs, and we look forward to working with more teams at the Formula Student Germany competition next year."
Formula E Goes Driverless
This isn't the first time NVIDIA has supported autonomous racecars. Roborace is bringing driverless vehicles, powered by DRIVE PX, to Formula E circuits, an electric street racing series that began in 2014. The profile of Formula E has recently grown, as companies with esteemed racing heritage — including Porsche and Mercedes-Benz — have signed on to participate.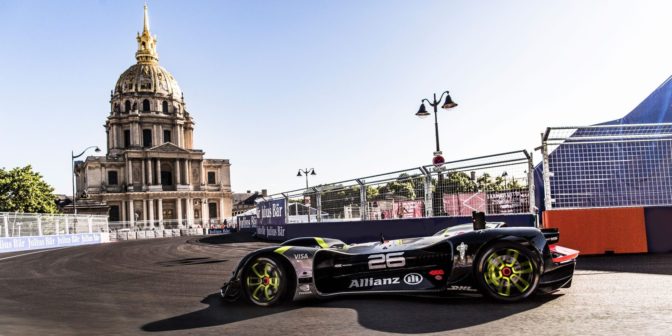 As automotive companies increasingly invest in electric and self-driving technologies, students hoping to work in the industry will do the same. We're partnering with Roborace and sponsoring teams participating in Formula Student Germany to further the transition to safe and sustainable automotive technology.
To see cars from Roborace and Formula Student Germany, join us at the GPU Technology Conference in Munich, October 10-12. The student teams KA RaceIng, Schanzer Racing and GreenTeam Uni Stuttgart will perform the same track events from the competition in Hockenheim, hopefully in better weather.