The stakes are high. The crowds — online and off — are enormous. So the gear better be great.
That's why the world's top Counter-Strike: Global Offensive teams will battle it out in the sixth season of the ESL Pro League for a $1 million prize pool on rigs equipped with our GeForce GTX GPUs.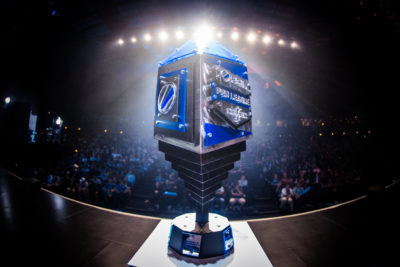 ESL's events fill stadiums, attract elite players with huge followings and draw online audiences measured in the millions. This is the third year we're working with ESL, the world's largest esports company. They are, by any measure, one of the world's foremost sporting organizations.
We couldn't think of a better venue for our technology — both on and off the sport's electronic playing field. ESL requires gaming performance for its pro players and gear that can reliably serve up content to vast audiences online.
"NVIDIA GeForce is synonymous with PC gaming, which is the number one platform for esports," said Ulrich Schulze, senior vice president of products at ESL. "Pro players competing in our tournaments expect to play on NVIDIA GPUs, because GeForce GTX provides the performance and reliability they demand to excel at their games."
GeForce GTX GPUs will also support some of the biggest events in the ESL One series, including ESL One New York and ESL One Hamburg in 2017. Our technology will be put to work powering top tier competition in both Dota 2 and CS:GO. In addition, GeForce GTX is the official graphics platform for The International DotA 2 Championships/Majors, as well as at Blizzcon.
ESL Pro League Season 5 was the most watched yet. With the inclusion of YouTube streaming, its online audience grew more than 17 percent compared to the previous season.
We think this year's competition will be the biggest — and best — yet.