As part of our first GPU Technology Conference in Israel, we've launched a competition to find the best young companies in AI in a country known as "startup nation." Ten finalists will compete in the Inception Awards Israel event at GTC, taking place in Tel Aviv on Oct. 18.
The prize: an NVIDIA DGX Station, a personal AI supercomputer worth $69,000.
Calling Israel's AI Startups
To be eligible, startups must be based in Israel, use AI, have been founded within the last two years and have raised no more than $5 million in funding.
Applications for the Inception Awards Israel close on Sept. 16.
Finalists will be selected based on a range of criteria, including their innovative application of AI, commercial potential and social impact. The ten companies will present in front of an audience of venture capitalists, press, industry analysts and business decision makers for the chance to be named Israel's Best AI Startup.
The awards judging panel will comprise:
Mor Barak, general manager of The Junction, F2 Capital
Eli David, co-founder and CTO, Deep Instinct
Eyal Niv, managing general partner, Pitango
Jeff Herbst, vice president of business development, NVIDIA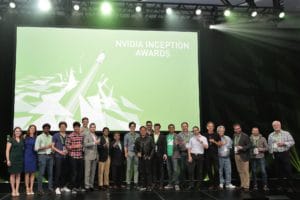 Deep Learning, Big Impact
Boasting over 3,000 startups in a country of just 9 million people, Israel has earned its reputation as the "startup nation." Young Israeli companies have already made their mark on NVIDIA's Inception program, our virtual incubator for nurturing AI startups.
In May, at our inaugural Inception awards in Silicon Valley, Tel Aviv-based Deep Instinct walked away with the top prize of Most Disruptive Startup. The company went on to raise $32 million in Series B funding.
By bringing the Inception awards to Israel, our goal is to shine a spotlight on the next generation of rising AI stars.
Enter the Inception Awards Israel here.
Learn more about what's on offer for startups and VCs at GTC Israel.