If you're a university student with a passion for AI, we want to talk to you.
Universities are only recently reopening for learning, but our recruiters have already launched their fall search for interns and new hires. We're seeking the best and brightest students at 20 top schools in the U.S. and Canada to help us build the future of AI, and NVIDIA.
"Students are about as close as you can get to the latest AI technologies coming out of universities," said Jennifer Griffin, our director of university recruiting. "We want people to take what they've been doing in school, come here and make it real."
Where We'll Be on Campus
Half of the universities we'll visit this fall are renowned for their pioneering work in AI, including Stanford University, the University of Washington, the University of Toronto, New York University, and the University of California, Berkeley.
As football season rages, we'll journey from the home of the Gators at the University of Florida to the Aggies' base at Texas A&M to the Trojans' home at University of Southern California. Other stops include MIT, Georgia Tech, Harvard, Purdue, the University of Montreal and the University of Illinois at Urbana-Champaign. And that's just a partial list.
We're especially focused on boosting recruiting at universities that tend to serve groups underrepresented in the technology industry. In our search for African-American and Hispanic engineers, we're visiting top schools such as Howard University, the University of California, Riverside, and the University of Puerto Rico. We also work with the Society for Women Engineers to reach technical women at our target campuses.
You'll find us at career fairs, of course, but we're also bringing NVIDIA events like GPUniversity and our Deep Learning Institute to campuses. GPUniversity is a day of technical talks, workshops and demos of the latest technologies. Our Deep Learning Institute classes teach people how to incorporate deep learning into their research.
Depending on the school, students will have a chance to build robots at workshops led by our Jetson embedded systems team. And we'll be showcasing BB8, our self-driving car, and explaining how AI (and specifically deep learning) will revolutionize driving. If you're lucky, you might even get the scoop on NVIDIA and AI from our CEO, Jensen Huang.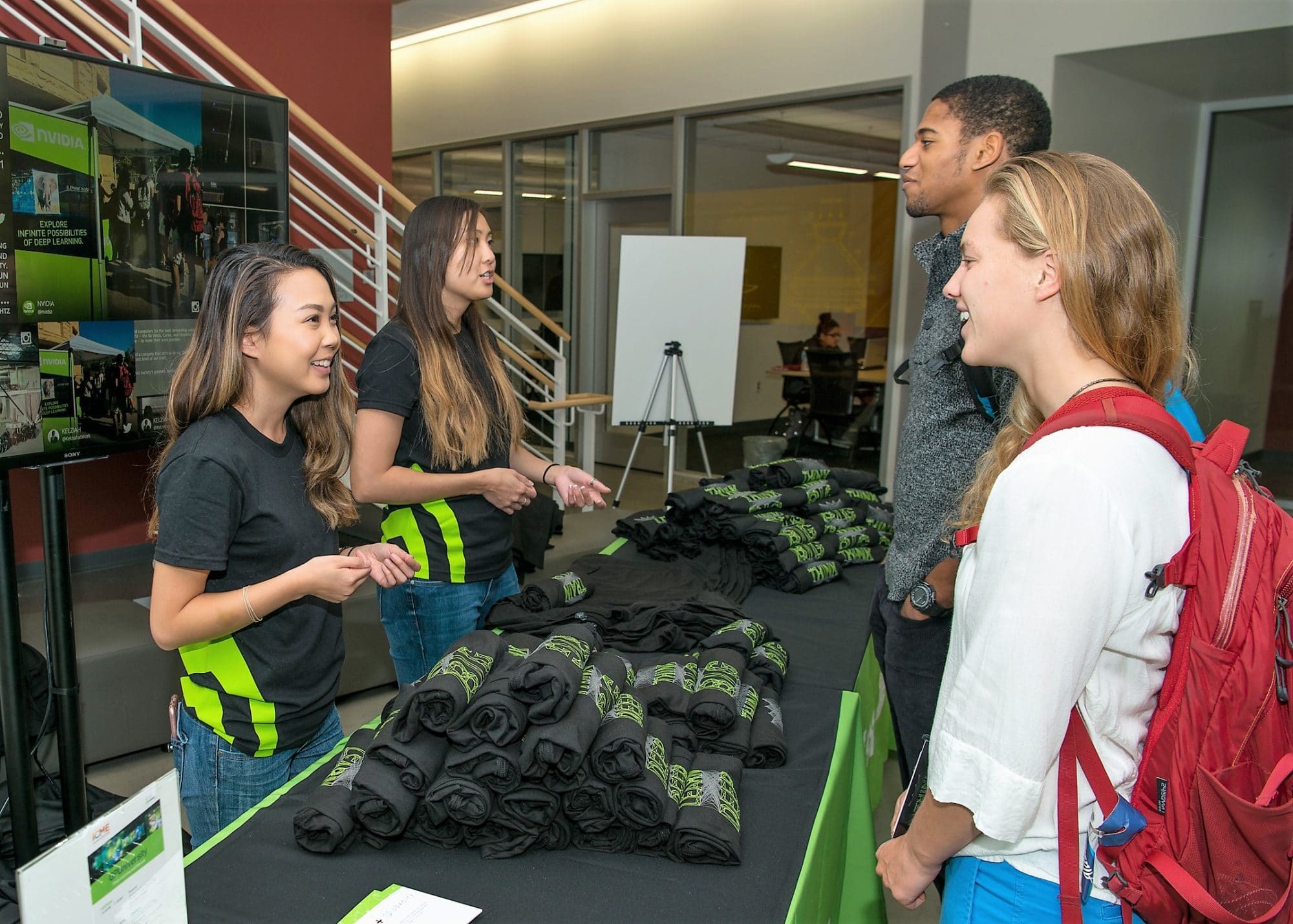 How to Get on Our Radar
We're especially interested in students with skills in deep learning or computer vision, but we hire from all technical disciplines. Of the 400 interns who joined us over the summer — our largest group yet — 80 focused on deep learning projects such as robotics and self-driving cars. But interns work all over the company, contributing their energy and intellect to everything from GPU architecture to system software to VR.
Among their assignments this year: working on simulation models to test GPU performance; tackling tests to run AI applications better; building navigation systems for autonomous driving using recurrent neural networks; and creating VR demos showcased at international conferences.
No matter what your specialty, we look for students with the right technical background. But it's about more than that.
"We want to see how you solve problems," said recruiter Linh Nguyen. "How you figure out the answer is more important than getting the right answer."
How to Get a Job at NVIDIA
The best way to graduate with a job at NVIDIA is to start here as an intern. When we hire new college graduates, we look first to our interns. (To learn more about interning at NVIDIA our internship program, read the recent blog by one of our interns or see our University Recruiting website.)
"We need really smart, passionate people who thrive on challenges and want to put down deep roots at NVIDIA so they do their life's work here," said Lindsey Duran, our senior director of staffing.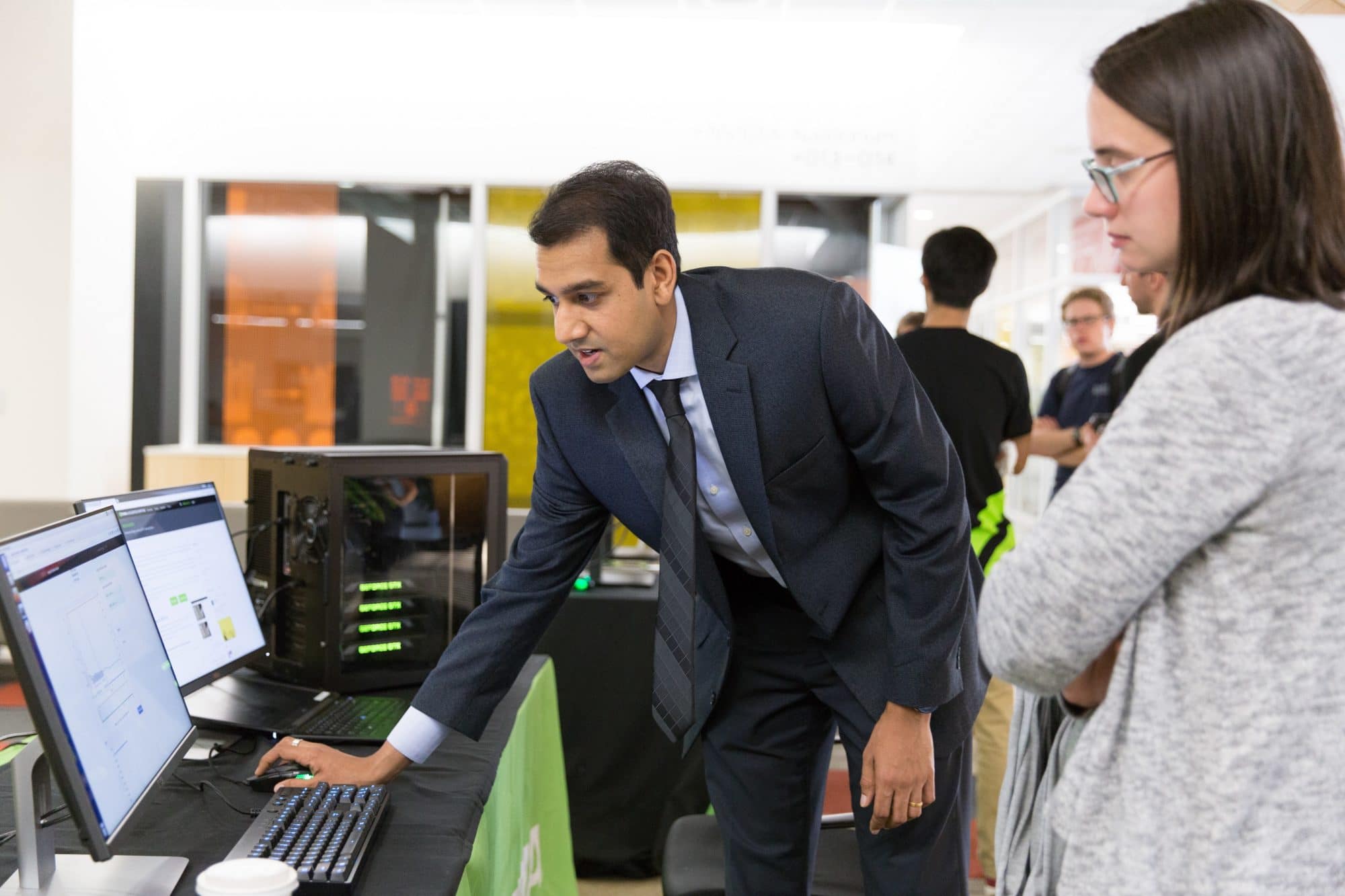 From Intern to Employee
Sarah Adams was an electrical electrical engineering student at the University of San Diego when she joined a team dedicated to our SHIELD streaming-media device. In July, she continued her work as a full-time employee.
"I loved every single minute of my internship," she said. "My team had a breadth of knowledge you don't really get in college."
Richard Wan interned here three times before joining the company in April to work on GPU architecture. As a master's student at Stanford University, he had plenty of opportunities. But after interviewing with a few companies, he decided to return to NVIDIA.
"NVIDIA was familiar. I knew I'd enjoy it," he said. "And in the end, I was more interested in the work at NVIDIA than other places."
NVIDIA University Recruiting
Last year, our recruiters met with more than 5,000 students, and we plan to talk with even more this year when we bring our people and technologies to campus.
"We want to hear about the work you're doing, and we'll tell you about what we're doing," Griffin said. "If it fits with where you see yourself in the future, we'll see if we can find a place in NVIDIA where you can pursue your passion."