We're upgrading AI for healthcare. The research team at the Center for Clinical Data Science (CCDS) today received the world's first purpose-built AI supercomputer from the all-new portfolio of NVIDIA DGX systems with Volta.
CCDS was founded by Massachusetts General Hospital and later joined by Brigham and Women's Hospital, both of which are Harvard Medical School teaching hospitals and founding members of Partners Healthcare. The group, which includes clinicians, researchers, data scientists and product development and translational experts, is working together for an important purpose: advance medicine with artificial intelligence.
CCDS has come a long way in a short amount of time.
In only eight months — beginning in December when the center received NVIDIA's first generation DGX-1 AI supercomputer — CCDS data scientists have successfully trained machines to "see" abnormalities and patterns in medical images.
CCDS data scientists have created dozens of medical training algorithms to date. In addition to radiology, they include other medical specialties such as cardiology, ophthalmology, dermatology and psychiatry.
Now, having just received the world's first NVIDIA DGX-1 with Volta supercomputer and with an all-new DGX Station, the world's first personal AI supercomputer coming later this month, CCDS will build upon its groundbreaking research to develop a host of new training algorithms and bring the power of AI directly to doctors.
From Data Center Lab to Clinic
"As we speak, CCDS is taking our breakthroughs straight from the data science lab into doctors' clinics," said CCDS Executive Director Dr. Mark Michalski.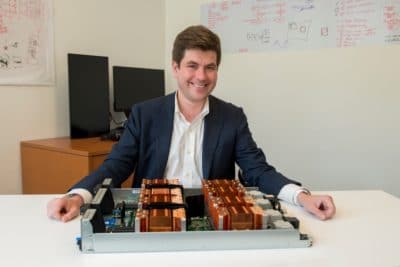 Soon, Boston-area radiologists will have AI "assistants" integrated into their daily workflows, helping them more quickly and accurately diagnose disease from MRIs, CAT scans, X-rays and more. The trained neural networks residing on DGX-1 systems in CCDS's data center are in a constant state of learning, continually ingesting countless medical images worldwide.
Because trained neural networks can provide superhuman pixel-by-pixel image evaluation and analyze scores of other data with incredible speed, doctors can make more accurate diagnoses and treatment plans. For example, radiologists reviewing medical images usually review them in the order in which they were received. However, with AI-assisted imaging, it's possible to triage the images, bringing the most troubling to the top of a radiologist's queue.
"Today's practitioners have a barrage of data thrown at them — lab reports, MRIs, CAT scans, family health histories and more — which makes it incredibly difficult to make decisions," says Michalski. "So, having technology that can aid them in this effort can be incredibly transformative."
We're Only at the Beginning
According to Michalski, who is an entrepreneur as well as a trained radiologist, he and the others at CCDS had no idea when they began their endeavor how big it would get.
"When we started building out our neural networks, we didn't expect to have as much of a demand for our research as we now see," he says. "Every time we add compute to our data center, we know it's going to get used. Our trained networks just keep getting better."
The new DGX-1 with Volta delivers groundbreaking AI computing power three times faster than the prior DGX generation, providing the performance of up to 800 CPUs in a single system. The DGX Station, the world's first personal supercomputer for AI development, delivers the computing capacity of 400 CPUs, consuming nearly 40x less power, in a form factor that fits neatly deskside.
Both DGX systems come with a fully integrated deep learning software stack, making them ideal for advancing the world's most challenging AI research.
Michalski says the number of ideas researchers are developing for using machine learning or deep learning for healthcare is still in its infancy, nowhere near reaching its peak, and the appetite is only increasing.
"All of us at CCDS feel so lucky to be in the middle of this," he says. "Every day I hear a new idea about how you could apply AI to change a patient's experience, and that's really rewarding."
CCDS and NVIDIA will be demonstrating cutting-edge medical imaging research at the Medical Image Computing and Computer Assisted Interventions Conference in Quebec next week. Follow our blog and @NVIDIAAI on Twitter to learn more about the latest advances in medical imaging and more.