NVIDIA founder and CEO Jensen Huang took the stage Tuesday in Munich — one of the hubs of the global auto industry — to introduce a powerful new AI computer for fully autonomous vehicles and a new VR application for those who design them.
Huang's talk — to more than 3,000 developers and executives gathered for the three-day GPU Technology Conference in Europe — continues the GTC world tour that kicked off in Beijing last month and will roll through Tel Aviv, Taipei, Washington and Tokyo in the coming weeks.
"Welcome to GTC 2017," said Huang, clad in his trademark leather jacket, taking the stage of the gleaming Munich International Congress Center. "GPU computing is the topic of this conference, and we've dedicated our company's life to advancing this form of computing to enable breakthroughs and science all over the world."
Huang described some of the hundreds of GPU-accelerated applications in computer graphics, scientific computing, machine learning and data science. They've been adopted by industries as diverse as high-performance computing, internet services, automotive, medical imaging, and logistics.
He also congratulated a pair of teams that captured Nobel Prizes in physics and chemistry last week — and the world's imagination — with work that confirmed the existence of gravity waves and peered into the inner workings of the body's cells.
"Enabling breakthroughs is the ultimate purpose of our company," Huang said. "So you can imagine our delight when last week two Nobel Prize winners were announced whose work we were able to make a contribution to."
Introducing NVIDIA Holodeck, the Design Lab of the Future
Following the introduction at GTC in May of our new Holodeck VR design application, Huang announced early access to Holodeck, our intelligent VR platform.
Holodeck brings designers, developers and their customers together from anywhere in the world to discover, build and explore creations in a highly realistic, collaborative and physically simulated VR environment, Huang said.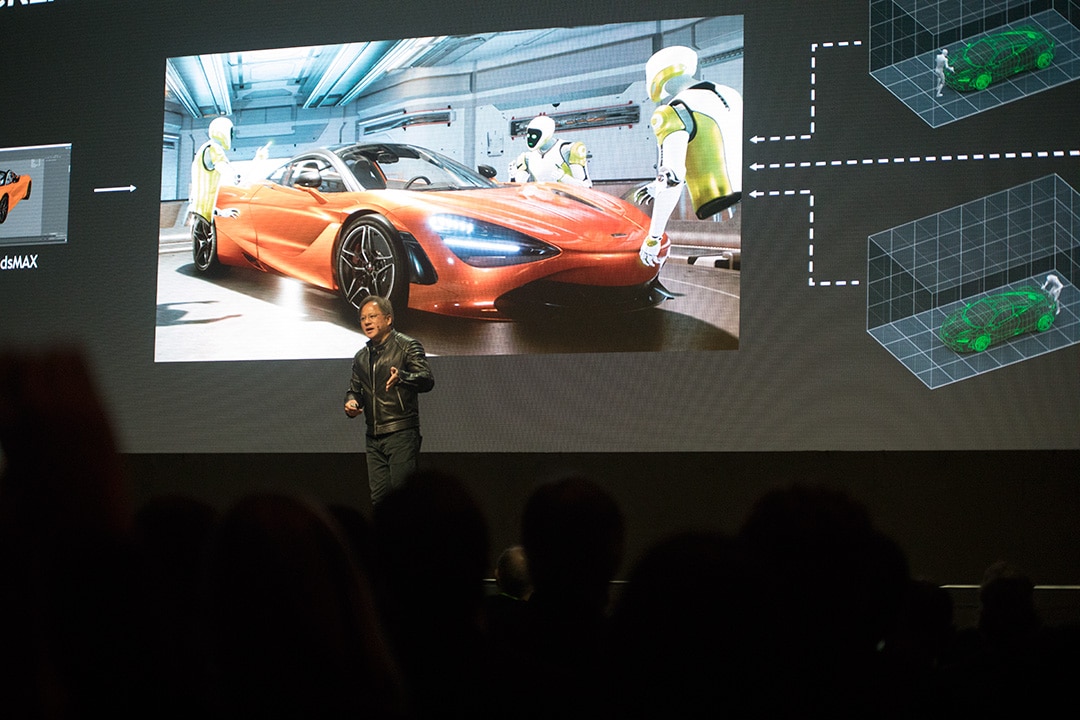 In a stunning demo, he showed how a team can beam into a highly realistic virtual environment to explore the design of a dazzling McLaren sports car.
"We've been pursuing this dream for a very long time, and today we've taken a very giant step towards it," Huang said. "We wanted to create this world, this virtual world, where we can all be part of it."
The Art of AI
Huang also showed a demo — dubbed "Vincent" — from Cambridge Consultants, which trained a neural network on NVIDIA DGX AI supercomputers to turn quick sketches into drawings in the style of a master artist in real time.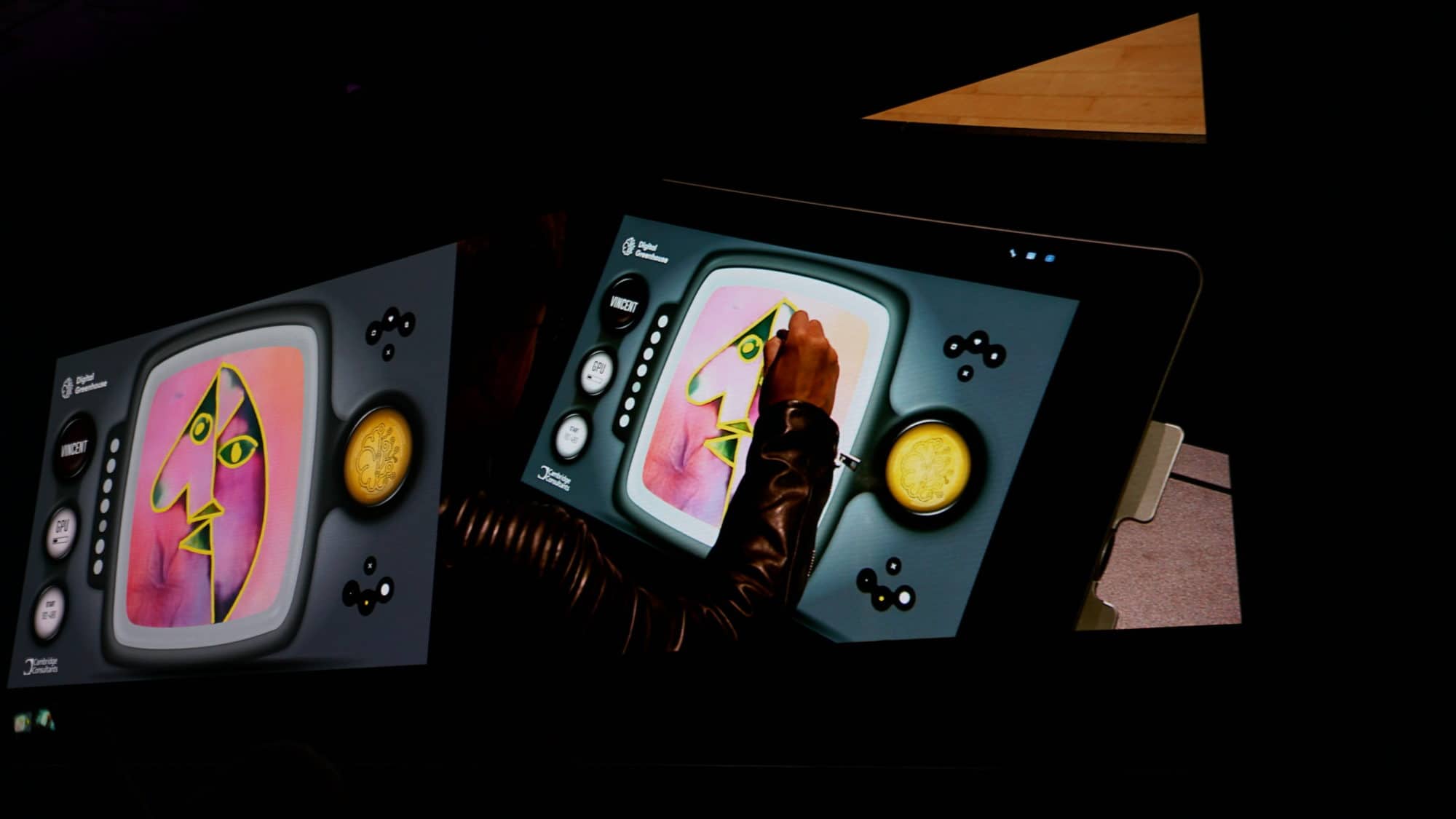 With just a few strokes of a stylus, a member of the team at Cambridge Consultants was able to draw a stunning landscape. Intrigued, Huang climbed down from the stage to pick up the stylus to sketch a few lines.
The crowd began to cheer as they recognized where he was going — and, in a moment, a stylized profile of a man in the style of Pablo Picasso seemed to snap into focus.
Making Robotaxis a Reality
Huang also unveiled a new member of our DRIVE PX family of autonomous vehicle systems. Codenamed Pegasus, it's designed to enable Level 5 driverless vehicles — such as robotaxis that can operate without any human intervention — to go into production.
That's a demanding task, Huang explained. The computational requirements of robotaxis are enormous — perceiving the world through high-resolution, 360-degree surround cameras, radars and lidars, localizing the vehicle within centimeter accuracy, tracking vehicles and people around the car, and planning a safe and comfortable path to the destination.
All this processing must be done with multiple levels of redundancy to ensure the highest level of safety. The computing demands of driverless vehicles are easily 50 to 100 times more intensive than the most advanced cars today.
Our new DRIVE PX Pegasus AI computer — roughly the size of a license plate — can replace the entire trunk full of computing equipment used in today's Level 5 autonomous prototypes. Delivering 320 trillion operations per second of computing power, DRIVE PX Pegasus has the AI performance of a 100-server data center, Huang explained.
"In the old world, the more powerful your engine, the smoother your ride will be," Huang said. "In the future, the more computational performance you have, the smoother your ride will be."
Tools for Creating the Intelligent Car
Huang also announced NVIDIA will release a software development kit — NVIDIA DRIVE IX, which stands for intelligent experience — for the company's AI co-pilot technologies.
DRIVE IX enables AI to understand sensor data from cameras and microphones inside and outside the car to enable new capabilities, such as facial identification to unlock the car, gaze-tracking to monitor driver distraction and drowsiness, among others.
"The combination of that, the fusing of that, will allow our customers to write applications that are really quite magical," Huang said.
Deutsche Post Delivers AI
In other news here at GTC Europe, NVIDIA announced that Deutsche Post DHL, the world's largest mail and logistics company, and ZF, one of the world's largest automotive suppliers, have teamed up to deploy a test fleet of autonomous delivery trucks starting in 2018.
Deutsche Post DHL will outfit its electric light trucks with the ZF ProAI self-driving system, based on NVIDIA DRIVE PX technology, for automating package transportation and delivery, including the "last mile" of deliveries.
Virtual Road Trip
Demonstrating how simulation is a vital part of creating autonomous vehicles, Huang showed how our auto team can simulate driving 300,000 miles in five hours by harnessing 8 NVIDIA DGX systems. This "re-sim" system will allow us to virtually drive every paved road in the United States in just two days.
Finally, to bring it all together, Huang showed a demo of Project Isaac, our AI robot simulator, which uses Holodeck to train autonomous machines, teaching a robot to shoot goals with a toy hockey stick.
A New Computing Era
Huang finished his talk by by recapping the big innovations shown on his last slide — NVIDIA Holodeck; the NVIDIA AI computing platform; NVIDIA DRIVE — which serves as an open autonomous vehicle platform; NVIDIA DRIVE PX — which now supports Level 5 autonomy; and Project Isaac, our AI robot simulator.
"The work that we're doing is just so exciting, the computer industry is now able to solve problems that historically were not solvable," Huang said. "This is a brand new computing era."