When in Munich, admire the cars.
Attendees at GTC Europe did just that, as the doors of the International Conference Center opened on Tuesday to an array of AI vehicles. From autonomous racecars to unmanned shuttles, they represent many new types of transportation. All offer visitors a peek into the future of mobility.
The Roborace Robocar is a fan favorite. Decked out in custom NVIDIA livery, the autonomous race car pays homage to the NVIDIA DRIVE PX brain inside. The race car features four electric motors and 15 sensors, and can reach speeds up to 300 kmh (186 mph). Roborace currently has two prototypes it's testing on racetracks and exhibitions at Formula E events.
Another showstopper is the Mercedes-Benz Concept IAA. Known as the "Digital Transformer," this concept vehicle changes shape based on its speed. By altering flaps in front and rear bumpers, as well as active rims that alter concavity, the IAA ensures perfect aerodynamics. NVIDIA technology powers its digital dashboard.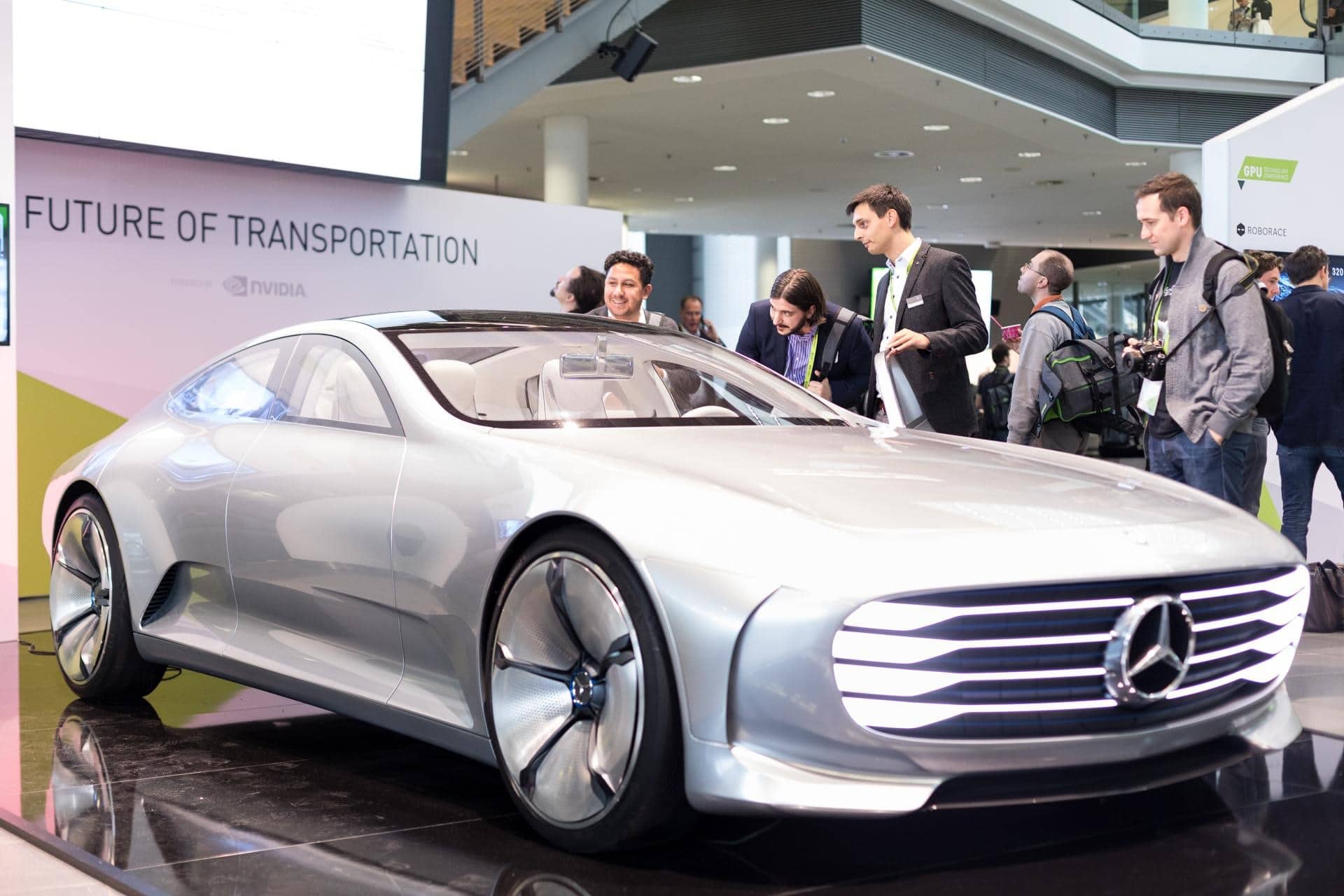 For attendees thinking about their next car purchase, the conference features a Tesla Model X and an Audi A8L 3.0 Quattro. Visitors gleefully opened and closed the falcon wing doors in the Model X, while learning about how Tesla Motors equips all its vehicles with the DRIVE PX platform for the second generation Autopilot 2.0 and 2.5.
The 2018 Audi A8L will be the world's first Level 3 autonomous production car. Fully equipped models will have six NVIDIA processors to power Traffic Jam Pilot, virtual cockpit instrumentation, the infotainment system, and headrest tablets for backseat passengers. GTC attendees are getting an early look at this historic car, and many are already looking forward to using Traffic Jam Pilot on their daily commute.
Soon there will be a variety of autonomous vehicle options for those commutes, including buses and shuttles. The e.GO Mover electric shuttle is powered by the ZF ProAI self-driving system, which is based on the DRIVE PX platform. It carries up to 15 people and will be capable of Level 4 autonomy by 2021.
No NVIDIA automotive event would be complete without our very own BB8 test car. Several of these cars are driving the streets of California, New Jersey and Germany as part of our research efforts. BB8 helps us test and validate our end-to-end autonomous driving platform.
From the vehicles on display, to our announcement of NVIDIA DRIVE PX Pegasus, the world's first AI computer for Level 5 robotaxis, GTC Europe offers visitors a glimpse into the future of transportation.
Look for more news from the conference throughout the week, and follow NVIDIA DRIVE on Twitter and LinkedIn for ongoing updates.