Equipped with AI technologies, self-driving cars will reduce traffic fatalities, make transportation more widely accessible and increase productivity. But legislation to deploy these vehicles on our roads hasn't kept pace with the rapid advancement of autonomous vehicle technology.
U.S. Senator Gary Peters of Michigan took the stage yesterday at the GPU Technology Conference in Washington, D.C., to discuss the state of the autonomous vehicle industry. He explained how he and Senator John Thune of South Dakota are developing legislation that would provide more flexibility for manufacturers and developers to test and validate these technologies, and ensure they're ready for America's roads.
After Sen. Peters gave his impassioned talk, Danny Shapiro, senior director of automotive at NVIDIA, welcomed a group of panelists representing automakers, government agencies and the tech industry. They discussed the hurdles policy makers face when defining guidelines for introducing self-driving cars; the ever-changing landscape of stakeholders involved in this space; the challenges of adoption, including the public's perception; and, most importantly, where we see ourselves and the industry in the near future.
"We sit at a very important time in history. Despite all of our efforts to get new technologies into the fleet, we still have quite a tremendous death toll here in the U.S., which is staggering," said Nat Beuse, associate administrator for vehicle safety research at the U.S. National Highway Traffic Safety Administration (NHTSA).
The discussion comes as the transportation industry is on the cusp of a revolution, with automakers building more and more AI-driven safety and convenience features into cars on the road today, and testing cars with ever greater levels of autonomy on roads around the world.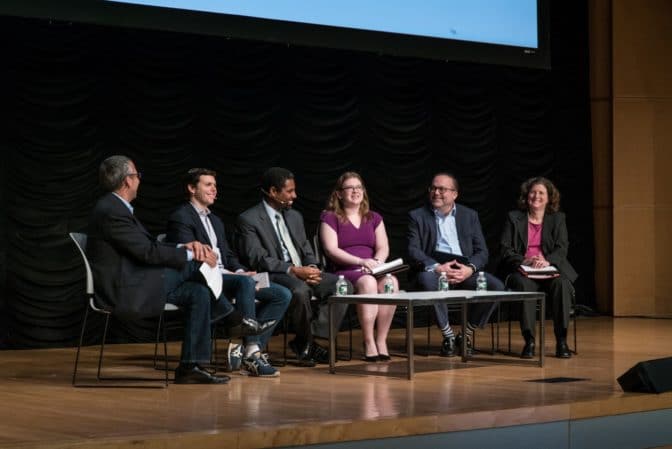 To realize the promise of self-driving vehicles, public policy must allow innovation to flourish, tweaking barriers to testing and clarifying state and federal regulatory authority, panelists said.
The panelists detailed key policies needed to advance the deployment of self-driving cars. That work, however, will take time. New rules will need a thorough vetting from NHTSA, as well as both the U.S. House and Senate.
"Five years ago, artificial intelligence was not even part of the technology discussion, and now it has become the big thing for where self-driving cars can go in the very near future," said Brad Stertz, director of government affairs for Audi of America. "We have to respect that technology is going to move faster than the ability to craft laws."
Beuse explained that right now there are no federal vehicle safety standards that prevent anyone from putting a self-driving car on the nation's highways. At the same time, there is a parallel conversation — involving automakers, regulators and the public — on how to test and evaluate the software of such autonomous systems.
"A lot of companies were saying they would have this self-driving vehicle in five years, but no one was explaining how they were going to get there and the safety precautions they were going to use," said Beuse.
It's a conversation that's going to, ultimately, involve every corner of the world touched by transportation.
"You look at the number of stakeholders that will be affected by AVs and you're talking about the insurance community, disability community, the elderly stakeholders, the energy trades, the unions," said Cherilyn Pascoe, professional staff member and investigator for the U.S. Senate. "All of them are at the table. All of them."
But while the technology — and the conversation around it — is accelerating at a dizzying pace, there can be no doubt self-driving cars will reshape the future of transportation, the panelists said.
"Looking ahead, I think there's going to be a lot of disruption and opportunities for cities, for people who lack access to mobility and for reducing congestion and emissions in the future," Stertz said.