GPU-accelerated analytics applications are now available in the NVIDIA DGX container registry and NVIDIA GPU Cloud (NGC). These applications provide customers the ability to abstract insights in milliseconds, build models with transparency and accuracy, and eliminate any integration complexity. They are tested and deployed on DGX systems and supported NGC platforms and are available for customers immediately.
What Applications Are Available?
The first two available applications are MapD and H2O.ai's Driverless AI.
MapD is a GPU-accelerated platform with an open-source SQL engine called MapD Core and an integrated visualization system called MapD Immerse. Open source MapD Core is now containerized on DGX systems and NGC.
Customers considering purchasing a license can access the software for a free trial on Amazon Web Services or as part of the NVIDIA registry on DGX and NGC. Data scientists using MapD experience unparalleled analytic speed, constant innovation from the open source community, and interactive visual exploration of the data used to build machine learning models.
The container includes a sample "New York taxi" dataset, which allows customers to download and immediately explore the capabilities of MapD Immerse. Users can dynamically cross-filter the data visualization to see patterns across where taxis pick up and drop off, how taxi customers make payment, and geospatial trends on where passengers travel during different times of day.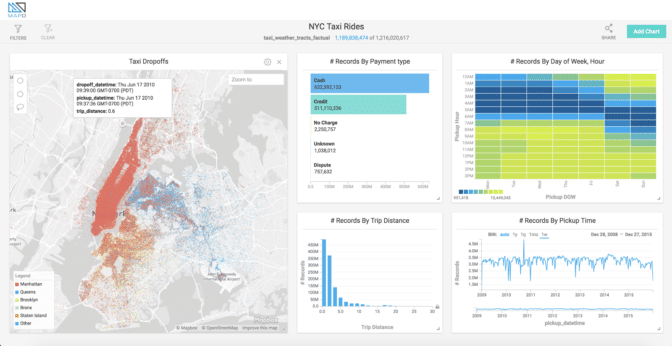 When they are ready, customers can use MapD to visualize massive amounts of their own data and derive insights within governmental agencies or for commercial purposes in industries such as telecommunications, ad tech, finance, manufacturing, public utilities and transportation.
Driverless AI by H2O.ai is a machine learning platform that automates many of the most difficult data science and machine learning workflows, such as feature engineering, model validation, model tuning, model selection and model deployment.
It aims to achieve the highest predictive accuracy, comparable to expert data scientists, but in much shorter time thanks to end-to-end automation. Driverless AI also offers automatic visualizations and machine learning interpretability. Especially in regulated industries, model transparency and explanation are just as important as predictive performance.
The community version of Driverless AI is a fully functional version with a 30-day trial on DGX systems and supported NGC platforms. Customers can achieve up to 40x speedups on GPU-accelerated algorithms vs. on CPUs. Driverless AI provides speed, accuracy and interpretability. Driverless AI empowers you to do automatic feature engineering and interpret debugging with reason codes in plain English.
The credit card default dataset in the container is available for customers to experience the streamlined model building process. Additional use cases for Driverless AI include:
Anti-money laundering – pass compliance, avoid hefty fines and reduce time spent on evaluating false positives.
Merchant fraud detection – reduce risk losses in merchant fraud and provide a better merchant experience on payment network.
Price engine optimization – increase revenue by providing more accurate pricing.
This is just the beginning of many containers to come. Other analytics applications, such as Kinetica and BlazingDB, will soon be available on NGC as well. Sign up for NGC today to stay up to date with the latest.
For more information on NVIDIA GPU-accelerated applications, visit www.nvidia.com/analytics.