In a country known for its hospitality, attendees of GTC Japan, the final leg in our global tour GPU Technology Conferences, were warmly greeted and offered a beverage.
The courteous host wasn't human, but a cute, cylindrical rolling robot, named Orion Star. Outfitted with an NVIDIA Jetson AI module, it autonomously zipped around the room, delighting guests by delivering bottles of coffee.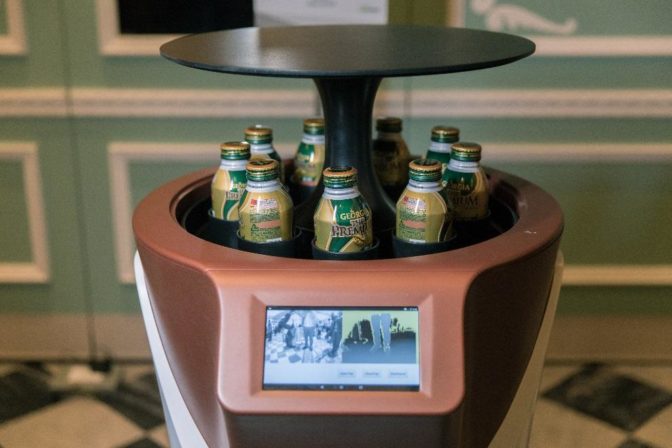 Orion Star was one of a dozen and a half robots on display at GTC Japan. These rolling, walking and flying devices highlight the move toward autonomous machines in manufacturing, retail, agriculture, research, higher education and other areas.
And at the heart of these mechanical marvels is Jetson, our AI supercomputer on a module that delivers powerful computing in a pint-sized form factor.
Got a Chore? There's a Robot for That
One of the biggest crowd-pleasers came from Exawizards. This two-armed AI robot with multi-finger hands folds towels better than most humans, showcasing a machine's ability to handle traditional household chores.
Conference attendees eagerly waited their turn to try on VR goggles and enter a simulated environment in which they could manipulate the actual robot. Participants were tasked with taking various salad ingredients from different bowls and mixing them together. Showgoers looked on, clapping with excitement, as each person gave it a try.
Through the power of deep learning, this robot can also pick up and learn new tasks.
Here's the Dirt: Komatsu and NVIDIA Bring AI to Construction
A heavy equipment cab from Komatsu, one of the world's largest manufacturers of construction and mining equipment, sat center stage, a life-size reminder of a major announcement from the show.
We're working with Komatsu to deploy NVIDIA GPUs that will visualize and analyze entire construction sites — from workers to materials and machinery. Jetson will serve as the brain of these sites' heavy machinery, enabling improved safety and productivity.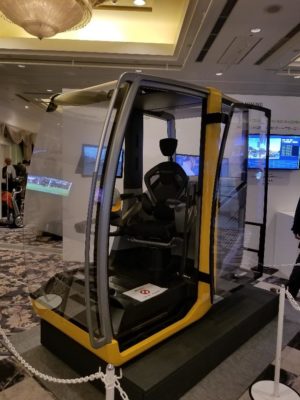 More Heavy Metal in Japan
Additional partner offerings on display included:
Atoun – Its power-assist suit can carry packages and uses object detection to pick items up.
Aisin Seiki – Its cart enables safe driving and autonomous tracking through object detection using computer vision.
ACSL – Its autonomous aerial drone is used in logistics, aerial photography and disaster investigation.
FANUC – Its factory automation robot handles surface flaw detection through GPU deep learning.
Fellow Robots – Its inventory management robot has cameras and other sensors to go down aisles, scan shelves and quickly tell stores what's out of stock.
Redtail – Its drone can navigate complex, unmapped places without GPS.
RoboCup Humanoids – The Chiba Institute of Technology soccer-playing robots handle ball and goal detection through deep learning.
Skycatch – Its commercial drones are ideal for construction, mining, energy and more.
SoftBank – Its interactive humanoids will one day assist humans in their day-to-day lives.
Tsukuba Challenge Bots – These five university-created bots can identify street signals, signs and other objects along the way, while avoiding obstacles such as pedestrians and cyclists.
Stay tuned for more of these autonomous machines at the GPU Technology Conference in Silicon Valley in 2018.