NVIDIA tonight jump-started CES 2018, quickly putting more road between it and the competition in the race to create safe solutions for autonomous driving.
Speaking to a crowd of nearly 1,000 people, NVIDIA CEO Jensen Huang announced that the company is collaborating with 320-plus partners on self-driving, including new efforts with key players on three continents.
At the center of these collaborations is the NVIDIA Xavier autonomous-machine processor — the most complex system on a chip ever created — which Huang said Xavier will be samples to select customers sometime in the first quarter, a little more than a year after it was first announced.
"The complexity of future cars is incredible. It begins with Xavier, which can do deep learning, computer vision and high performance computing at highly efficient levels," said Huang, speaking to a packed house of press, partners and professionals from around the automotive and consumer electronics industries.
Also underscoring NVIDIA's role at the center of automotive AI, the company announced partnerships with Volkswagen; top automotive supplier ZF working with Baidu, in China; ride-sharing service Uber; and Aurora — a startup led by some of the leading names in autonomous driving — in the United States.
"In the future, every car will be self driving. There will be 100 million cars built each year, millions of robotaxies and several hundred thousand trucks," Huang said. "All of it will be autonomous. On top of this, what will defne the driving experience is the AI."
Xavier Puts Massive AI Computing Horsepower on the Road
Xavier provides partners like these a clear path forward. It delivers 30 trillion operations per second while consuming just 30 watts of power, and is 15 times more efficient than its predecessor. Yet it can fit on a board smaller than a license plate, replacing the trunk full of computing gear used in many of today's autonomous vehicles.
"The complexity of autonomous driving, the complexity of the software of future cars is incredible," Huang said. "It starts with, of course, building a brand new type of processor we call the DRIVE Xavier, an autonomous machine processor that is able to do deep learning, perception, has the ability to do parallel computing and also computer vision and high performance computing at very, very energy-efficient levels."
With more than 9 billion transistors, Xavier is the most complex system on a chip ever created, representing the work of more than 2,000 NVIDIA engineers over a four-year period, and an investment of $2 billion in research and development, he explained.
"Now, we've built PCs, laptops, game consoles, supercomputers, and I can tell you, without exception, building a computer for autonomous vehicles is of a level of complexity the world has never known," Huang said.
"This computer is on all the time, monitoring all of the sensors that are coming at it — it can never fail, it can never fail, because lives are at stake," Huang said. "And it has to make the right decision, running software the world has never known how to write."
New Auto Partnerships Around the Globe
Xavier arrives just as players across the global auto industry are preparing to launch a wave of next-gen vehicles with unprecedented capabilities.
"We believe that AI can eventually drive the cost per mile of autonomous vehicles to essentially the same level, if not below, that of owned cars — self-driven cars," Huang said. "So when that happens, it's possible, we believe, that AV could revolutionize mobility services."
Emphasizing the importance of AI to the auto industry, Volkswagen CEO Herbert Diess joined Jensen on stage to discuss how AI and deep learning will shape the development of a new generation of VW vehicles.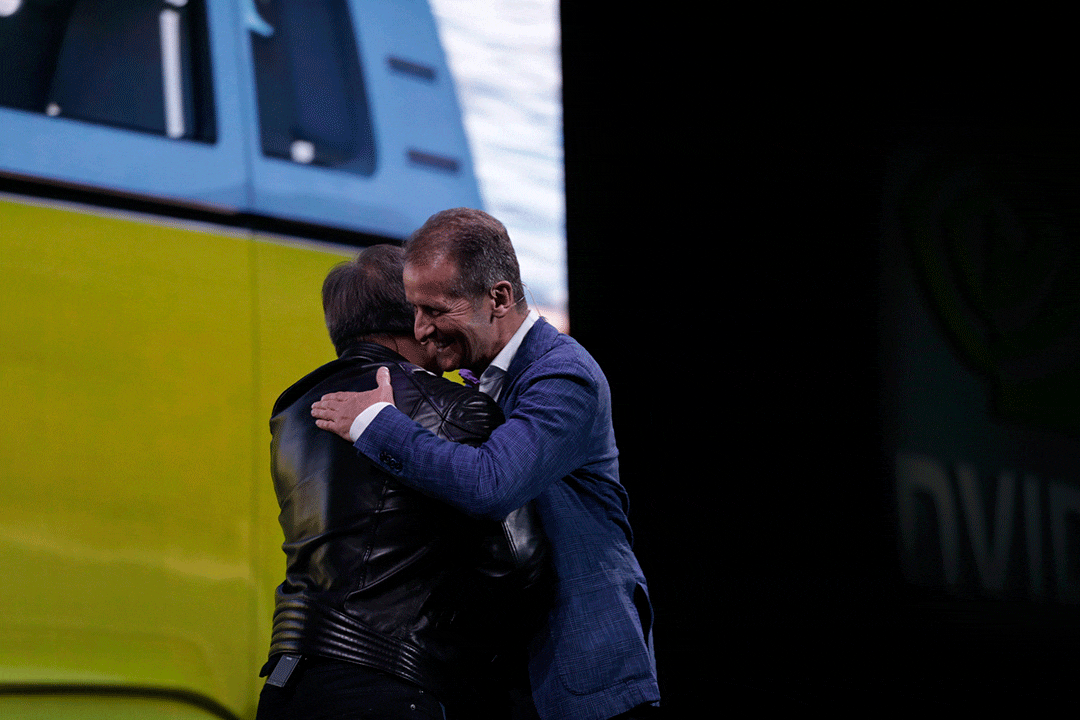 The new VW I.D. Buzz — modeled on the automaker's iconic MicroBus — was highlighted as the two discussed how AI will transform the auto industry. The NVIDIA DRIVE IX platform will play a key role in this effort at Volkswagen, Diess said.
Huang also announced that Uber has selected NVIDIA technology for the AI computing system in its fleet of self-driving vehicles. The collaboration will use NVIDIA technology for Uber Advanced Technologies Group's fleets of self-driving cars and freight trucks.
NVIDIA will also work with Baidu, of China, and ZF, one of the world's largest automotive suppliers, to create a production-ready AI autonomous vehicle platform based on DRIVE Xavier, ZF's new ProAI car computer and Baidu's Apollo Pilot.
"NVIDIA and Baidu have pioneered significant advances in deep learning and AI together over the last several years," said Huang. "Now, together with ZF, we have created the first AI autonomous vehicle computing platform for China."
And closer to home, the company is partnering with automotive startup Aurora — led by a team of high-profile autonomous driving pioneers — to bring up a new modular and scalable DRIVE Xavier platform for autonomous vehicles.
"NVIDIA created DRIVE Xavier for companies like Aurora," said Huang. "Our two world-class engineering teams share a common understanding of the power of AI and the enormous processing required to enable advanced self-driving cars and mobility-as-a-service solutions."
Software Brings AI to Every Aspect of Next-Gen Vehicles
These partners will be able to dip into our increasingly powerful NVIDIA DRIVE software stack — now expanded to a trio of AI platforms covering every aspect of the experience inside next-generation automobiles.
Complementing our original NVIDIA DRIVE AV autonomous vehicle platform, which uses neural networks to let cars drive themselves, he described two new software platforms: DRIVE IX and DRIVE AR.
DRIVE IX, our intelligent experience software development kit, will enable AI assistants for both drivers and passengers, using sensors inside and outside the car.
DRIVE AR is our augmented reality SDK. We're already getting a taste of what AR can do in mobile devices, and this software platform for the AI car will fuse computer vision, computer graphics and AI.
DRIVE AR will enable next-gen augmented reality interfaces that deliver information points of interest along a drive, create alerts and navigate safely and easily. "We believe what's going to really define your driving experience is the AI that the car companies create for the car."
But Wait There's More
Huang's announcements Sunday weren't limited to the auto industry.
Showcasing NVIDIA's might in the more than $100 billion computer gaming market, Huang introduced a new breed of Big Format Gaming Displays, or BFGDs, for a giant-screen PC gaming experience.
"Big Format Gaming Displays make it possible for you to now enjoy PC gaming in enormous displays that are incredibly fluid, HDR, G-Sync, silky smooth gaming experience like you've never had before," Huang said.
We also announced we're extending our GeForce NOW beta to PC users to bring AAA gaming to a billion more PCs; and rolling out new GeForce Experience features to customize your gameplay.
The real surprise, however, isn't that Huang spoke about gaming — but that he was able to show how NVIDIA's expertise in visual computing, graphics and physical simulation will help accelerate the adoption of AI.
Huang even showed how NVIDIA's expertise in gaming and simulation — and our efforts to put AI to work to revolutionize driving — can come together.
In a stunning demo, Huang showed how our ability to simulate the real world gives NVIDIA the ability to train AI software before unleashing it in the real-world one.
"For a car to be able to navigate through a really super complicated world and do it very safely is just an incredible and a daunting challenge," Huang said. "As we will see today, we're making enormous progress. This is one of the largest industries in the world, the moving of people, the moving of goods, including cars, taxis, mobile and mobility as a service and trucking."
In short, Huang has a simple message for the auto industry and gamers alike — game on.