Like its namesake — the late racing driver and editorial powerhouse — the Paul Pietsch Award is revered around the world. This week NVIDIA received the 2018 honors for NVIDIA DRIVE Pegasus, the first artificial intelligence computer designed to drive fully autonomous robotaxis.
The award honors innovative achievements in the area of vehicle technology or vehicle design. Presented annually since 1989, the award was announced yesterday by the Auto Motor und Sport publishing house and its editors as part of its Best Cars gala event.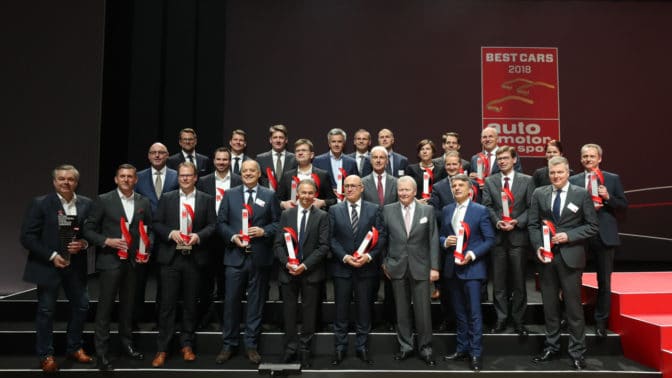 At the sleek glass and steel International Congress Center in Stuttgart, Germany, NVIDIA's Jaap Zuiderveld took the stage to accept the award. With attendees from all of the world's major automakers looking on, the event moderator asked Zuiderveld if he felt more like a car guy or a chip guy. "I am an AI guy," he replied to laughter from the crowd.
NVIDIA DRIVE Pegasus is part of a broad family of NVIDIA AI computing solutions that are transforming the transportation industry. Pegasus won over the judges by helping to enable a new class of vehicles that operate without a driver — fully autonomous vehicles without steering wheels, pedals or mirrors, and interiors that feel like a living room or office.
The computational requirements of robotaxis are enormous. Pegasus extends the existing NVIDIA DRIVE AI computing platform, delivering over 320 trillion operations per second — more than 10x the performance of its predecessor.
"With NVIDIA DRIVE, we have developed an open scalable supercomputing platform for the car, including hardware and software," said Zuiderveld. "This enables our customers and partners to develop their own applications as they bring AI into the cockpit or build autonomous cars."
Partnership is key to the future of autonomous transportation. Underscoring this point, our partner Audi won the second place honors for Traffic Jam Pilot, which is powered by NVIDIA technology. The new Audi A8, featuring Traffic Jam Pilot, will be the first production Level 3 autonomous driving car, offering unprecedented levels of autonomy on crowded highways.
At NVIDIA, we work with over 320 of the world's most forward-looking automakers, tier-1 suppliers, developers and researchers. Together we're delivering powerful AI solutions that revolutionize how people drive — and even empower vehicles to drive themselves.
Event photos courtesy of auto motor und sport.