Before oil and gas companies recover a single drop of oil, they have to deal with data. Oceans of data.
NVIDIA and Baker Hughes, a GE company (BHGE), are partnering to use AI and GPU-accelerated computing to help the oil and gas industry distill this data in real time — and dramatically reduce the cost of finding, extracting, processing and delivering oil.
From seismic modeling and automated well planning to predicting machinery failure and optimizing supply chains, deep learning neural networks can unlock insights from data that were previously as hidden as the oil underground.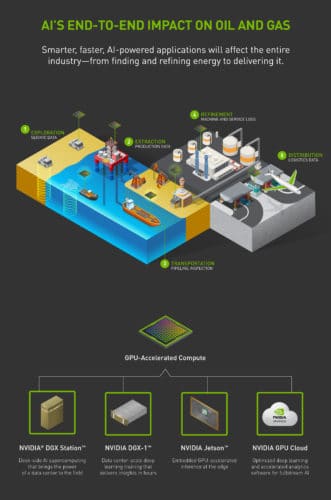 As the adjacent infographic shows, NVIDIA and BHGE's collaboration spans the operations of oil companies. And it does so using the full breadth of our AI solutions. This includes NVIDIA DGX-1 AI supercomputers in data centers for model training; NVIDIA DGX Stations for supercomputing at the deskside — or even on remote offshore platforms where bandwidth is limited; and NVIDIA Jetson AI supercomputers-on-a-module for real-time, continuous deep learning and inferencing at the edge.
These technologies allow oil and gas companies to transform their operations, primarily using two GPU-fueled advancements: accelerated analytics and deep learning.
With GPU-accelerated analytics, well operators can visualize and analyze massive volumes of production and sensor data such as pump pressures, flow rates and temperatures. This can give them better insight into costly issues, such as predicting which equipment might fail and how these failures could affect wider systems.
Using deep learning and machine learning algorithms, oil and gas companies can determine the best way to optimize their operations as conditions change. For example, they can turn large volumes of seismic data images into 3D maps to improve the accuracy of reservoir predictions. More generally, they can use deep learning to train models to predict and improve the efficiency, reliability and safety of expensive drilling and production operations.
NVIDIA's work with BHGE is part of a broader strategy to work with leading companies to bring AI into every industry. Among these efforts are collaborations with GE Healthcare and Nuance in the area of healthcare; with Audi, Bosch, Mercedes-Benz, Uber and Volkswagen in automotive; FANUC in robotics; and Komatsu in construction and mining.
See Demos at BHGE's Annual Meeting
Amid constrained IT resources and limited in-house skills, oil and gas companies can tap into BHGE's applied AI capabilities, services and expertise and the power of NVIDIA GPU-accelerated computing and AI to build a more secure future.
BHGE and NVIDIA will showcase AI-infused oil and gas demos in the solutions fair at the BHGE Annual Meeting this week in Florence, Italy.
See how deep learning can be used to predict failures and identify rock formations, as well as to mine 3D models to create efficient environment scans, which can aid procurement of drilling permits. Also see how massive-scale visualization of production data on a GIS map can provide insights into relative production efficiencies of wells spread over several regions.
For live updates from the event, follow @BHGECO and #BHGEAM18.