Greg Zaharchuk isn't afraid to admit it now.
Standing before 650 people and a panel of high-profile judges to pitch your startup, with just five minutes to tell your story, is a little "unnerving," the trim Stanford professor admits.
But Zaharchuk — a co-founder of Subtle Medical — and teams from two other startups were smiling Tuesday night after blitzing through their presentations before a crowd of technologists, investors, business leaders and other peers.
Subtle Medical was among a group of three AI-driven startups that won a little bit of celebrity — and, between them, $1 million in cash — at the second annual Inception Awards held at our annual GPU Technology Conference in Silicon Valley.
The winners, chosen after a series of quick, high-pressure pitches to a crowd of technologists, press, investors and entrepreneurs, were: AiFi, which is building checkout-free systems for stores of all sizes; Subtle Medical, which  is improving medical imaging for better acquisition, reconstruction, processing and analysis; and Kinema Systems, which is creating robotics for logistics and manufacturing.
"You guys are solving such large problems," NVIDIA CEO Jensen Huang told the standing room only crowd gathered for the event. "And all of you are so polished and so ambitious and what you're doing is so important."
It was competition designed for drama — and the competitors worked until the very last moment to improve their odds. AiFi's Kaushal Patel admits pulling an all-nighter working on a slide to add to his team's presentation at the last moment. He missed the deadline, but he had no complaints. "It all worked out in the end," Patel says.
These are stories any entrepreneur can relate to.
"I was so happy that I didn't have to be tortured like that when I was raising money," said Huang of the intense competition. Huang  appeared alongside fellow NVIDIA founder Chris Malachowsky on stage at the event.
Malachowsky reminded Jensen of the time 25 years ago they stayed up late trying to finish a business plan for the then-fledgling startup to present to investors the next day. They never finished it.
"You had to go there," Jensen replied. "That memory just gave me hot flashes."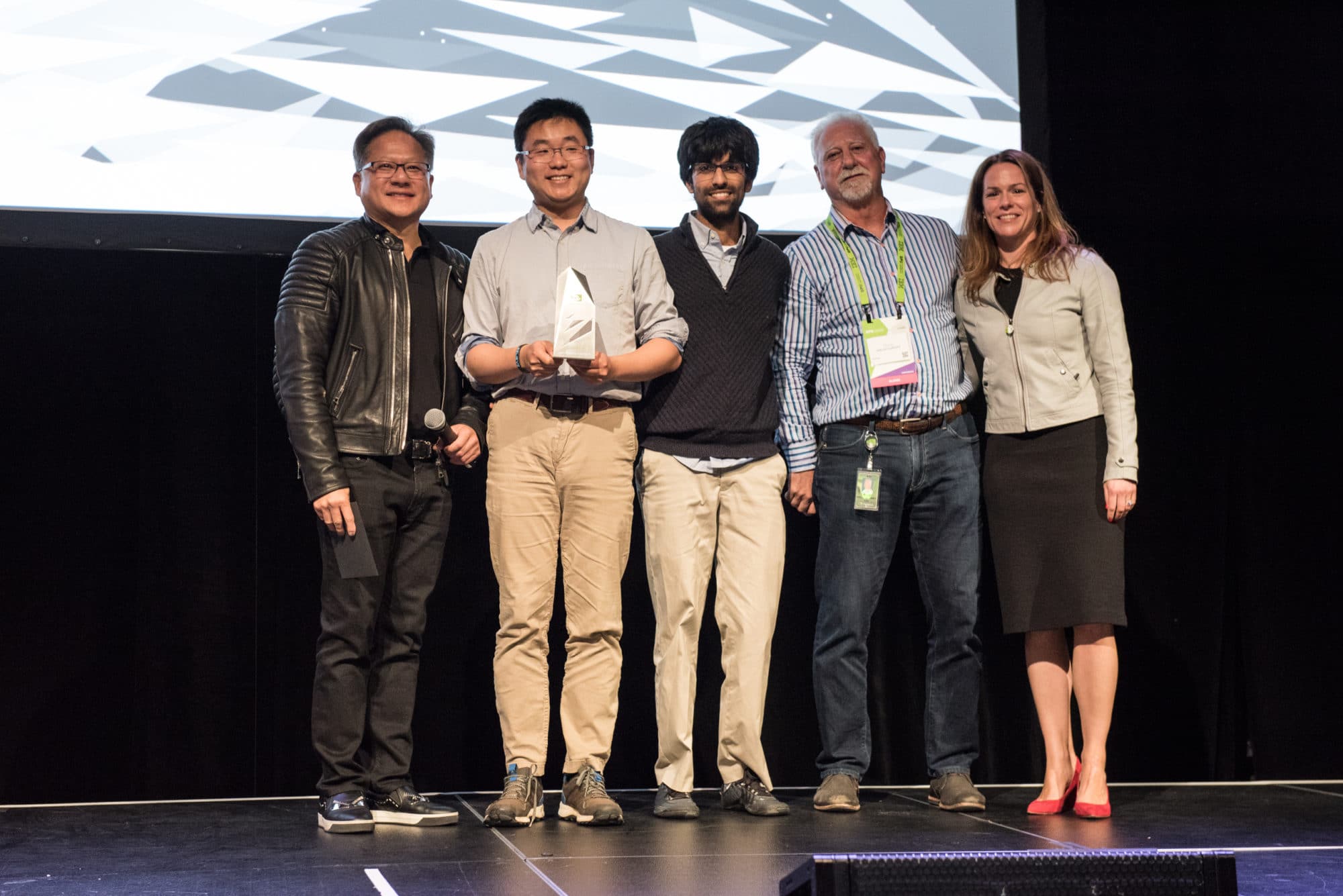 Tuesday's winners survived a selection process that brought a dozen semi-finalists to our Silicon Valley campus earlier this month. Of those who gave their pitches, six were selected to go on to the pressure-packed finals Tuesday. Each of the remaining contenders had compelling stories.
They got to tell those stories to a panel of high-profile judges that included Pawan Tewari from Goldman Sachs; Steve Wymer from Fidelity Investments; Jaimin Rangwalla from Coatue Management; and NVIDIA's Jeff Herbst, vice president of business development.
But while the pressure was real, the exposure is invaluable. Last year's winners and nominees — 14 companies in all — have already raised a combined total of $180 million from Sequoia Capital, Data Collective, Khosla Ventures, Lux Capital and others.
The awards are the highlight of our Inception virtual accelerator program, which supports roughly 3,000 fledgling companies.