NVIDIA hosted its fifth annual Women in Deep Learning event at GTC last week, inviting women leaders in technology and those doing breakthrough work in deep learning and visual computing to share the challenges and learnings from driving the latest AI innovations.
More than 175 women, and men, gathered at the Fairmont Hotel during our GPU Technology Conference to network and listen to panel discussions led by women entrepreneurs and business leaders on starting their businesses, raising funding and smart hiring practices.
We partnered with NVIDIA's Women in Tech and Silicon Valley's Women in Big Data communities to offer attendees a packed agenda over the course of two hours, centered on four primary talks. Watch a brief summary of the event here:
Four Leaders in AI  
Kicking off the event was Kimberly Powell, vice president of Healthcare and Business Development at NVIDIA, who profiled women leaders changing the AI industry.
She touched on the work of, among others, NVIDIA's Shalini De Mello, whose research focuses on gaze tracking in cars to combat distracted driving; Olga Russakovsky, a board member of the AI4All Foundation, which is educating future AI leaders; and Sanja Fidler, whose work at the University of Toronto centers on teaching autonomous systems to see, communicate and act.
Five Key Learnings
NVIDIA's Vice President of Enterprise Marketing Laura Fay led a panel discussion with three CEOs from the startups CrowdAI, Luminoso and Motionloft. They're all members of the NVIDIA Inception program, which helps accelerate 2,000+ startups pushing the frontiers of AI and data science.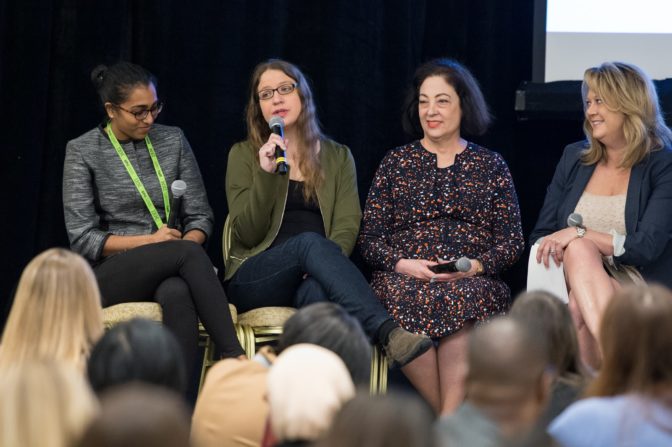 Here are the top five things the panelists shared:
Ask for what you want — If you don't ask, you'll never know the results. As a woman, it's even more important to speak up and ask for what you want.
Acquire data strategically — A strong understanding of data that's aligned with customers' needs is often the first step to establishing an effective data acquisition strategy.
Focus on business and customers — Sometimes a solution can expand into many industries, but it's important to stay focused and understand what benefits the business and customers overall. Customers come first.
Emphasize strong collaboration — When it comes to building companies, it's important to collaborate with customers to understand their problems and also with partners who share the same objectives.
Determine key differentiators — Each company found its key differentiator to stay ahead of its competitors. They focused on: 1) providing easy solutions for their customers; 2) establishing domain knowledge and language; 3) believing in their solutions; and 4) articulating clearly how they can help their customers.
Having a vision is also critical. Joyce Reitman, CEO of Motionloft, focused on the idea of Motionloft being a billion-dollar company, even when there were only six employees and the product was still in development.
"Thinking large and acting small is key to let innovation and the team thrive," she said. "Motionloft lives by the motto 'sales before expenses' and that the customers are all important. Scale is built on a strong foundation of technology, people and being adaptive to change."
Lessons Learned
NVIDIA's Vice President of Engineering of Robotics Claire Delaunay talked about her 15-year history in building robots and self-driving cars. With the exponential increases in complexity, she explained the challenges of building robotics systems, while maintaining flexibility and speed of iteration with larger teams. In particular, developing and integrating supervised machine learning algorithms for robotics and self driving cars pose new scale and evaluation challenges.
Ethics and Bias in AI
The CEO of Beseeq, Lisa Hammitt, talked about ethics and bias in AI. Beseeq offers a computer vision platform that allows companies to reach consumers with targeted ads.
Throughout her talk, Hammitt talked about consumer privacy and security in the digital world. She listed seven rules for being less "creepy":
Keep sensitive data local
Don't store stuff if you don't have to
Seek truly informed consent
Don't fake transparency
Give users the power to delete
Not everything should be humanized
You need to give in order to get
Hammitt emphasized that as more and more data is needed to train our models and build an AI society, it's important to keep in mind how data is shared and used.
Join us next time at GTC around the world www.nvidia.com/gtc.
Sign up for a technical class at https://www.nvidia.com/DLI.