Take the best and brightest engineers on the planet. Give them a challenge that's equal parts engineering, strategy and teamwork. Bring them to a battlefield in front of hundreds of roboticists and researchers. And throw in a healthy bounty of prizes for the winners.
Now kick it up a notch with robots and AI.
This is RoboMaster, a robotics competition that pits university students against each other in a battle of engineering and smarts. This year's winner, I Hiter, and runner-up, Critical HIT, both built their robots on the NVIDIA Jetson TX2 supercomputer on a module.
NVIDIA also sponsored the event, officially known as the DJI RoboMaster AI Challenge, which took place last week at ICRA, the premier forum for robotics research, in Brisbane, Australia.
Each RoboMaster team programmed one to two autonomous, AI-enabled robots to navigate a 5m x 8m arena filled with various obstacles, while shooting plastic projectiles at enemy bots. To win, a team had to defeat two advanced AI robots provided by RoboMaster.
The contest drew teams of up to 10 graduate and undergraduates each, which had to submit technical proposals in December. A months-long process culminated in finalists being announced in April, and traveling to Brisbane to compete for the $20,000 first prize at ICRA.
Top international universities participated, including the likes of the Harbin Institute of Technology in China, Johns Hopkins University in the U.S., the University of Melbourne in Australia and the University of Alberta in Canada. NVIDIA provided its TITAN GPUs and Jetson TX2 Developer Kits as prizes.
Powered by NVIDIA Jetson
This year's competition showcased veteran teams, first-timers and a hardware platform that dominated the proceedings — the Jetson TX2. Of the 22 robots competing in the finals, 14 were powered by Jetson.
RoboMaster Head Referee Shuo Yang cited Jetson's technical prowess and ease of use as reasons for its popularity. "We use Jetson TX2 because it comes with excellent tools for neural network training, machine learning and object tracking detection," Yang said. "The Jetson APIs are very handy — very convenient for students to use."
The students themselves also lauded Jetson TX2's small size, light weight and GPU power as driving factors behind their choice of hardware.
Xingguang Zhong, captain of the first place team from Harbin Institute, explained. "Jetson enables us to do parallel computing with neural networks to facilitate the vision computing, and to detect enemy robot armor and shoot targets precisely," he said. "We can't do this with other platforms."
Ruiqing (Rui) Yin of Johns Hopkins also cited the Jetson TX2 module's CUDA compatibility as an important factor. "It's an affordable way to get a powerful, CUDA-ready machine on our robot," he said.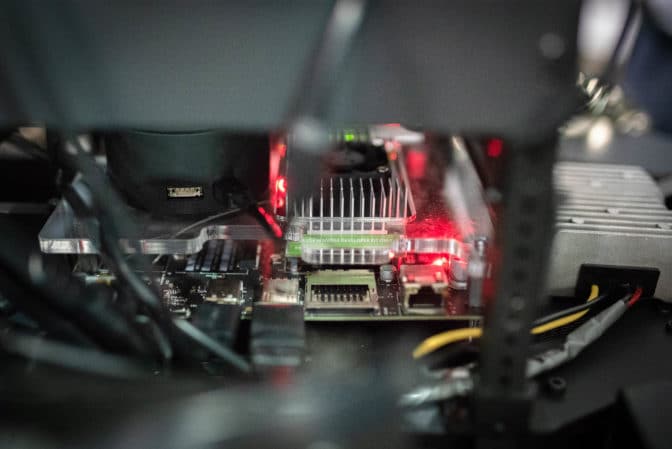 A Robotics Competition Turned Global Phenomenon
By featuring teams of aspiring engineers, RoboMaster has gained wide popularity among the engineering community. Last year, more than 7,000 participants from 200 universities around the world registered to compete. And the final competition generated more than 814,000 views on Twitch.tv.
"DJI is not only passionate about making great drone technology, we also want to encourage and empower young engineers to showcase their talent to the rest of the world and demonstrate the amazing things that robotics can achieve for us," said Paul Xu, vice president at DJI, one of the world's leading drone makers and lead sponsor of RoboMaster.