PC gaming's latest moment is its biggest yet.
Today new gaming experiences charge across the internet, and hundreds of millions of GeForce PCs, seemingly at the speed of light.
Witness the 'battle royale' craze. Each week tens of millions of PC gamers parachute in to games like Fortnite and PlayerUnknown's Battlegrounds. Even more tune in to watch. And this worldwide cultural phenomenon is creating new (and re-engaging former) PC gamers at a rate never before seen. In fact, just for GeForce, the number of active weekly gamers has grown by 10 million in the last 8 months, a massive increase.
Prefered Platform of Game Developers Everywhere
As new games spread faster, PC gamers enjoy more experiences than ever before. This is no walled garden: over 7,000 new PC games were introduced in 2017, by far the most of any gaming platform. Sixty percent of the game developers surveyed for the latest Game Developers Conference targeted the PC for their games. That's double the number developing for any console.
Today, PC games are a $33 billion industry. Two-thirds of all Americans are now gamers, the highest percentage ever published by Nielsen. But this is a phenomenon that, like the games themselves, left borders behind long ago. There are more than 1.2 billion PC gamers worldwide, a figure that will grow to 1.4 billion by 2020.
GeForce Drives This Virtuous Cycle
Over the past 25 years we've been single mindedly focused on advancing PC gaming. And many of our innovations have been gamechangers.
Years ago, when shadows in games looked fake, NVIDIA brought transform and lighting technologies to PC graphics. Now that's the standard.
When developers wanted to push realism to new levels, NVIDIA invented the programmable graphics processing unit.
We saw an opportunity to link the GPU directly to the display for buttery smooth gameplay and created NVIDIA G-SYNC display technology. G-SYNC displays are rigorously tested in our labs and certified by NVIDIA to deliver a premium experience. There are now 217 G-SYNC displays shipping from 17 partners: 158 for laptops and 59 for desktops.
With Gaming Everywhere, Laptops That Let You Game Anywhere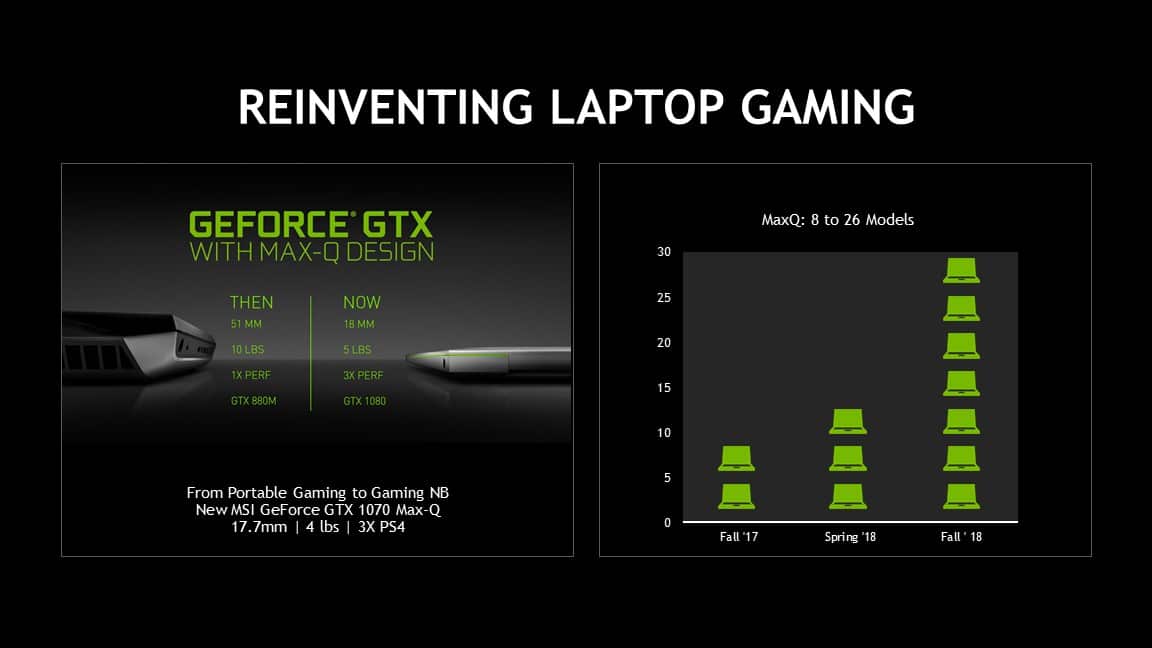 The bigger and better the games, the more gamers want to take their game with them. First, we optimized our Pascal GPUs for laptop gaming systems as well as desktops.
Then, a year ago, we launched Max-Q: a design approach to bring GeForce GTX 1080 GPUs to sleek gaming laptops in dimensions never before possible. Twenty-six Max-Q models will be on shelf this fall, 3 times the number this time last year. With almost 100 million consumer laptops sold each year, the growth opportunity for thin, light and powerful gaming laptops is huge (Tune into the #IWANTMAXQ hashtag on top social media networks to see the latest models).
The World's Fastest-Growing Global Sport
From games that have spread like wildfire, to the richest world of content, to impossibly thin, light and powerful laptops, the PC is the most dynamic and vibrant gaming platform. It's also the home of another global cultural phenomenon: esports
Now the fastest-growing global sport, the stats for esports are staggering. Esports audiences worldwide grew by 100 million over the past two years and are expected to reach over 600 million by 2020. More than 120 million viewers in China tuned in on a single night in May to watch a League of Legends finals match. That's more than the population of all but a handful of countries.
All the major esports tournaments play on GeForce PCs. And 240Hz G-SYNC monitors, delivering the unmatched frame rates and tear-free gaming favored by esports players worldwide, are the official display of TI 2018 (The International) taking place in Vancouver in August.
The Platform that Keeps Getting Bigger, Faster, and Better
This is a story that goes beyond just hardware, however. Capabilities like NVIDIA Highlights — which lets gamers capture great gaming moments and share them with friends — have accelerated the growth of titles like Fortnite, for which viewership far outpaced player numbers at the outset.
And we announced the next gamechanger a few months ago at GDC: NVIDIA RTX technology. Real-time ray tracing has been the dream of the graphics industry and game developers for decades and NVIDIA RTX brings it to life. The product of 10 years of development in computer graphics algorithms and GPU architectures, it consists of a highly scalable ray-tracing technology running on NVIDIA Volta architecture GPUs to deliver amazing lifelike cinematic-quality to future games.
Long considered the definitive solution for realistic and lifelike lighting, reflections and shadows, ray tracing offers a level of realism far beyond what is possible using traditional rendering techniques. Real-time ray tracing replaces a majority of the techniques used today in standard rendering with realistic optical calculations that replicate the way light behaves in the real world, delivering more lifelike images.
The Virtuous Cycle Accelerates
NVIDIA RTX will set the bar high for gaming technology, transforming capabilities and driving up production quality. It will raise the game for the entire industry. And PC gamers will be the biggest winners.