NVIDIA has clinched its seventh straight year of "Best Choice Awards" at Computex, Asia's largest technology tradeshow. NVIDIA DRIVE, GeForce GTX 980 and NVIDIA...
Read More
Gaming
James Grunke is a man of few words. And fewer buzzwords. But our director of eSports doesn't need a PowerPoint deck to make his...
Read More
Gaming
One of the most anticipated games of the year, Witcher 3: Wild Hunt is here. And some of us have been anticipating it longer...
Read More
Gaming
It's a not-so-hidden secret. Game developers will let you know a game isn't fully polished by calling it an "alpha" or "beta." But once...
Read More
GameWorks
A day after NVIDIA helped stun the crowd at Microsoft's BUILD conference, we're behind a second jaw-dropping DirectX 12 demo that's grabbing headlines. King...
Read More
Gaming
Beijing is big. It covers more than 6,000 square miles. It's home to more than 21 million people. But you can't know how big...
Read More
Gaming
The virtual world of Grand Theft Auto V has it all. Gritty urban neighborhoods packed with action and intrigue. Sprawling forests and canyons teeming...
Read More
Gaming
Many tech demos end in tears. Square Enix's moving demo during the keynote at Microsoft's BUILD 2015 developer conference this week might be the...
Read More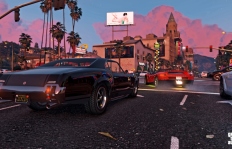 GameWorks
It's one of the most anticipated titles of the year. Maybe of all time. Early previews are great. And it's already topping Steam sales...
Read More
Cloud
That's it, gamers. You've been replaced. Google has used a new technology called deep learning to build a machine that has mastered 50 classic...
Read More