Enterprise
There were a lot of amazing sights at the SIGGRAPH conference in Vancouver last week. But to the veteran engineers who stopped by our...
Read More
Auto
The BMW i8 is the latest in a string of new vehicles that have helped us hit the milestone of six million NVIDIA-powered cars...
Read More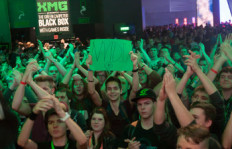 Gaming
Many wore NVIDIA t-shirts. Some wore the NVIDIA claw shaved into their hair. And one fan decided it was the perfect place to propose...
Read More
Inner Geek
Videogames. Movies. Music. Podcasts. Gadgets. Sly t-shirts. Jeff Wycoff is a man of many interests. But the thing he may know best is the...
Read More
Gaming
The world's biggest gaming show is bigger than ever. Gamescom's organizers estimate the show will draw more than 375,000 this year. That's well over...
Read More
Gaming
With the help of NVIDIA engineers, Dolby has put Epic's "Elemental," Unreal Engine 4 demo on its new "extended dynamic range," or EDR, display....
Read More
Enterprise
Imagine a filmmaker, tablet in hand, walking through a live-action set and recording actors as they perform, while simultaneously seeing fluid updates of computer-generated...
Read More
Enterprise
Exquisite craftsmanship. Insanely small tolerances. Beautiful materials. Whoever says art is dead has never worn a luxury watch. The challenge: showing all these details...
Read More
Mobile
Virtual reality headsets. Huge high-definition displays. Exotic motion-capture systems. There's nothing the graphics pros at the annual SIGGRAPH conference in Vancouver this week haven't...
Read More
Enterprise
If you want to make a splash in the world of computer graphics, there's no better place to do it than SIGGRAPH, where thousands...
Read More