Cloud
With our partners VMware and Google, we revealed this week a breakthrough in bringing full graphics to the virtual desktop, at VMworld 2014. Now,...
Read More
Gaming
Valve and NVIDIA have just made game streaming better than ever. Last week, Valve officially released support for hardware encoding on NVIDIA GeForce GPUs...
Read More
Corporate
It's time for big data to get into the fight against cancer. We're working with the National Cancer Institute's (NCI) Clinical Proteomic Tumor Analysis...
Read More
Cloud
Just a few weeks after sharing our plans to transform Chromebooks from the inside out with the Tegra K1-powered Acer Chromebook 13, we told...
Read More
Enterprise
Scooby Doo. The Smurfs. SpongeBob SquarePants. Every generation has its favorite iconic cartoon. We may one day get to interact with them, too, if...
Read More
Enterprise
There were a lot of amazing sights at the SIGGRAPH conference in Vancouver last week. But to the veteran engineers who stopped by our...
Read More
Auto
The BMW i8 is the latest in a string of new vehicles that have helped us hit the milestone of six million NVIDIA-powered cars...
Read More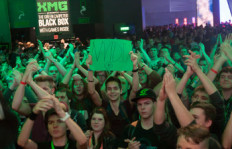 Gaming
Many wore NVIDIA t-shirts. Some wore the NVIDIA claw shaved into their hair. And one fan decided it was the perfect place to propose...
Read More
Inner Geek
Videogames. Movies. Music. Podcasts. Gadgets. Sly t-shirts. Jeff Wycoff is a man of many interests. But the thing he may know best is the...
Read More
Gaming
The world's biggest gaming show is bigger than ever. Gamescom's organizers estimate the show will draw more than 375,000 this year. That's well over...
Read More