NVIDIA and Microsoft Azure are making it easier for organizations to achieve accelerated computing, powerful performance and seamless user experiences from the cloud.
Microsoft's new NVads A10 v5 instances in Azure, built on the NVIDIA A10 Tensor Core GPU, bring greater flexibility and a lower cost of entry for accelerating graphics workloads in the cloud.
Powering these new instances, the NVIDIA A10 flexibly accelerates graphics visualization and compute workloads. Customers can now tap into the power of the A10 GPU to accelerate a broad range of workflows and applications, including virtual desktops, computer-aided design (CAD), rendering, simulation, AI inferencing and analytics.
The NVads A10 v5 instances provide enterprises with a consistent cloud platform that can be scaled to meet the needs of users across multiple workloads, and professionals can take advantage of the revolutionary graphics capabilities of NVIDIA RTX.
GPU Virtualization Brings Flexibility, Lower Starting Cost
Previously, deploying virtual desktops or workstations in the cloud was expensive, because GPU acceleration required users to access an entire GPU — it was impossible to divide that GPU resource and share it across multiple users. But using GPU-partitioning (GPU-P), the right-sized virtual machine can now be provisioned based on the user's workload.
With the introduction of the NVads A10 v5 instances, Microsoft Azure becomes the first tier 1 cloud provider to support GPU virtualization on NVIDIA GPUs with Microsoft Azure GPU-P capabilities.
The NVIDIA A10 GPU, which has 24GB of memory, can be flexibly partitioned and allocated to accelerate graphics or compute workloads. With GPU partitioning, customers can choose the most cost-effective, right-sized instances to run their varied workloads, starting at a 4Q profile size — or one-sixth of a whole GPU — and going all the way up to two full A10 GPUs for a total of 48GB for larger, more complex workloads.
A10 Brings Powerful Virtual Performance
Based on the NVIDIA Ampere architecture, the A10 GPU features second-generation RT Cores, bringing up to 2.5x the graphics performance versus the previous generation, T4. The A10 also enables unprecedented photorealism, 3D designs and visual effects, supported by the latest enhancements in AI, ray tracing and simulation.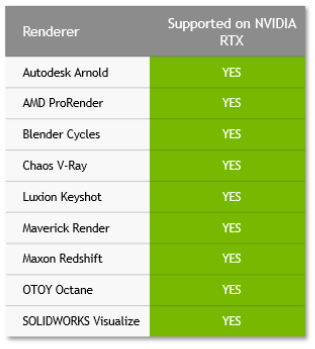 Support for NVIDIA RTX technology also means that the NVads A10 v5 instances have the broadest ecosystem of supported rendering engines, giving users a more seamless experience with accurate shadow detail and lighting, reduced noise and enhanced photorealistic accuracy.
Equipped with third-generation NVIDIA Tensor Cores, the A10 provides up to 2.5x the performance for inference versus the T4, and brings AI to graphics workloads with capabilities like Deep Learning Super Sampling, AI denoising, and enhanced editing for select applications.
Powerful Performance for Tackling Any Workflow
Built on top of NVIDIA RTX Virtual Workstation technology, the NVads A10 v5 instances can support powerful virtual workstations. Small- to medium-sized CAD models, game development and geospatial information systems can be cost-effectively deployed in the cloud on fractional GPUs.
GPU resources can be scaled up to a whole A10 GPU or across multiple ones for more demanding workloads such as intelligent video analytics, AI inferencing, complex CAD modeling, simulation, seismic exploration, visual effects and rendering.
This also expands cloud instances to support new workloads, such as augmented and virtual reality, with NVIDIA CloudXR technology.
NVIDIA and Microsoft have worked with independent software vendors to test and validate the CAD and CAE applications that customers wish to deploy in the cloud. Through the testing and validation program, customers get:
Insights on the best configuration for running their workloads on Azure
Insights on expected performance of their applications
Guidance on application setup, as well as insights on the expected costs based on application usage
Access to a curated recipe guide for setting up the CAD or CAE application on Azure
Build and Scale End-to-End AI Solutions
When it comes to compute workloads, the NVIDIA A10-based instances provide the power developers need to build AI solutions and deploy them at scale — without a single code change — as they can develop and deploy on the same platform.
Additionally, data scientists and developers can more quickly create business value from AI using NVIDIA's open-source frameworks, toolkits and pretrained models available on NGC.
Organizations are looking to provision accelerated computing resources faster, so employees can work with larger models, have more visually rich online experiences, access the tools they need from anywhere, and accelerate productivity. With the flexibility and power of Azure NVads A10 v5 instances, companies have a more affordable way to help them stay on the leading edge of innovation.
The new NVads A10 v5 instances are now available on Azure. Learn more about NVIDIA A10.