From David LaChapelle to M. Night Shyamalan to Dave Grohl, the world's leading creative minds have descended upon Los Angeles this week for Adobe MAX to talk about how technology is improving the way they work.
This year, we're helping supercharge creativity with NVIDIA RTX technology. Over 40 top creative and design applications are being accelerated by NVIDIA's RTX ray tracing and AI processors. Meaning, no more waiting on your PC. You're free to create at the speed of your imagination and see your work come to life instantly.
Today, this boost is coming to three of Adobe's creative apps: Adobe Dimension, Substance Alchemist and Premiere Pro.
Giving 2D Graphics a Third Dimension
3D design has historically been restricted to programmers and engineers trained in expensive and complicated CAD and DCC tools. At Adobe MAX, the barriers to 3D are crashing down with new apps and capabilities coming to artists' creative portfolios.
Adobe Dimension makes it easy and affordable for tens of millions of graphic designers and illustrators to step into 3D with stock assets, point-and-click materials and a powerful new NVIDIA RTX-accelerated ray-traced renderer.
Adobe Dimension taps into dedicated ray-tracing processors on RTX GPUs to dramatically speed up rendering of 3D environments. This allows you to see dynamic lighting, beautiful reflections and soft shadows — all without the wait.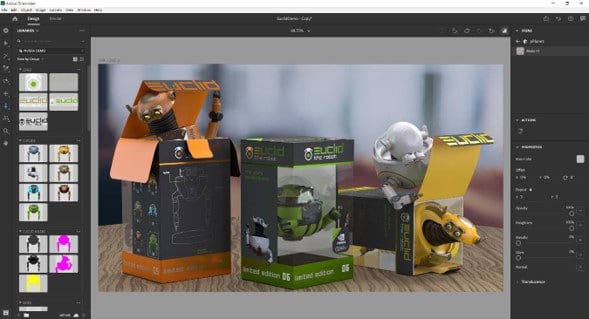 "With NVIDIA RTX GPUs delivering dramatic performance improvements in Adobe Dimension, we're transforming design workflows with high-end visuals created faster than ever before," said Ross McKegney, director of engineering for 3D and AR at Adobe. "We're also adding interactive ray tracing that will enable artists to render fantastic 3D photorealistic scenes that take their environments to the next level."
Adobe is also releasing Substance Alchemist, a 3D tool that enables artists to create photorealistic textures. All you do is snap a photo of a surface, and the tool magically removes the lighting and shadows so that the texture can be relit in 3D. Just like that, you have a professional-grade texture.

Substance Alchemist delighting uses deep learning AI that is turbocharged by NVIDIA RTX GPUs. Material creation that used to take an artist hours of painstaking masking and editing to remove lighting can now be done by AI in seconds.
Video Composition Meets AI
The power of AI comes to video with Adobe's release of a new GPU-accelerated AI feature in Adobe Premiere Pro called Auto Reframe. It uses Adobe Sensei AI to identify and track the most relevant elements in a video — be it a snowboarder or race car — and intelligently reframes video content for different aspect ratios. And with NVIDIA RTX GPUs, it's up to 400 percent faster than on CPUs.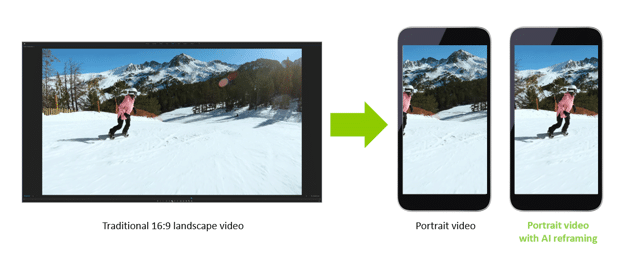 Automating this conversion is a big time-saver. Nearly 60 percent of the world's video is consumed on mobile phones — devices used overwhelmingly in portrait mode. Social media platforms from Facebook to Instagram to Snapchat are increasingly adopting portrait-aspect ratios for videos to increase engagement. Yet the vast majority of video is still captured in traditional landscape perspective. With the new Auto Reframe tool, you can get your videos on social media faster than ever.
Create Even Faster with New NVIDIA Studio Driver
Just in time for Adobe MAX, we're releasing a new NVIDIA Studio Driver so you can get the best performance and compatibility for Adobe's new releases. The driver delivers up to 12 percent performance boosts1 in top creative apps, including Adobe Premiere Pro, Autodesk Arnold, Cinebench and REDCINE-X PRO.
The driver also adds support for OptiX 7 for RTX-accelerated ray tracing in Blender Cycles 2.81 Alpha.
BOXX "Beasts" Deliver Professional-Grade Performance
As part of the festivities, two professional-grade workstations join the RTX Studio family — BOXX's APEXX W4L and APEXX S3 — and they pack a punch.
These creative beasts deliver incredible performance that can tame even the most intense creative tasks. The W4L is configurable with up to four Quadro RTX 8000 GPUs that carry an amazing 192GB of VRAM, 768GB of system memory and Intel Xeon W processors. Go ahead, throw any project you want at it!
RTX Studio laptops and desktops combine RTX GPUs with the NVIDIA Studio Stack of specialized SDKs and Studio Drivers — a powerful set of hardware and software that helps you complete projects in record time. To find the right systems in etail and retail, just look for the RTX Studio badge.
Adobe MAX kicks off today. With the new Creative Cloud releases and RTX Studio systems, creatives are in for a big treat. If you're attending, stop by NVIDIA booth 1101 to see the latest technology in action.
(1) Testing conducted by NVIDIA in October 2019 on Windows 10 19H1, Intel Core i9-9900K, 32GB DDR4 memory and GeForce RTX 2060 SUPER with 431.86 and 441.12 Studio drivers.