With lives at stake, and the clock ticking, mastering disaster may be the ultimate AI challenge.
Teams from Johns Hopkins University, Lockheed Martin, the U.S. Department of Defense's Joint Artificial Intelligence Center and NVIDIA Wednesday outlined how they're working to put AI to work speeding disaster relief to where it's needed most.
The teams spoke about their work at GTC DC, the Washington edition of NVIDIA's GPU Technology Conference, which brought together more than 3,500 registered attendees — policymakers, business leaders and researchers among them — to discuss and learn about the latest in AI and data science.
Their presentations underscored GTC DC's role as Washington's premier AI conference. They represent the latest efforts, detailed at the event over the past several years, to put the benefits of AI into the hands of policymakers and first-responders.
Detecting Damage with Satellite Imagery
A team from the Johns Hopkins Applied Physics Laboratory and the Joint AI Center (JAIC) spoke about how they're using GPU-powered deep learning algorithms to track the damage caused by major storms from airborne and satellite imagery data processing.
Speakers included software engineer Beatrice Garcia and senior engineer Gordon Christie, both from the university's Applied Physics Laboratory, and Captain Dominic Garcia, project lead at JAIC.
While their work hasn't been deployed — yet — in disaster zones, their goal is to create AI systems that harness satellite and aerial imagery, along with other data, to point first responders and military and government decision-makers and analysts to where the need is greatest.
Such images will help first responders see, at a glance, where to deploy their resources, Christie said, as he showed an AI-enhanced map assessing the damage caused by a tornado that struck Joplin, Mississippi, in 2011.
The lab and JAIC have applied deep learning algorithms to the imagery of a number of severe storms collected from airborne platforms to accelerate detection of flooding and damaged infrastructure.
Based on the algorithms they developed and techniques they learned, the joint team is now creating a scalable environment that would provide these capabilities to any analysts. Users would have access to AI and machine learning algorithms, enabling a faster response to a variety of natural disasters.
Lockheed Prepares with Earthquake Simulation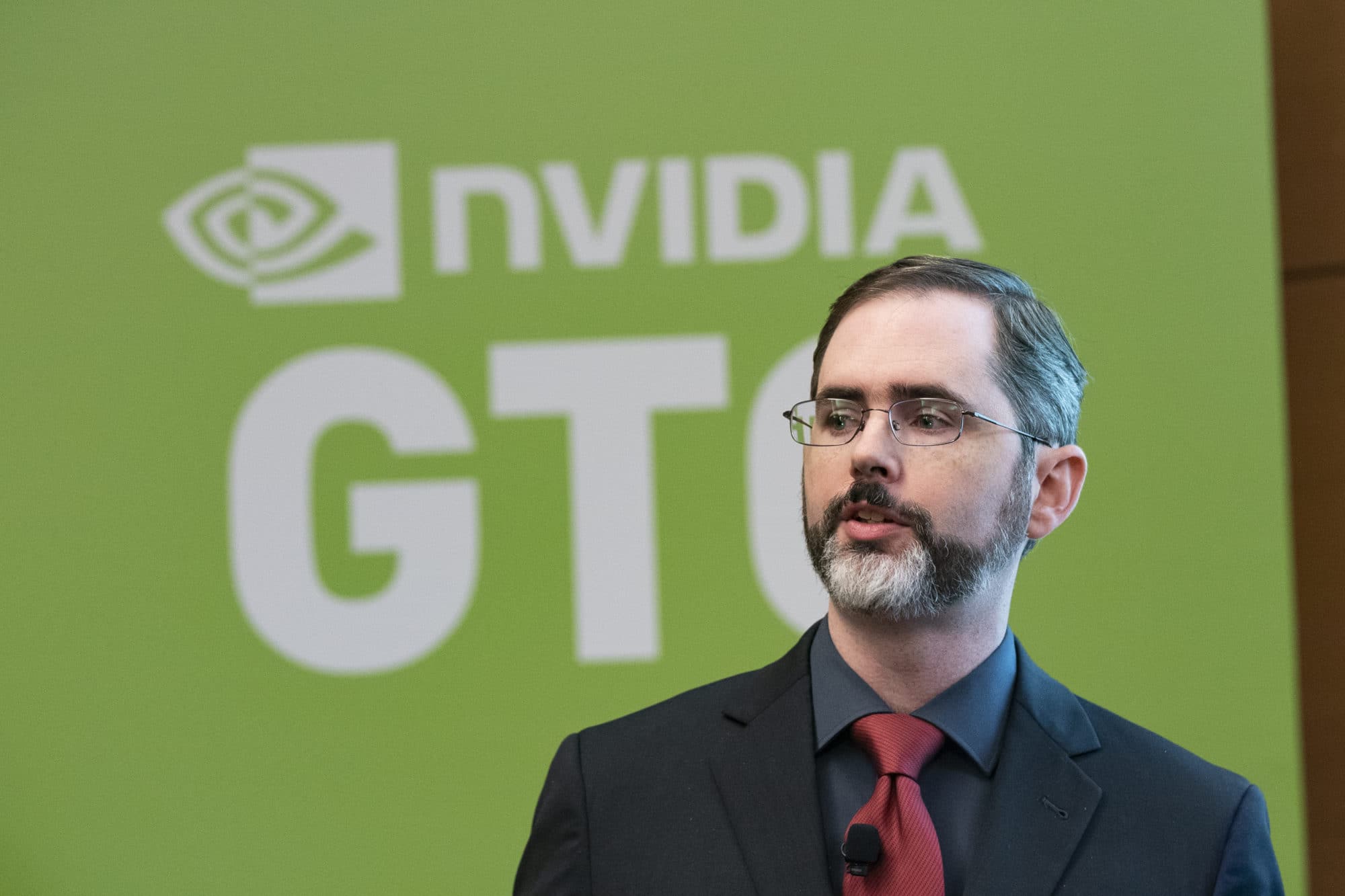 Lockheed Martin next explained the work that they've done in conjunction with a team from NVIDIA to build an open dataset for multi-platform, multi-sensor machine learning research and development.
The dataset, focused on humanitarian assistance and disaster relief, is being developed using a combination of real-world data collection events as well as simulation.  The current emphasis is on earthquake scenarios.
Andrew Walsh, a senior staff systems engineer at Lockheed Martin, joined May Casterline, a senior solutions architect at NVIDIA, to explain how they choreographed a real-world collection event that  included multiple sensors, aircraft, ground vehicles and teams of actors in a series of simulated earthquake scenarios. They also detailed the effort required to spatiotemporally align all the disparate data sources and described the challenges around labeling such a massive dataset.
Their dataset will be used to train AI and machine learning systems to improve responses to real earthquakes.
Disaster Planning with Data Science
Sean Griffin, president of Disaster Intelligence, spoke late Wednesday afternoon about his company's approach to disaster prevention and response. His D.C.-based firm is working to create a common web platform that collects datasets relevant to natural and manmade disasters, which are then displayed graphically.
Users — from first responders to everyday citizens — can access the data to make more educated choices before and after a disaster.
"We used to share situational awareness by PDF or sharepoint sites," said Griffin. But high performance computing is making it possible to update larger audiences with more relevant data.
"It's our objective as a company to have complete saturation across the U.S. to have outage data in our platforms so that not only do we know that the power's out, but that we can intersect that information with other key points of interest like healthcare facilities or water systems."
Griffin presented two use cases. The first showed how Disaster Intelligence's platform can model the consequences, cost and options for different disaster relief strategies. The second addressed how the platform improves coastal evacuations during hurricanes.
Route Planning with RAPIDS
NVIDIA is hosting a webinar on how RAPIDS, the company's GPU-accelerated data science software stack, can help speed up route replanning for civilian and military disaster response assets. Register for the webinar, taking place Dec. 17 at 10 am PT, here.