AV1, the next-generation video codec, is expanding its reach with today's release of OBS Studio 29.1. This latest software update adds support for AV1 streaming to YouTube over Enhanced RTMP.
All GeForce RTX 40 Series GPUs — including laptop GPUs and the recently launched GeForce RTX 4070 — support real-time AV1 hardware encoding, providing 40% more efficient encoding on average than H.264 and delivering higher quality than competing GPUs.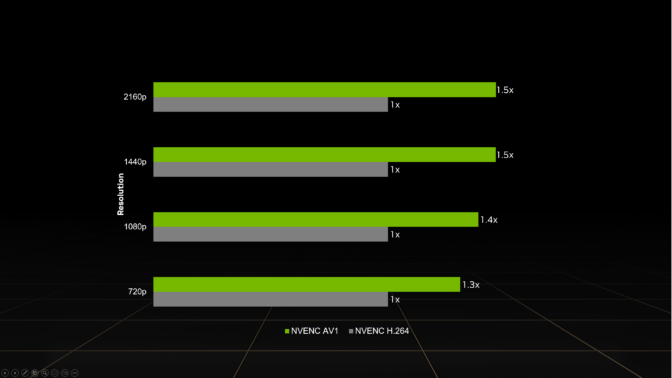 This reduces the upload bandwidth needed to stream, a common limitation from streaming services and internet service providers. At higher resolutions, AV1 encoding is even more efficient. For example, AV1 enables streaming 4K at 60 frames per second with 10 Mbps upload bandwidth — down from 20 Mbps with H.264 — making 4K60 streaming available to a wider audience.
AV1 — The New Standard
As a founding member of the Alliance for Open Media, NVIDIA has worked closely with industry titans in developing the AV1 codec. This work was necessitated by gamers and online content creators who pushed the boundaries of old formats that were defined roughly 20 years ago. The previous standard for livestreaming, H.264, usually maxed out with 1080p at 60 fps at the commonly used bitrates of 6-8 Mbps, and often produced blocky, grainy images.
AV1's increased efficiency enables streaming higher-quality images, allowing creators to stream at higher resolutions with smoother frame rates. Even in network-limited environments, streamers can now reap the benefits of high-quality video shared with their audience.
Support for AV1 on YouTube comes through the recent update to RTMP. The enhanced protocol also adds support for HEVC streaming, bringing new formats to users on the existing low-latency protocol they use for H.264 streaming. Enhanced RTMP ingestion has been released as a beta feature on YouTube.
Learn how to configure OBS Studio for streaming AV1 with GeForce RTX 40 Series GPUs in the OBS setup guide.
Better Streams With NVENC, NVIDIA Broadcast
GeForce RTX 40 Series GPUs usher in a new era of high-quality streaming with AV1 encoding support on the eighth-generation NVENC. A boon to streamers, NVENC offloads compute-intensive encoding tasks from the CPU to dedicated hardware on the GPU.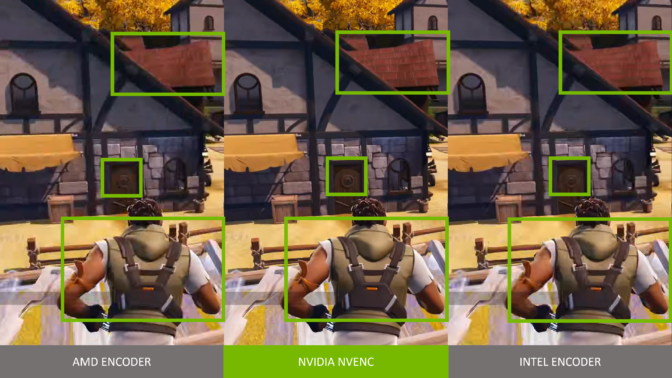 Designed to support the rigors of professional content creators, NVENC preserves video quality with a higher accuracy than competitive encoders. GeForce RTX users can stream higher-quality images at the same bitrate as competitive products or encode at a lower bitrate while maintaining a similar picture quality.
NVIDIA Broadcast, part of the exclusive NVIDIA Studio suite of software, transforms any room into a home studio. Livestreams, voice chats and video calls look and sound better with powerful AI effects like eye contact, noise and room echo removal, virtual background and more.
Follow NVIDIA Studio on Instagram, Twitter and Facebook. Access tutorials on the Studio YouTube channel and get updates directly in your inbox by subscribing to the Studio newsletter.
1 Source: 4K60 AV1 encoded video with AMD 7900 XT, GeForce RTX 4080 and Intel Arc 770 with OBS Studio default settings at 12Mbps