Robotaxis are one major step closer to becoming reality.
DiDi Autonomous Driving, the self-driving technology arm of mobility technology leader Didi Chuxing, announced last month a strategic partnership with Volvo Cars on autonomous vehicles for DiDi's self-driving test fleet.
Volvo Cars' autonomous drive-ready XC90 cars will be the first to integrate DiDi Gemini, a new self-driving hardware platform, which is equipped with NVIDIA DRIVE AGX Pegasus. These vehicles, equipped with DiDi's Gemini self-driving hardware platform, will eventually be deployed in robotaxi services.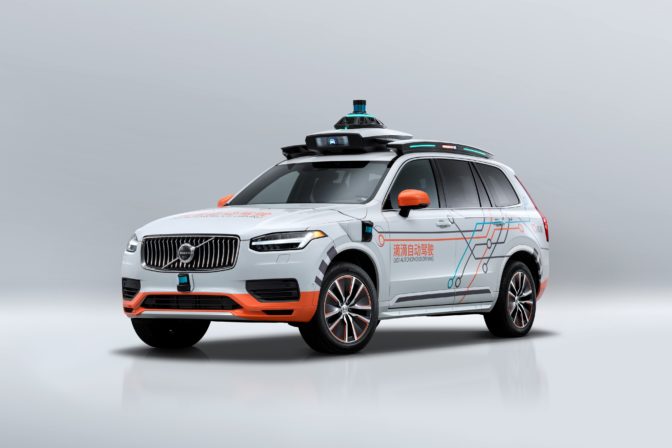 These self-driving test vehicles are significant progress towards commercial robotaxi services.
Robotaxis are autonomous vehicles that can operate on their own in geofenced areas, such as cities or residential communities. With a set of high-resolution sensors and a supercomputing platform in place of a driver, they can safely operate 24 hours a day, seven days a week.
And as a safer alternative to current modes of transit, robotaxis are expected to draw quick adoption once deployed at scale, making up more than 5 percent of vehicle miles traveled worldwide by 2030.
With the high-performance, energy-efficient compute of NVIDIA DRIVE at their core, these autonomous driving systems developed by DiDi are poised to help accelerate this landmark transition.
Doubling Up on Redundancy
The key to DiDi's robotaxi ambitions is its new self-driving hardware platform, DiDi Gemini.
Achieving fully autonomous vehicles requires centralized, high-performance compute. The amount of sensor data a robotaxi needs to process is 100x greater than today's most advanced vehicles.
The complexity in software also increases exponentially, with an array of redundant and diverse deep neural networks running simultaneously as part of an integrated software stack.
Built on NVIDIA DRIVE AGX Pegasus, DiDi Gemini achieves 700 trillion operations per second (TOPS) of performance, and includes up to 50 high-resolution sensors and an ASIL-D rated fallback system. It is architected with multi-layered redundant protections to enhance the overall safety of the autonomous driving experience.
The Gemini platform was designed using Didi Chuxing's massive database of ride-hailing data as well as real-world autonomous driving test data to deliver the optimal self-driving hardware experience.
A New Generation of Collaboration
DiDi's test fleet also marks a new era in technology collaboration.
DiDi and Volvo Cars plan to build a long-term partnership, expanding the autonomous test fleets across China and the U.S. and scaling up commercial robotaxi operations. The NVIDIA DRIVE platform enables continuous improvement over the air, facilitating these future plans of development and expansion.
This collaboration combines long-held legacies in vehicle safety, ride-hailing expertise and AI computing to push the bounds of transportation technology for safer, more efficient everyday mobility.