GFN Thursday welcomes you to the next generation of cloud gaming — boldly going where no cloud gaming service has gone before with the new GeForce NOW RTX 3080 membership.
The new memberships will stream from the world's most powerful gaming supercomputer, the GeForce NOW SuperPOD, giving gamers their own high-performance cloud gaming rig. GeForce NOW RTX 3080 members will enjoy streaming at up to 1440p resolution and 120 frames per second on PCs and Macs, and 4K HDR at 60 FPS on SHIELD TV, with ultra-low latency that rivals many local gaming experiences.
Founders and Priority members in North America and Western Europe now have early access to preorder GeForce NOW RTX 3080 memberships — with six-month memberships available for $99.99. Memberships will be limited at launch, and the exclusive preorder window gives our earliest supporters the first opportunity to upgrade to next-generation gaming.
GFN Thursday means more games for more gamers, and starting today members can stream the wildly popular New World, which is one of nine games joining the GeForce NOW library this week.
Next-Gen Gaming, Everywhere
GeForce NOW is the easiest upgrade for gamers who want to transform their low-spec devices into high-performance GeForce gaming rigs. Members play the latest PC games without waiting for downloads, installs, patches or updates.
The new GeForce NOW RTX 3080 membership delivers an instant upgrade in performance for common hardware — a 70x increase for the average laptop on Steam, 13x for an M1-based Macbook Air and 7x for the most popular desktop configuration on Steam.
This performance leap is rendered in the cloud. Members connect to gaming servers supercharged with GPUs based on the NVIDIA Ampere architecture. AMD Ryzen Threadripper PRO CPUs deliver leadership performance and industry-leading bandwidth.
Translation: GeForce NOW RTX 3080 equals warp-speed gaming.
GeForce NOW RTX 3080 members will have exclusive access to the new servers, streaming at up to 1440p at 120 FPS on PC, 1600p at 120 FPS on most MacBooks, 1440p at 120 FPS on most iMacs, 4K HDR at 60 FPS on NVIDIA SHIELD TV and up to 120 FPS on select Android devices.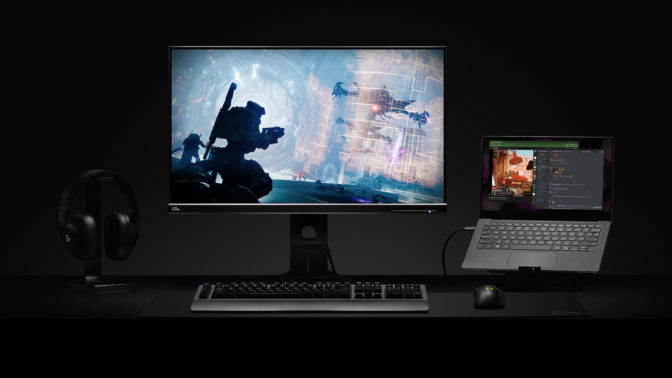 That means any underpowered PC or laptop — even with four-year-old integrated graphics — is instantly transformed into a gaming rig capable of displaying the hottest PC games in 1440p at 120 FPS with a compatible monitor that supports a refresh rate of 120Hz or higher.
Gaming on a Mac? Play at native display resolutions, up to 1440p for most iMacs and 1600p for most MacBooks. With the new MacBook Pro, stream and game natively at 120 FPS with the ProMotion 120Hz displays. Or, connect an external monitor for 120 FPS gaming on any Mac.
Gaming in your living room? SHIELD TV can render and stream PC games at 4K HDR at 60 FPS and 7.1 surround sound, with ultra-low latency that will make console users jealous.
Going mobile? Take PC gaming with you at screaming-fast 120 FPS on select 120Hz Android phones, such as the Samsung S21.
GeForce NOW RTX 3080 members will enjoy faster game rendering and dramatic latency savings on any supported device — including Chrome, Safari and Edge browsers.
GeForce NOW RTX 3080 members also have the longest session lengths of all memberships, clocking in at eight hours, and the most control over persistent in-game settings.
Preorder Today to Be the First to Play
Preorders for the GeForce NOW RTX 3080 membership are now open for Founders and Priority members, and will be open to all gamers next week, pending availability. Founders and Priority members can access their exclusive preorder opportunity by logging into their GeForce NOW account, clicking "MANAGE," and selecting the "PREORDER" option under RTX 3080 to begin the checkout flow. Preorders will only be charged when the GeForce NOW RTX 3080 membership becomes available.
Founders, exclusively, will receive 10 percent off the subscription price and can upgrade with no risk to their benefits. Founders who decide to upgrade to the GeForce NOW RTX 3080 experience will be eligible to revert back to their original Founders plan and retain their "Founders for Life" pricing, as long as they remain in good standing on any paid membership plan.
Preorders will begin converting to active memberships in November in North America, and December in Western Europe.
Information on rollout timing for GeForce NOW RTX 3080 memberships in GeForce NOW Alliance regions will be made by partners at a later time, on a region-by-region basis.
More info can be found in the membership FAQ.
Updates for Everyone
The latest GeForce NOW client update begins rolling out today. In addition to supporting the new membership preorder, version 2.0.34 brings beta support for Microsoft Edge on PC, giving members yet another way to play their favorite PC games.
The update also includes new Adaptive Sync technology, giving all members a smoother gaming experience. This technology synchronizes frame rendering to the local display, reducing stutter for many users by eliminating dropped and repeated frames. It also helps reduce latency to 60ms or less for many gamers joining the new GeForce NOW RTX 3080 tier.
It's Game Time
GeForce NOW members have access to 1,000+ games, with more released every GFN Thursday. The catalog features many of the world's most-played games, including free-to-play titles like Fortnite, Dota 2, Apex Legends, Destiny 2 and more.
Members can also stream many major fall and holiday launch titles with RTX ON in supported games. Today, members can start streaming the hit game New World, from Amazon Games. It's one of the nine games joining the service. Check out the full list below.
We make every effort to launch games on GeForce NOW as close to their release as possible, but, in some instances, games may not be available immediately.
Win Big With #TheFutureisNOW
To commemorate the new GeForce NOW RTX 3080 membership, we're celebrating with a week chock-full of giveaways, starting later today. Tune in to our social channels for a chance to win epic loot every day from Oct. 21-28.
To enter, simply comment #TheFutureIsNOW and follow the instructions on sweepstakes social posts. It's GeForce NOW or never — tune in on Twitter and Facebook for the next drop!