GFN Thursday is bringing gamers 11 new titles this week, but first, a question: What's your favorite indie game?
We ask because GeForce NOW supports nearly 300 of them, streaming straight from the cloud. And that's great for gamers and indie devs.
An Indie Spotlight
PC gaming thrives because of independent studios. Some of the world's smallest developers have made the biggest and best games. It's one of the things we love most about PC gaming and why NVIDIA built its Indie Spotlight program.
Developing a great game is challenging enough, so we're supporting indie devs by helping them reach a wider audience. GeForce NOW connects to game stores where PC games are already offered, so developers can grow their audience while focusing on their creative vision, without worrying about ports.
Teams like Iron Gate AB and Coffee Stain Studios are now able to bring a graphically intense PC game like Valheim to more gamers by streaming the PC version from our cloud servers.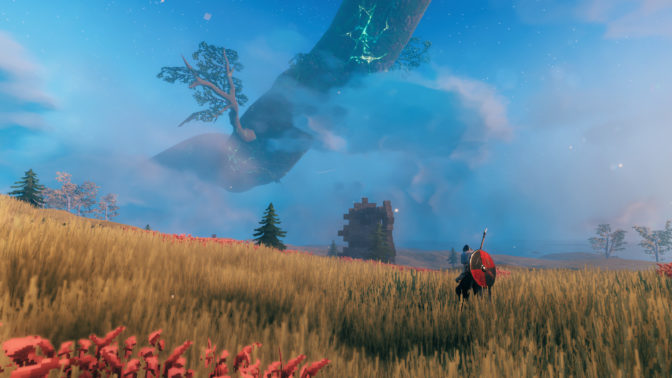 You can build your dream Viking home in Valheim. And with GeForce NOW, you don't even need a PC.
Valheim asks you to battle, build and conquer your way to a saga worthy of Odin's patronage. The game's already a huge success on Steam, and with GeForce NOW, Iron Gate's team can share their vision with cloud gamers on Mac, Android, iOS and Chromebooks.
"We launched Valheim in early access on Steam, and immediately NVIDIA helped us bring it to more gamers with GeForce NOW. That way, even Mac users can play Valheim," said Henrik Törnqvist, co-founder of Iron Gate AB.
Motoring Toward the Indie 300
GeForce NOW's library includes nearly 300 of the most-popular and most-loved indie games, with more released every GFN Thursday.
"Streaming Terraria on GeForce NOW makes perfect sense to us. We have always sought out ways to make our game as accessible to as many people as possible. GFN helps accomplish that goal by giving our players the ability to play on any device they want, without any added development work on our side. We're looking forward to seeing both new and existing players enjoy all that Terraria has to offer, whether that be via the more traditional PC/console/mobile route or streaming from the cloud," said Ted Murphy, head of business strategy and marketing at Re-Logic.
Terraria, from Re-Logic, is one of the most popular indie hits of all time. It's also one of the longest-running, best-supported games. Regular content updates since launch have lifted the total item count from 250 to over 5,000.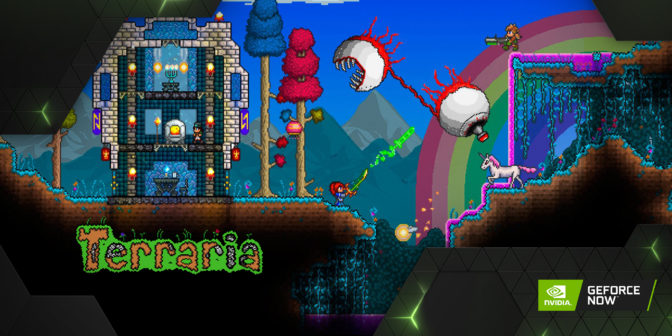 Using GeForce NOW, members can check in on their Terraria homes on any of their supported devices.
The indie catalog is a great place to discover games you might've missed. Monster Train, from Shiny Shoe and Good Shepherd Entertainment, a strategic roguelike deck building game with a twist, was PC Gamer's Best Card Game of 2020 and is streaming from the cloud.
Members can see even more highlights in the "Indie Spotlight" in-app row, and the complete indie catalog by clicking "See More."
GeForce NOW's indies include incredible global success stories. Chinese-developer TPP Studio's Home Behind 2 is a fairly new indie title that's rapidly growing in popularity. The game, released in November, has a two-person development team and starts streaming on GeForce NOW this week.
Since GFN streams the PC versions of games from popular digital stores, when a promotion happens — like Team17's Worms Rumble free weekend on Steam, happening through Feb. 21 — members are able to participate, instantly.
And when games take advantage of NVIDIA technology like DLSS, GeForce NOW members can reap the benefits. Recent examples include War Thunder, and — just this week — Mount & Blade II: Bannerlord. It's yet another way GeForce NOW supports future indie development.
Let's Play Today
As is GFN Thursday tradition, let's take a look at this week's new additions to the GeForce NOW library.
Hellish Quart (day-and-date release on Steam, Feb. 16)

A new Steam release this week, Kubold's sword-dueling game includes intense physics and motion-captured fencing techniques. 

South Park: The Stick of Truth (Steam)

A brilliant RPG that satirizes the genre, Ubisoft's first South Park game lets you pal around with Cartman, Stan, Kyle, Kenny and more in search of a twig of limitless power.
Here are the rest of this week's additions:
What's your gaming plan this weekend, members? Let us know on Twitter or in the comments below.