Who says you have to put your play on pause just because you're not at your PC?
This GFN Thursday takes a look at how GeForce NOW makes PC gaming possible on Android and iOS mobile devices to support gamers on the go.
This week also comes with sweet in-game rewards for members playing Eternal Return, with two unique skins, including Military Doctor Cathy and an NVIDIA exclusive GeForce NOW Silvia.
Plus, there's the newest content on the cloud with season 12 of Apex Legends, the 'Joseph: Collapse' Far Cry 6 DLC and 10 games joining the GeForce NOW library this week.
GTG: Good-to-Go to Game on the Go
Thanks to the power of the cloud, GeForce NOW transforms nearly any Android or iOS mobile device into a powerful gaming rig. With gamers looking for more ways to play from their phones, GeForce NOW has full or partial controller support when connected to a phone for the real PC versions of over 800 games, including 35 free-to-play titles.
GeForce NOW levels up gameplay on phones by processing all of your gaming in the cloud and streaming it straight to your device.
Members playing on iOS can get all of the benefits of PC gaming without leaving the Apple ecosystem. They can enjoy top PC picks like Apex Legends or Rocket League for competitive fun or AAA titles like Far Cry 6 or Assassin's Creed: Valhalla. They can also party up with friends in popular online multiplayer games like Destiny 2 and ARK: Survival Evolved or take on a classic arcade challenge with Overcooked! or Cuphead.
Gamers playing on Android devices can also play these titles from the GeForce NOW library and take their mobile gameplay even further with the perks of the GeForce NOW RTX 3080 membership. RTX 3080 memberships enable PC gaming at 120 frames per second on select 120Hz Android phones, such as the Samsung S21.
RTX 3080 members also stream with the maximized eight-hour session lengths on the service and can turn RTX ON for cinematic graphics and real-time ray tracing in supported games like Ghostrunner and Dying Light 2 Stay Human.
And, mobile gamers on AT&T's network can take advantage of a special promotion. New or existing customers with a 5G device on a 5G unlimited plan — or another qualifying unlimited plan — can score a six-month GeForce NOW Priority membership at no charge (a $49.99 value). Priority members can stream at up to 60 FPS with priority access to GeForce NOW servers, extended session lengths and RTX ON in supported games. For more info on this special offer, read here.
Gamepads to Support Play
Enjoy gaming on the go and comfort during long-term play with no extra software needed using one of GeForce NOW's recommended gamepads to improve your cloud gaming experience.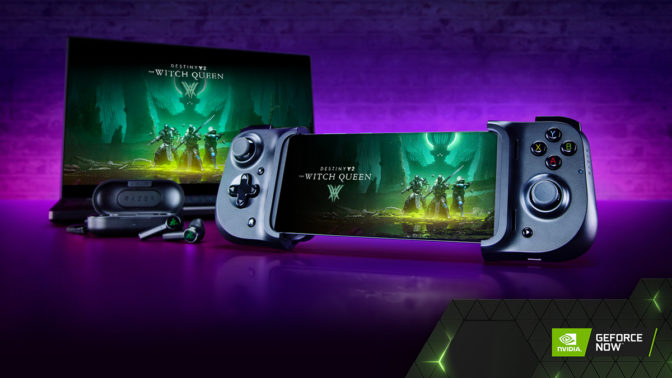 Gamers playing on an iPhone can consider the Backbone One as well as the Razer Kishi. Android users can also enjoy the Razer Kishi, or the Razer Raiju and the Razer Junglecat.
Other great options for Android gamers include the Steelseries Stratus Duo and the GLAP controller to provide high-performance gameplay.
For more details and to pick out the best option for your GeForce NOW mobile experience, check out these recommended devices.
Eternal Rewards
GeForce NOW isn't just about enabling great gaming experiences. It's also about enriching those experiences for members playing on the cloud.
To celebrate the second anniversary of GeForce NOW, GFN Thursdays in February are full of rewards.
Starting today, members can get rewarded in the free-to-play, multiplayer arena game Eternal Return. Redeem your rewards in-game to show off your style with a Military Doctor Cathy skin and represent your love for the cloud with a custom GeForce NOW Silvia skin.
Getting membership rewards for streaming games on the cloud is easy. Log in to your NVIDIA account and select "GEFORCE NOW" from the header, then scroll down to "REWARDS" and click the "UPDATE REWARDS SETTINGS" button. Check the box in the dialogue window that shows up and start receiving special offers and in-game goodies.
Sign up for the GeForce NOW newsletter, including notifications when rewards are available, by logging into your NVIDIA account and selecting "PREFERENCES" from the header. Check the "Gaming & Entertainment" box, and "GeForce NOW" under topic preferences to receive the latest updates.
For more updates on rewards coming in February, stay tuned to upcoming GFN Thursdays.
'Fortnite' Mobile Closed Beta Update
Over the past few weeks, multiple waves of invites have been sent to members to join the Fortnite limited time closed beta on iOS Safari and Android — and the feedback gathered thus far has been incredibly helpful.
Some gamers have come across occasional, unexpected in-game framerate dips below 30 FPS when using touch controls on iPhone, iPad and Android devices. It's most commonly encountered when using the ADS/First Person shooting mode, but has also been observed while spectating, during rapid camera movements and other scenarios.
Throughout the beta we'll continue to improve the experience — including working on a solution to improve frame rates — and will have more information when an update is available.
In the meantime, we're looking forward to inviting more gamers into the Fortnite mobile closed beta on GeForce NOW and will continue to optimize and improve the experience.
More Gaming Goodness, Anywhere
This week also brings new content to the cloud, expanding two titles.
Rise to the challenge in Apex Legends Defiance, the newest season of the popular free-to-play battle royale, hero shooter. Season 12 comes with a new limited time mode and battle pass, rewards, map updates to Olympus and the newest Legend –  Mad Maggie.
Take things to the next level in Far Cry 6 with the release of the third DLC, 'Joseph: Collapse,' telling a new story about the villainous Joseph Seed.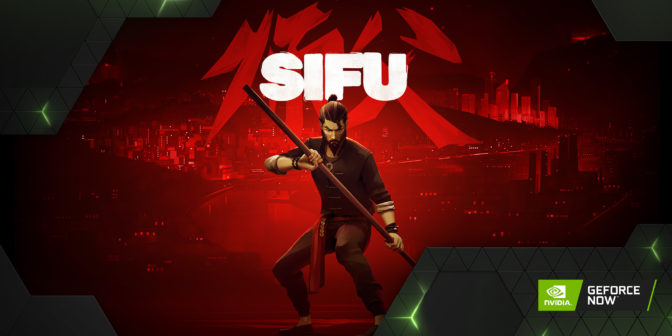 Plus, GFN Thursday comes with a new batch of games joining the GeForce NOW library. Check out these 10 titles ready to stream this week:
We make every effort to launch games on GeForce NOW as close to their release as possible, but, in some instances, games may not be available immediately.
Finally, due to extended maintenance, Myth of Empires will be removed from the GeForce NOW library.
What device are you playing on this weekend? Let us know on Twitter and check out our setup while you're at it.
rate our setup pic.twitter.com/9j9KqEmpFj

— 🌩️ NVIDIA GeForce NOW (@NVIDIAGFN) February 9, 2022