GeForce NOW RTX 4080 SuperPODs are rolling out now, bringing RTX 4080-class performance and features to Ultimate members — including support for NVIDIA Ada Lovelace GPU architecture technologies like NVIDIA DLSS 3. 
This GFN Thursday brings updates to some of GeForce NOW's hottest games that take advantage of these amazing technologies, all from the cloud.
Plus, RTX 4080 SuperPOD upgrades are nearly finished in the London data center, expanding the number of regions where Ultimate members can experience the most powerful cloud gaming technology on the planet. Look for updates on Twitter once the upgrade is complete and be sure to check back each week to see which cities light up next on the map.
Members can also look for six more supported games in the GeForce NOW library this week. 
AI-Powered Performance
NVIDIA DLSS has revolutionized graphics rendering, using AI and GeForce RTX Tensor Cores to boost frame rates while delivering crisp, high-quality images that rival native resolution.
Powered by new hardware capabilities of the Ada Lovelace architecture, DLSS 3 generates entirely new high-quality frames, rather than just pixels. It combines DLSS Super Resolution technology and DLSS Frame Generation to reconstruct seven-eighths of the displayed pixels, accelerating performance.
DLSS 3 games are backwards compatible with DLSS 2 technology — when developers integrate DLSS 3, DLSS 2, aka DLSS Super Resolution, is supported by default. Additionally, integrations of DLSS 3 include NVIDIA Reflex, reducing system latency for all GeForce RTX users and making games more responsive.
Support for DLSS 3 is growing, and soon GeForce NOW Ultimate members can experience this technology in new updates to HITMAN World of Assassination and Marvel's Midnight Suns.
A Whole New 'World of Assassination'
The critically acclaimed HITMAN 3 from IOI transforms into HITMAN World of Assassination, an upgrade that includes content from HITMAN 1, HITMAN 2 and HITMAN 3. With DLSS 3 support, streaming from the cloud in 4K looks better than ever, even with ray tracing and settings cranked to the max.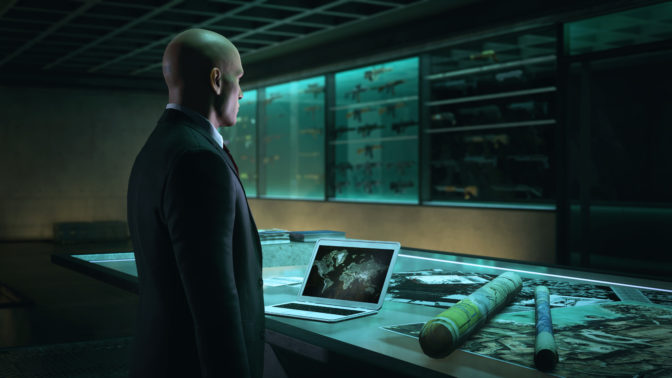 Become legendary assassin Agent 47 and use creativity and improvisation to execute ingenious, spectacular eliminations in sprawling sandbox locations all around the globe. Stick to the shadows to stalk and eliminate targets — or take them out in plain sight.
Along with DLSS 3 support, Ultimate members can enjoy ray-traced opaque reflections and shadows in the world of HITMAN as they explore open-world missions with multiple ways to succeed. 
Deadpool Does DLSS 3
Marvel's Midnight Suns' first downloadable content, The Good, The Bad, and the Undead, adds Deadpool to the team roster, along with new story missions, new enemies and more. Add in DLSS 3 support coming soon, and Ultimate members have a lot to look forward to.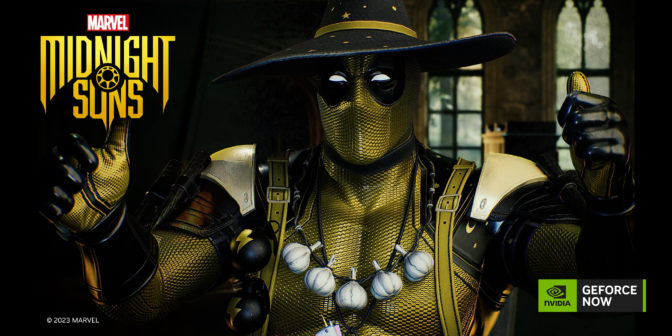 Launched last month to critical acclaim, VGC awarded Marvel's Midnight Suns with a five-out-of-five rating, calling it a "modern strategy classic." PC Gamer said it was "completely brilliant" and scored it an 88 out of 100, and Rock Paper Shotgun called it "one of the best superhero games full stop."
Ultimate members can explore the abbey grounds and get to know the Merc with a Mouth at up to 4K resolutions and 120 frames per second, or immerse themselves in their mission with ultrawide resolutions at up to 3840 x 1600 at 120 frames per second — plus many other popular formats including 3440 x 1440 and 2560 x 1080. 
GeForce NOW members can also take their games and save data with them wherever they go, from underpowered PCs to Macs, Samsung and LG TVs, mobile devices and Chromebooks.
Game On
Get ready to game: Six more games join the supported list in the GeForce NOW library this week:
There's only one question left to kick off a weekend full of gaming in the cloud. Let us know on Twitter or in the comments below.
What's your favorite game to play in the cloud with #RTXON? 🌩️

— 🌩️ NVIDIA GeForce NOW (@NVIDIAGFN) January 25, 2023