GFN Thursday rings in the new year with a recap of the biggest cloud gaming news from CES 2023: the GeForce NOW Ultimate membership. Powered by the latest NVIDIA GPU technology, Ultimate members can play their favorite PC games at performance never before available from the cloud.
Plus, with a new year comes new games. GeForce NOW brings 24 more titles to the cloud in January, starting with five this week.
Ultimate Performance, Now in the Cloud
Get ready for cloud gaming that's "beyond fast." GeForce NOW is bringing RTX 4080 performance to the cloud with the new high-performance Ultimate membership.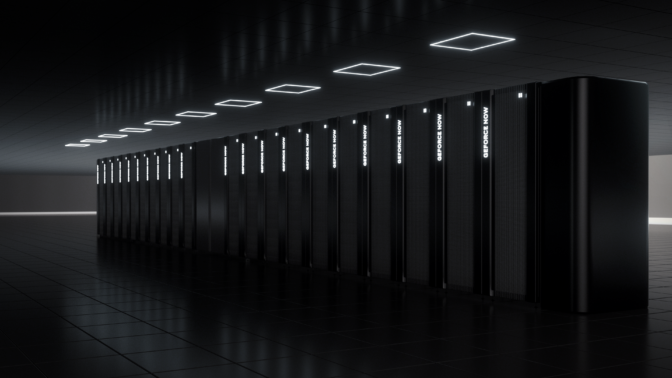 The GeForce NOW Ultimate membership raises the bar on cloud gaming, bringing it closer than ever to a local gaming experience. It's powered by the NVIDIA Ada Lovelace architecture in upgraded GeForce NOW RTX 4080 SuperPODs.
GeForce NOW Ultimate members receive three major streaming upgrades. First, the new SuperPODs are capable of rendering and streaming at up to 240 frames per second for the lowest latency ever from the cloud. Paired with NVIDIA Reflex, members' game play will feel almost indistinguishable from a local desktop PC.
Second, supported streaming resolutions get an upgrade: Ultimate members can play their favorite PC games at up to 4K 120 fps on the native PC and Mac apps.
And third, for the first time, cloud gamers can play at native ultrawide resolutions, a long-requested feature from the GeForce NOW community. Experience your favorite adventures like A Plague Tale: Requiem, The Witcher 3: Wild Hunt, Shadow of the Tomb Raider and more at up to 3840×1600 resolutions for a truly immersive experience.
The Ultimate upgrade also brings support for the latest NVIDIA RTX technologies, like full ray tracing and DLSS 3 — introduced with the GeForce RTX 40 Series launch. They deliver beautiful, cinematic-quality graphics and use AI to keep frame rates smooth in supported games.
With support for NVIDIA G-SYNC-enabled monitors, GeForce NOW will vary the streaming rate to the client for the first time, delivering smooth and instantaneous frame updates to client screens on Reflex-enabled games — further driving down total latency.
Ultimate members will also continue to enjoy longer streaming sessions, fastest access to the highest-performance cloud gaming servers and game settings that persist from session to session.
The Ultimate Library Keeps Growing
There are more than 1,500 games supported in the GeForce NOW library, with more than 400 titles joining last year. Members can stream mega-hits from top publishers like Electronic Arts and Ubisoft, popular PC indie titles like Valheim and Rust, and over 100 of the biggest free-to-play games like Fortnite and Genshin Impact.
The new year also brings some of the biggest upcoming PC game launches on the service, starting with Portal with RTX later this week. Relive the critically acclaimed and award-winning Portal reimagined with full ray tracing and higher frame rates with DLSS 3 for those streaming from the cloud from an RTX 4080 SuperPOD.
Full ray tracing transforms each scene of Portal with RTX, enabling light to bounce and be affected by each area's new high-resolution, physically based textures and enhanced high-poly models. Every light is ray traced and casts shadows for a new sense of realism. Global illumination indirect lighting naturally illuminates and darkens rooms, volumetric ray-traced lighting scatters through fog and smoke, and shadows are pixel perfect.
This ray-traced reimagining of Valve's classic game was built using a revolutionary modding tool called NVIDIA RTX Remix, which brings the test chambers of Portal's "Aperture Science" to new life.
More big titles are on the way. As announced at CES 2023 this week, members can expect to see Atomic Heart, The Day Before and Party Animals join GeForce NOW when they release later this year. Stay tuned to future GFN Thursday updates for more details.
Upgrading Is Beyond Easy
Members can sign up today for the GeForce NOW Ultimate membership at $19.99 per month or $99.99 for six months.
Existing GeForce RTX 3080 members' accounts have already been converted to Ultimate memberships at their current pricing, and will experience GeForce RTX 4080 performance as soon as it's available in their regions. It's the easiest upgrade to Ultimate performance, happening automatically.
The new GeForce RTX 4080-powered SuperPODs will be available in North America and Europe starting later this month, with continued rollout over the months to follow. Sign up today, as quantities are limited.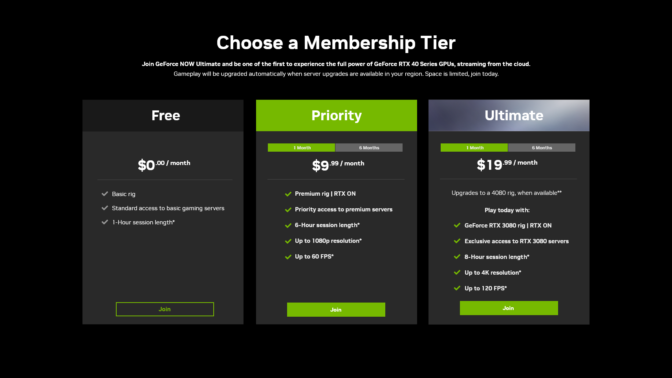 Additionally, new AT&T Fiber customers, and new or existing AT&T 5G customers on an eligible 5G rate plan, can get a complimentary six-month Ultimate membership. Visit AT&T Gaming for more details.
Joining in January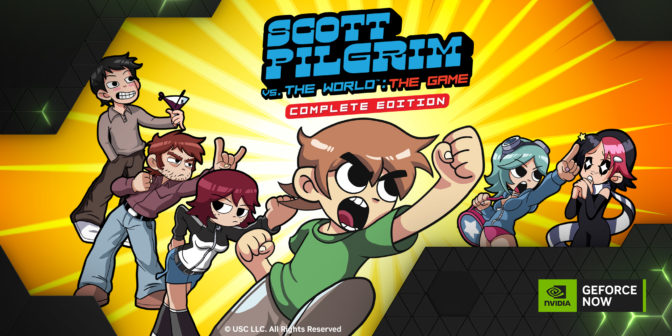 Here's a look at the games joining the GeForce NOW library in January:
In addition, members can look for the following this week:
Let us know what you think of GeForce NOW Ultimate on Twitter or in the comments below.
Which Ultimate announcement are you most excited about? 🤔

— 🌩️ NVIDIA GeForce NOW (@NVIDIAGFN) January 4, 2023