GFN Thursday is our weekly celebration of games streaming from GeForce NOW. This week, we're kicking off Legends of GeForce NOW, a special event that challenges gamers to show off the best Apex Legends: Legacy moments using one of the features that makes GeForce NOW unique — NVIDIA Highlights.
Let No Victory Go Unrecorded
That one time, you did that one thing, and you wish you were recording? That's where NVIDIA Highlights comes in.
Highlights enables automatic video capture of key moments, clutch kills and match-winning plays. GeForce NOW adds Highlights support to additional games with the use of smart pattern and image recognition from our cloud servers to automatically detect and capture epic moments in games like Apex Legends.
As you play, Highlights are saved locally, without interrupting your flow. They can be reviewed in the GeForce NOW app's Gallery, found in the top-left corner of the app. You can even stitch clips together for the ultimate Highlight montage, and share your victories with the world on Twitter, YouTube, Discord and more.
Highlights is available for GeForce NOW members using the PC and Mac apps. You'll see a prompt to turn it on when you launch a supported game through the app, or you can toggle the feature from the in-game overlay by hitting Ctrl+G on PC or Cmd+G on Mac.
But that's not all. The GeForce NOW in-game overlay is where to manually capture gameplay, turn on Instant Replay, take screenshots, enable NVIDIA Freestyle and a whole lot more. Use this article to learn about the powerful feature.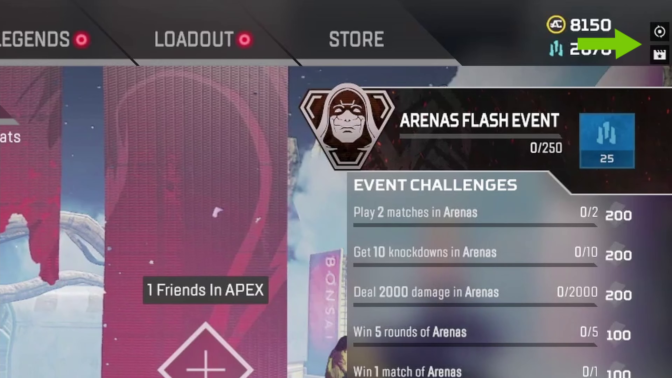 NVIDIA Highlights supports many games on GeForce NOW alongside Apex Legends, including popular titles like Counter-Strike: Global Offensive, Destiny 2, Fortnite, League of Legends, Rocket League and more.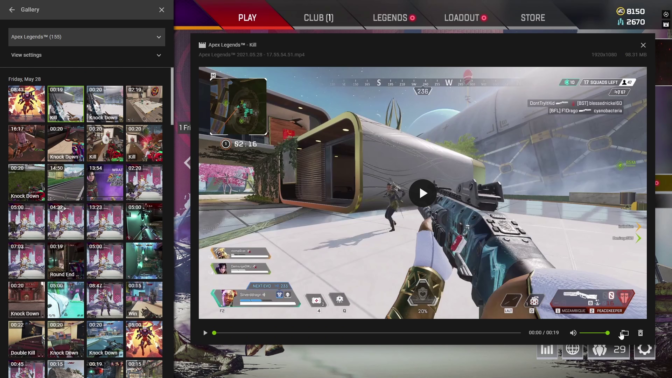 Legends of GeForce NOW
We want to see your best moments in Apex Legends: Legacy, so we're launching "Legends of GeForce NOW." Submit your best Apex Legends highlights and share on social media between now and June 24, 2021 and you'll have a chance to win some big prizes.
Entering is easy: Upload a clip captured via Highlights to GFNLegends.com, and share on social media using #GFNLegends. Each entry increases the prize pool on the site and unlocks more (and bigger) giveaways.
Prizes include:
NVIDIA SHIELD TV Pros
Razer Kishi mobile controllers
Keyboards and mice from Logitech and Razer
Gaming headsets from ASTRO
Google Pixelbook Gos
Apple iPads and Macbook Pros
Apex Coins for Apex Legends
and more
But hurry, this legendary event only runs through June 24. Get those epic moments submitted today. We can't wait to see your best Highlights!
Special Offer: 3-for-Free
Celebrate E3 with a special cloud gaming upgrade. For a limited time, new GeForce NOW members who register for a free account by Tuesday, June 15, will get three free days of Priority access, while supplies last.1
GeForce NOW Priority Memberships, named for their priority access to gaming sessions, provide members front-of-the-line access to their gaming rigs in the cloud, ahead of free members.
In addition, Priority members get extended session lengths and RTX ON for beautifully ray-traced graphics and DLSS in supported games.
Following the three-day promo, memberships are available at $9.99 a month. A new annual membership option, at $99.99, provides the best value.
Newest Additions of the Week
GFN Thursday wouldn't be complete without new games, starting with a day-and-date release from Tripwire.
Chivalry 2 (Day and date release on Epic Games Store, June 8)

Return to the ultimate medieval battlefield in this multiplayer first person slasher inspired by epic movie battles.
Including Chivalry 2, members can expect 13 games in total this week:
We can't wait to see all the Apex Legends highlights in the Legends of GeForce NOW event! Rise to the challenge and enter here.
1 Register for a free GeForce NOW account between Thursday, June 10, 2021 at 12:01 a.m. Pacific time and Tuesday, June 15, 2021 at 11:59 p.m. Pacific time to be eligible. On or before Friday, June 18, 2021 eligible members will receive an email with redemption instructions. Supplies are limited, only available in NVIDIA-operated regions, and will be provided on a first-come, first-served basis.