No need to hold out for a hero. You've made it to GFN Thursday.
This year's E3 was packed with news for GeForce NOW and we're sharing the excitement from the announcements of Marvel's Guardians of the Galaxy and Humankind. Both will join the GeForce NOW lineup when they launch later this year. On top of that, there's an update with new features coming to the cloud.
We've also got this week's list of games joining GeForce NOW.
You Got This. Probably.
Get ready to save the universe, members. Marvel's Guardians of the Galaxy is coming to GeForce NOW.
As it does every year, E3 featured a number of major game announcements, including Square Enix's announcement of Marvel's Guardians of the Galaxy releasing on Steam on October 26. Mark your calendars and turn your favorite mix tape up to 11. It's time to be a hero.
Fire up Star-Lord's jet boots for a wild ride across the cosmos in this third-person action-adventure game, a fresh take on Marvel's Guardians of the Galaxy. With the unpredictable Guardians at your side, blast your way from one explosive situation to another, with original and iconic Marvel characters caught in a struggle for the fate of the universe. You got this. Probably.
GeForce NOW members can blast off soon to celebrate. Marvel's Guardians of the Galaxy will be coming to the cloud and available to stream for gamers who have purchased it on release day. With a wholly original story, a familiar and unique cast of characters and a lot of laughs, this game is set to take you to the stars.
How Far Will You Push Humankind?
The future of Humankind is in your hands.
Another exciting update from E3, during the PC Gaming Show, gave us a fresh look at SEGA and Amplitude Studios' magnum opus, Humankind. This new take on a turn-based historical strategy game releases on Steam and Epic Games Store on August 17 and will be streaming on GeForce NOW. Leave your mark on the world.
In Humankind, you'll be rewriting the entire narrative of human history and combining cultures to create a civilization that's as unique as you are. Combine up to 60 historical cultures as you lead your people from the Ancient to the Modern Age. From humble origins as a Neolithic tribe, transition to the Ancient Era as the Babylonians, become the Classical era Mayans, the Medieval Umayyads, the Early Modern-era British, and so on. Each culture will add its own special gameplay layer, leading to near-endless outcomes.
GeForce NOW members who pre-ordered the game have access to the Humankind Closed Beta, streaming on GeForce NOW through June 21.
The Benefits of Priority
As part of the E3 celebration, new GeForce NOW free members received three free days of Priority access to the service. While the sign-up window has closed, new members still have until June 30 to redeem this offer and enjoy the benefits.
Priority Membership comes with perks that elevate the GeForce NOW gaming experience, including priority access to gaming servers, extended session lengths and RTX ON.
With priority access, gamers skip to the front of the line to play their favorite games. Simply log in and start playing. Priority members don't just get into games faster, but with extended session lengths, they get to play uninterrupted for longer, too. And when a game supports RTX, priority members can customize visual preferences with beautiful ray-tracing details and DLSS for the ultimate gaming experience.
2.0.31 Release Key Highlights
GFN Thursday is more than just games. Regular service updates mean there's always something new around the corner. The newest features, rolling out now, include revamped streaming statistics, quality-of-service improvements, fit-and-finish changes and native keyboard input method editor (IME) for Japanese, Korean and traditional Chinese.
Streaming Statistics
Members now have access to streaming statistics on the PC and Mac app by hitting Ctrl+G or Ctrl+N on Windows or Cmd+G or Cmd+N on macOS. The display can be customized by following Settings > Heads up display > Statistics.
Quality-of-Service Improvements
For Windows and macOS apps, QoS improvements help lower latency by up to 16ms for games supporting Adaptive Vsync, such as Rocket League, Destiny 2, Apex Legends, League of Legends, Tom Clancy's Rainbow Six Siege, Rust and many more.
Fit-and-Finish Updates
When playing from a Chrome browser, the F11 key is back for games that require it. F11 won't work in game if you have used the key to enter fullscreen mode. Just make sure to start a game by clicking "Continue to Game" after launching it from the web app. For those on macOS, F11 currently shows the desktop, so remap that macOS hotkey to use it in-game.
Don't blink, or you'll miss the new splash screen, which now displays a GeForce NOW logo and a cool background as the app loads. This goes along with the improvements to smooth out the game launch progress indicator as well as the marquee and app layout load.
Native Keyboard IME
In support of our international members, we've added the ability to select your own IME to the native Windows, macOS and Chrome browser apps. The new access to a dialog box to input text from the in-game overlay should make it easier for members to enter localized text in login or chat windows in-game.
One Fantastic Games List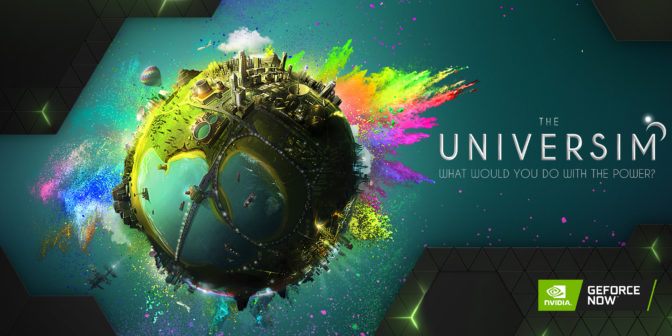 To top it all off, there's a whole new set of games coming to GeForce NOW this week, including:
Overcooked! 2 (Free on Epic Games Store until June 24)

Overcooked is back with a brand-new helping of chaotic cooking action. Return to the Onion Kingdom, assemble your team of chefs and get ready to save the world. 
The Universim (Steam)

Manage your own planets and build a civilization through the ages to create the ultimate empire in The Universim. 
The full list of games joining the GeForce NOW lineup includes:
Plus don't forget, you can still enter the Legends of GeForce NOW contest and win some big prizes. Each submission from the community contributes to more prizes. Upload your GeForce NOW Apex Legends highlights today!