The GeForce NOW RTX 3080 membership gives gamers unrivaled performance from the cloud – with latency so low that it feels just like playing on a local PC.
Today, gamers can experience RTX 3080-class streaming at only $19.99 a month, thanks to GeForce NOW's new monthly membership plans*.
It's a great chance to experience powerful cloud gaming with the six games joining the GeForce NOW library this week.
More Power at a Lower Price
Starting today, members have an easier way to try out the next generation of cloud gaming – one month at a time. GeForce NOW RTX 3080 memberships are now available in one-month increments, alongside our existing six-month subscriptions.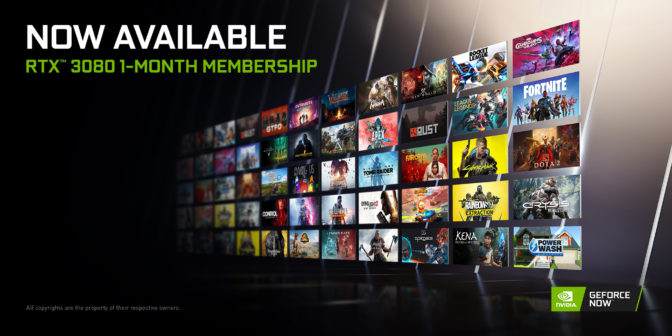 GeForce NOW RTX 3080 memberships boost nearly any device into a powerful gaming rig. Our highest offering is capable of streaming at up to 1440p resolution and 120 frames per second on PCs, native 1440p or 1600p at 120 FPS on Macs, and 4K HDR at 60 FPS on SHIELD TV.
Members maximize their cloud gaming experience with ultra-low latency that goes head-to-head against many local gaming experiences, eight-hour session lengths and full control to customize in-game graphics settings, including RTX ON rendering environments in cinematic quality in supported games.
It's never been easier to discover why Digital Foundry declared GeForce NOW's RTX 3080 membership "the best streaming system we've played." Level up your gaming experience with all of the perks that come with the one-month RTX 3080 membership for just $19.99.
Or, sign up for a six-month RTX 3080 membership and get one month free, streaming across devices for $99.99. Founders members who have been with us since the beginning will also receive 10 percent off the subscription price and can upgrade with no risk to their "Founders for Life" benefits.
Check out our membership FAQ for more information.
Did Somebody Say 'More Video Games?'
Looking for the perfect game to pair with your monthly RTX 3080 membership? Get ready for six more games streaming from the GeForce NOW library.
Catch the full list of games ready to stream this week:
Plus, a world comes to an end in Assassin's Creed Valhalla: Dawn of Ragnarök, the new downloadable content coming to the game today. Unleash new divine powers, embark on a quest through a breathtaking world to save your son and complete a legendary Viking saga, streaming on the cloud.
Finally, the release timing for The Settlers has shifted and will join GeForce NOW at a later date.
Play all of the titles arriving this week and more with the power of RTX 3080 with just a one-month commitment. This week also comes with a question for you. Let us know your answer on Twitter:
you just finished 1 month of gaming, how many hours did you play? 🤔📆

— 🌩️ NVIDIA GeForce NOW (@NVIDIAGFN) February 23, 2022
*Prices may vary depending on local region. Check GeForceNOW.com for more info.