What has it got in its pocketses? More games coming in May, that's what.
GFN Thursday gets the summer started early with two newly supported games this week and 16 more coming later this month — including The Lord of the Rings: Gollum.
Don't forget to take advantage of the limited-time discount on six-month Priority memberships. Priority members get faster access to cloud gaming servers, as well as support for RTX ON in supported games — all for 40% off the normal price. But hurry, this offer ends Sunday, May 21.
And the fun in May won't stop there.
Stay tuned for more news on Xbox games joining the GeForce NOW library soon.
How Precious
No need to be sneaky about it — The Lord of the Rings: Gollum from Daedalic Entertainment comes to GeForce NOW when it releases on Thursday, May 25.
The action-adventure game and epic interactive experience takes place in parallel to the events described in The Fellowship of the Ring. Play as the enigmatic Gollum on his perilous journey and find out how he outwitted the most powerful characters in Middle-earth.
Climb the mountains of Mordor, sneak around Mirkwood and make difficult choices. Who will gain the upper hand: the cunning Gollum or the innocent Smeagol? Priority and Ultimate members can experience the epic story with support for RTX ray tracing and DLSS technology for AI-powered high-quality graphics, streaming across nearly any device with up to eight-hour sessions. Go Ultimate today with the one cloud gaming membership that rules them all.
May-Day Game-Day
It's gonna be May, and that means more of the best games joining the GeForce NOW library.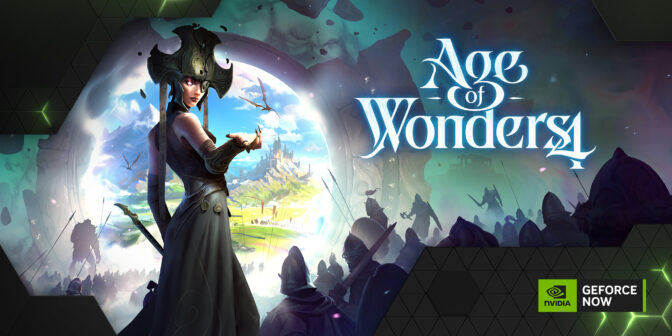 Age of Wonders 4 is the long-awaited sequel from Paradox Interactive. A blend of 4x strategy and turn-based combat, members can explore new magical realms and rule over a faction of their design that grows with expanding empires. Battle through each chapter and guide your empire to greatness.
It leads two new games joining the cloud this week:
Then check out the rest of the titles on their way in May:
April Additions
There were 23 announced games in April, plus another eight that joined the GeForce NOW library of over 1,600 games:
Poker Club unfortunately couldn't be added in April due to technical issues. Tin Hearts also didn't make it in April, but is included in the May list due to a shift in its release date.
With so many titles streaming from the cloud, what device will you be streaming on? Let us know in the comments below, or on Twitter or Facebook.
one does not simply game in the cloud with only 1 device 🤔

— 🌩️ NVIDIA GeForce NOW (@NVIDIAGFN) May 3, 2023