The fastest way to give the gift of cloud gaming starts this GFN Thursday: For a limited time, every six-month GeForce NOW Ultimate membership includes three months of PC Game Pass.
Also, the newest GeForce NOW app update is rolling out to members, including Xbox Game Syncing and more improvements.
Plus, take advantage of a heroic, new members-only Guild Wars 2 reward. It's all topped off by support for 18 more games in the GeForce NOW library this week.
Give the Gift of Gaming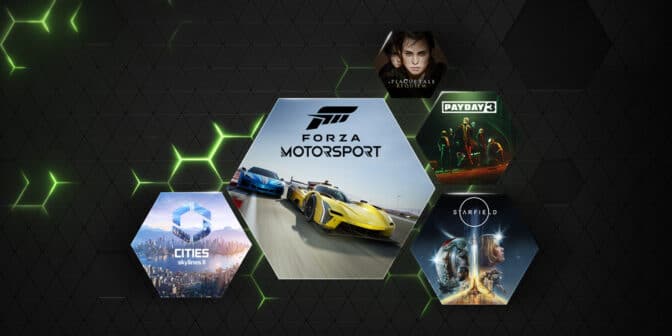 Unwrap the gift of gaming: For a limited time, gamers who sign up for the six-month GeForce NOW Ultimate membership will also receive three free months of PC Game Pass — a $30 value.
With it, Ultimate members can play a collection of high-quality Xbox PC titles with the power of a GeForce RTX 4080 rig in the cloud. Jump into the action in iconic franchises like Age of Empires, DOOM, Forza and more, with support for more titles added every GFN Thursday.
Seamlessly launch supported favorites across nearly any device at up to 4K and 120 frames per second or at up to 240 fps with NVIDIA Reflex technology in supported titles for lowest-latency streaming.
This special offer is only here for a limited time, so upgrade today.
Sync'd Up
With so many games ready to stream, it might be hard to decide what to play next. The latest GeForce NOW app update, currently rolling out to members, is here to help.
Members can now connect their Xbox accounts to GeForce NOW to sync the games they own to their GeForce NOW library. Game syncing lets members connect their digital game store accounts to GeForce NOW, so all of their supported games are part of their streaming library. Syncing an Xbox account will also add any supported titles a member has access to via PC Game Pass — perfect for members taking advantage of the latest Ultimate bundle.
The new update also adds benefits for Ubisoft+ subscribers. With a linked Ubisoft+ account, members can now launch supported Ubisoft+ games they already own from the GeForce NOW app, and the game will be automatically added to "My Library." Get more details on Ubisoft account linking.
Version 2.0.58 also includes an expansion of the new game session diagnostic tools to help members ensure they're streaming at optimal quality. It adds codec information to the in-stream statistics overlay and includes other miscellaneous bug fixes. The update should be available for all members soon.
A Heroic Offering
This week, members can receive Guild Wars 2 "Heroic Edition," which includes a treasure trove of goodies, such as the base game, Legacy Armor, an 18-slot inventory expansion and four heroic Boosters. It's the perfect way to jump into ArenaNet's critically acclaimed, free-to-play, massively multiplayer online role-playing game.
It's easy to get membership rewards for streaming games on the cloud. Visit the GeForce NOW Rewards portal and update the settings to receive special offers and in-game goodies.
Members can also sign up for the GeForce NOW newsletter, which includes reward notifications, by logging into their NVIDIA account and selecting "Preferences" from the header. Check the "Gaming & Entertainment" box and "GeForce NOW" under topic preferences.
Ready, Set, Go
The first downloadable content for Gearbox's Remnant 2 arrives in the cloud. The Awakened King brings a new storyline, area, archetype and more to the dark fantasy co-op shooter — stream it today to experience the awakening of the One True King as he seeks revenge against all who oppose him.
Catch even more action with the 18 newly supported games in the cloud:
What are you looking forward to streaming? Let us know on Twitter or in the comments below.
h̴e̴r̴e̴'̴s̴ soon's the deal…

stay tuned 👀🎄

— 🌩️ NVIDIA GeForce NOW (@NVIDIAGFN) November 15, 2023